Cryptocurrency is gradually accepted by top investors from all over the world. The principled technology and application ecosystem is also seeing growing interest from ventures and hedge funds. Investors have decided that crypto's recent growth is different from the hype-driven ICO bubble that drove token prices up in 2017. The current market is more elaborate. Ethereum-based Defi applications have proven to be a sustainable and profitable business model generating approximately $117 million in revenue.
Many institutions are quietly exploring new business models based on blockchain, which means they capitalize on these opportunities.
Ethereum-Based Non-Fungible Tokens and Digital Collectibles
Buying collectibles is a personal hobby and a form of investment at the same time. Institutions have been investing in art since at least the 1970s, and today a diversity of art funds are available that give investors access to grow. This rise can come from owning a unique asset such as paintings.
These kinds of assets exist in the world of blockchain, too. They're called non-fungible tokens (NFTs).
It´s not just individual art collectors who are investing in NFTs. On February 12, 2021, Coatue Management, a well-known hedge fund, led a $250 million funding round for Dapper Labs, an NFT blockchain game development team, shocking the blockchain industry with the team's $2 billion valuations. 
A single-day transaction volume of the NTF market according to DappRadar was just $37,00 a year ago.  In February 2021 it hit $64 million. See the rising trend on the chart below.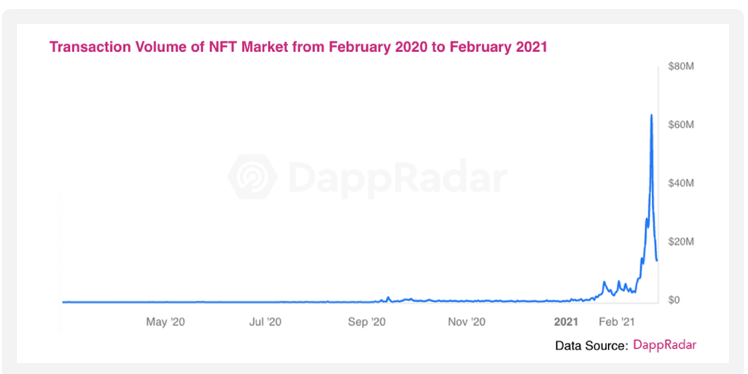 In terms of trading value are according to DappRadar these the top 3 NFT products:
NBA Top Shot (based on Flow) – has a daily trading volume of $10.64 million, 
Crypto Punks collectibles (based on Ethereum), 
OpenSea, an NFT exchange. 
The most active chains for NFTs are built on Ethereum, WAX, and Flow – a newly-created blockchain-app-exclusive chain. The main NFT projects on Ethereum are marketplaces for digital collectibles, such as OpenSea and Rarible. Both platforms have thousands of daily active users, and their weekly transaction volume reach millions of dollars. 
WAX and Flow are two examples of the results of Dapp developers attempt to build NFT-exclusive chains since 2018.
At the moment, Flow is the NFT public chain with the biggest market scale.
The on-chain weekly trading volume on WAX is lower, but still nearly $1 million with more than 100,000 active users.
Fred Ehrsam, (co-founder of top venture firm Paradigm and Coinbase) recently summarized in his tweet the Crypto frontier. Ehrsam claimed that from 2009 to 2017, "store of value" was the core of the market. From 2018 to 2020, DeFi stood at the center of the industry. 
Is 2021 going to be the start of an NFT era?
It seems that definitely yes. The huge influencers or entrepreneurs are interested in the space like Gary Vaynerchuk or Mark Cuban.
One of the biggest project Aavegotchis sell out not even in a full minute as NFT euphoria continues
After a string of delays related to congestion on the Ethereum blockchain, the Aavegotchi nonfungible tokens have hit the open market —they have been sold out in under one minute.
The Aavegotchi project attempts to create digital collectibles with real value backing them through integration with Aave and its aTokens, interest-bearing representations of funds supplied to the decentralized finance protocol. The aTokens locked within the NFT cannot be extracted without destroying the Aavegotchi itself, as they represent its "spirit force."
Due to Ethereum congestion and high network fees, the Aavegotchi moves to an L2 solution with faster transactions and much lower fees like Polygon.
Another project building on the Polygon is the Trade Race Manager, which is coming to market with the unique idea of trading with racing cars representing non-fungible tokens. Check their website to find out more information.
Source: www.longhash.com