Quick Summary
NFT weekly review signals that the market is slightly turning green and new projects have started to dominate.
The trend shifting in the NFTs despite an uncertain crypto market that might be preparing for another bearish wave.
Related: NFTs in Metaverse: Successful impact?
NFT weekly Review
Despite huge uncertainty and crypto winter, people are still buying NFTs – the volume on NFT marketplaces is rising again. Let's dive into see what's been happening in the NFT space last week.
MetaMask Portfolio Management dApp
MetaMask is the widely used crypto wallet that previously added support for NFTs. The wallet has now added the portfolio management dApp in the beta version. Users will be able to track and manage their crypto assets and NFTs from a built-in dApp.
Warner Music Group Partners with Opensea
In a press release, Warner Music Group revealed its partnership with top NFT marketplace Opensea. With this collaboration, there will be a tailored section on the marketplace for Warner Music artists. The artists will be able to create communities and post their content. It will also include an initial special release collection with Warner Records UK and Web3 company.
NFT Sales despite crypto winter
A bearish crypto wave is yet unable to stop NFT enthusiasts to buy what they love. CryptoPunk and Bored Ape with a sales volume of 7,744 ETH and 2,091 ETH remain in first and 4th position respectively. However, the remaining spots are claimed by relatively newer projects like RENGA, QQL Mint Pass, and Kitaro World Official.
This was the collection was ranking, if we look at the individual NFT sales, the stats are encouraging. The top two NFT sales were of Crypto Punks. CryptoPunk #2924 was sold for 3300 ETH (~$4.44 million) and CryptoPunk #5944 was sold for 980 ETH (~$1.28 million).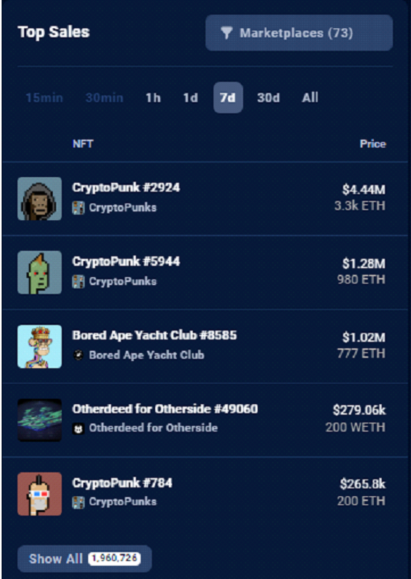 Similarly, the next top sales are from Bored Ape Yacht Club #8585, Otherdeed for Otherside #49060, and CryptoPunk #784.
Conclusion
Buying crypto in an inexact market situation like this where you fear another bearish wave is venturesome. Buying NFTs poses a double danger as you might face a floor price drop as well as a value drop. Since NFTs are valued in Ethereum Solana or other coins, the drop in price hurts the entire NFT space.