In the past year, nonfungible tokens, have been gaining ground as the digital art market explodes and developers experiment with a variety of use cases. Data from NonFungible shows that over the past 30 days, there were 58,400 NFT sales and $12.7 million worth of volume.
The wild crypto bull run market, we are experiencing today also includes the non-fungible tokens (NFTs). The ultra-rare "alien" CryptoPunk has sold yesterday for 605 Ether, worth over $750,000 at today's prices.
CryptoPunks are widely considered to be the first and original NFT project, released even before Cryptokitties, the blockchain-based collectibles project that propelled NFTs to mainstream consciousness. CryptoPunks developers Larva Labs report that Punks have accounted for $26 million in lifetime sales on their native marketplace and the average sale price for Punks over the past year has been $6,199.
Each Punk has unique attributes, such as background color, accessories, and even some ultra-rare features, such as an "alien" or "zombie" appearance. The Punk that sold today, #2890, is one of nine alien Punks in existence. See the example in the picture below.
The new owners are a group of investors that include FlamingoDAO, an "NFT collective that supports and collects premium NFTS," according to a Flamingo spokesperson. The official FlamingoDAO Twitter handle confirmed the purchase with a meme "It's simple: Cryptopunks is a groundbreaking project; it pre-dated the ERC 721 standard and crypto kitties," said the spokesperson on the investment thesis. "Aliens are the rarest form of Cryptopunk and we believe that the acquired Alien will be prized by collectors over time and mature into an iconic digital art piece."
NFTs and their utility – gaming, virtual reality
Enjin Coin Becomes First Gaming Cryptocurrency Whitelisted for Use in Japan which positive news for the whole industry. ENJ is a store of value token that gets locked into non-fungible tokens (NFTs) when created by users within the Enjin gaming and app ecosystem. Those NFTs can be traded, swapped, and integrated cross-platform with the potential to create entirely new in-app economies.
Another great example is the Decentraland project with its token MANA. The virtual reality platform is built on the Ethereum blockchain and provides a digital landscape where players can explore, interact with other players and purchase land plots along with other items.
Decentraland has added a handful of new features to improve the user's experience and support the growing NFT collectibles and digital real estate sector. The new features under development also look promising, but overall, it is still in a very early adoption stage, so participants should do their own research when considering whether to invest in MANA.
Although much has been created, some critical features have yet to be implemented. These include a mobile version of the platform, micro-payments infrastructure, and integration with virtual reality platforms.
Look at the last price action of the NFT gaming projects.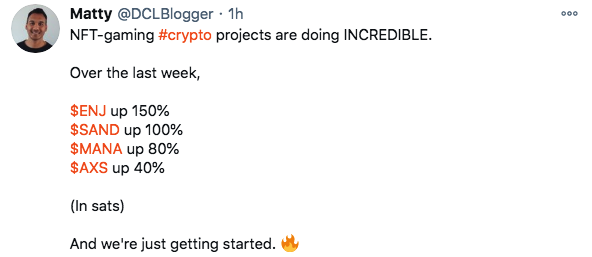 We are sure that with the recent NFT market development this field is only at the beginning and it has huge potential with more use-cases and cross-chain gaming DeFi tools. Read more about this subject in the last article.
Source: https://cointelegraph.com/