Quick Summary
Nike made $185 million profit from selling shoes NFTs despite a bear market. The brand beats top fashion brands like GUCCI, Tiffany, and Adidas, with over 67,000 transactions recorded on the blockchain.
Related: Nike Files Lawsuit Over NFTs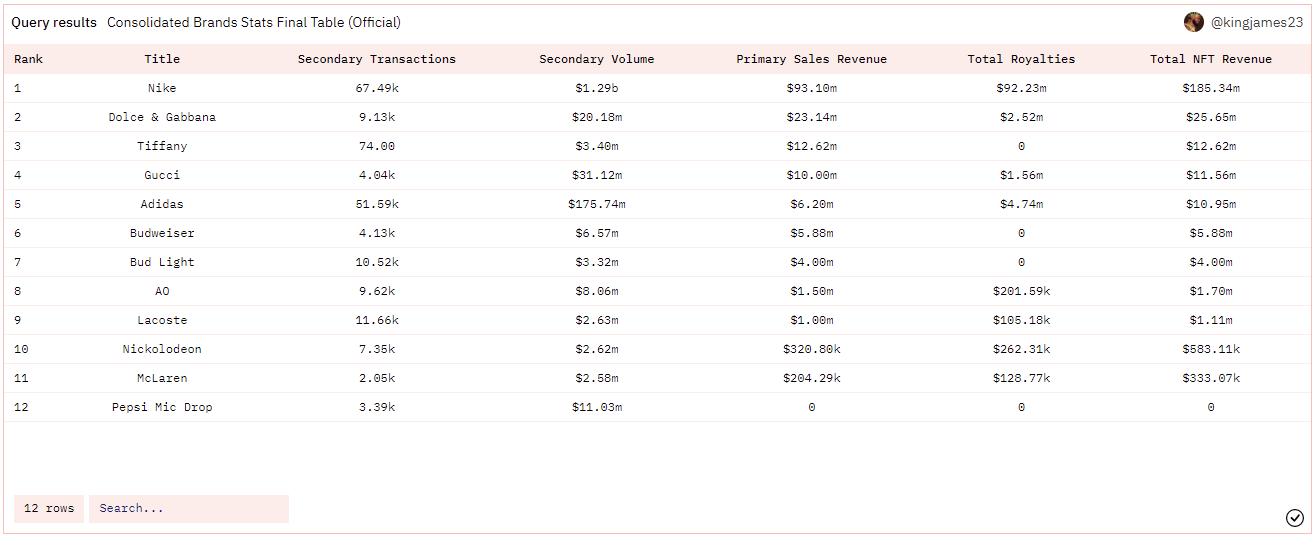 Nike is beating the crypto winter
The data from Dune suggests that Nike's secondary sales volume is over $1.29 billion leaving far behind Dolce & Gabbana with $20.18 million in secondary sales. Nike made over $93 million from directly minting and primary sales. The fun fact is Nike made almost the same amount from the secondary sales of the NFTs. Each NFT creator implements a percentage of royalty they would get every time their NFT is traded.
Since Nike made $92.23 million from the secondary sales of $1.29 billion NFTs, this means the fashion brand charges ~7.5% of the sales as a royalty fee. The company released several collections and the royalty fees for each were different ranging from 5% to 13%.
Nike NFT stats
Nike making so much despite crypto winter is no magic and the brand is not immune to the bearish waves. Since NFTs are valued in Ethereum, even if the floor price doesn't drop, the NFTs still get devalued.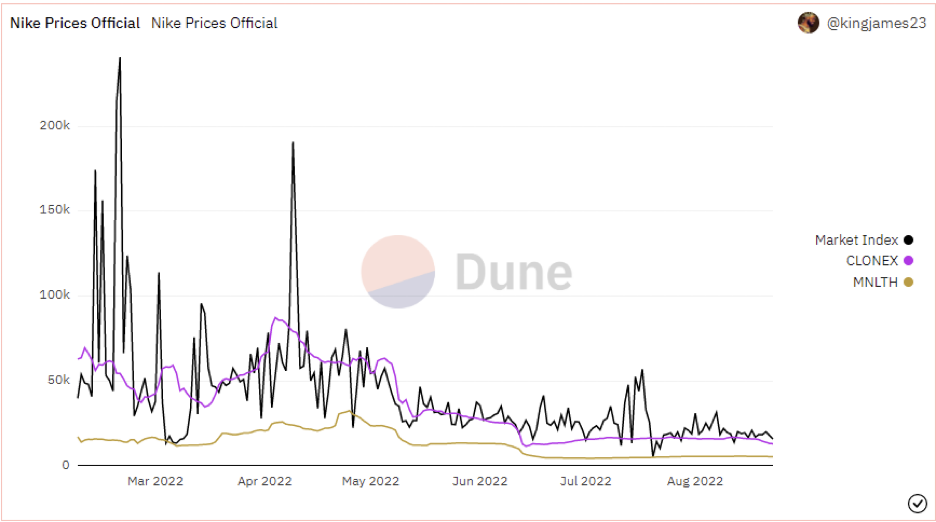 Nike's Prices are plummeting like any other NFT collection however, the brand is just holding the floor more firmly than its competitors.
CLONEX is the prime collection of Nike NFTs and this collection is standing against the bearish wave more firmly than ever. Mint Vial strived to keep the ground but the sales faded away as the situation in the crypto market worsen. RTFKT NFT collection by Nike in February this year and it is still holding the top spot in monthly sales.
Nike monthly transactions were at their best in December 2021 (11,300 transactions) and April 2022(12,770 transactions). More transactions mean more sales volume. The increased sales volume helped Nike earn as much as $24 million in just April 2022.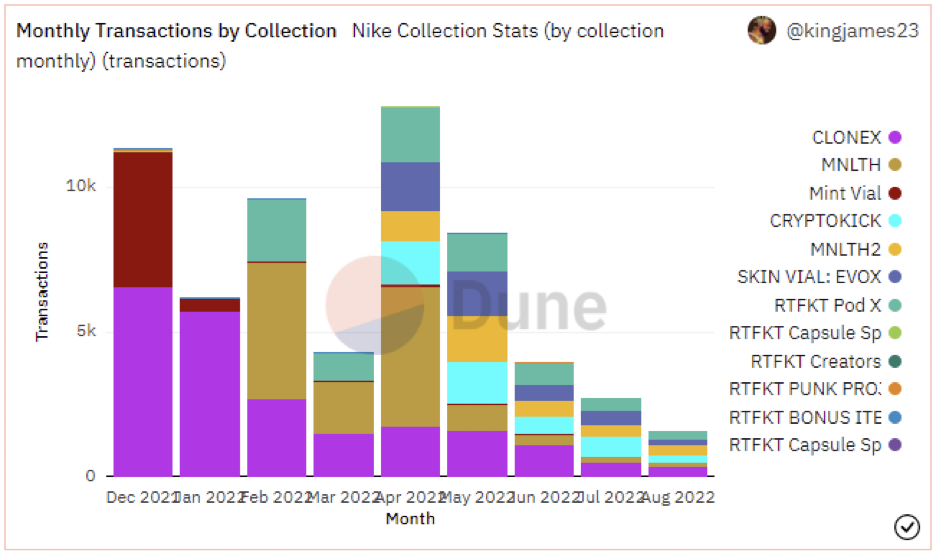 Conclusion
Crypto bearish trends do affect the NFT market, but you can not blame it altogether. Nike is a fine example of it. If we look at the data, Nike Air dropped $76.58 worth of NFTs in the past. This is evident how good Nike has been in keeping up the hype, delivering value, and including the community in its success. There's a lot to learn from the other fashion brands in the Nike NFT collection.
more to read
Metaverse Market Size is Predicted to Grow 8x by 2029
Internet Made NFT Wants to Transform the Fashion Industry
Follow NFT World News: Twitter, Instagram, Telegram, Tiktok, Youtube, Twitch
sources: Dune, Opensea
author: mnmansha
Disclaimer: This article is provided for informational purposes only. It is not offered or intended to be used as legal, tax, investment, financial, or other advice.