Introduction:
Nitro League P2E is bringing the racing game experience from free-to-play to blockchain-based GameFi Play-to-Earn. This is a multi-pronged approach to bring the A-quality game experience to global attention through Non-Fungible Tokens and a stable tokenized game economy. Nitro League game is based on an Ethereum-based Polygon Chain.
Nitro League Trailer
Overview:
Nitro League is an upcoming blockchain game that offers fun, engagement, and ownership through blockchain. The players get perks and real-world benefits for their time in the game as the game progresses. The Game offers Play to Own system where players have to earn or unlock the in-game assets which are NFTs. Nitro Game players own these assets in and outside the game and these can be traded for potential cashouts on the marketplaces.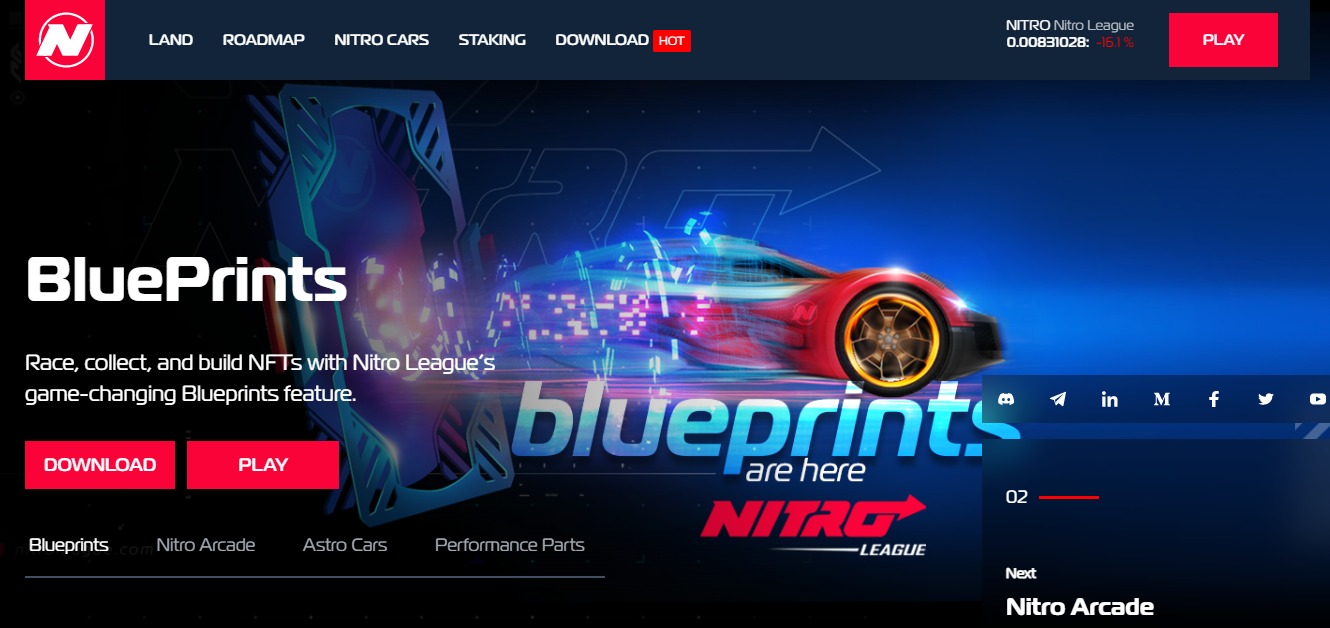 First of all the players need to build and upgrade their car through XP which is obtained by winning Reputation points. Reputation points can be collected by winning matches and then these are used to buy the BLUEPRINTS to build cars. Players race their NFT cars, representing their clans, to beat their opponents for victory, wealth, and status as billions watch what unfolds.
Nitro League facilitates players to own NFT Cars and virtual Lands, join clans, and build their own empires on top of Polygon Chain.
There are three different racing modes in Nitro League.
Free-to-Play – Where you practice your skills and get recognized as a racer.
Solo Events – Play-to-Earn as an independent racer.
Team Events – Play-to-Earn as a team while earning greater rewards.
Starting first may not be a guarantee for success, but sometimes it can be a game changer! 🔥

Now it's your time to enter the world of #PlayandEarn racing! ⚡️#NitroGame #NitroRacing #PlaytoEarn pic.twitter.com/AYMX3XJmiv

— Nitro League (@nitroleaguegame) February 18, 2022
NFT Rarity:
Racing Cars are the main upgradable NFTs of the Nitro League economy. Nitro League NFT Cars are available on Opensea and Terra Virtua NFT marketplaces. The fact that the Nitro League Cars are upgradable NFTs, makes these assets more valuable. There are 6 classes of cars, each having a different set of traits:
Alpha Class
Beta Class
Gamma Class
Omega Class
Delta Class
Sigma Class
Fusion Cloning (aka Breeding):
Fusion Cloning is the breeding of the genesis version of the cars. After the Fusion Cloning is completed, new cars are generated which are faster, rare, and more valuable.
To successfully clone a car in the game, there are certain requirements that must be met. These requirements include obtaining the necessary blueprint cards, attaining the required XP and RP level, and possessing two cars that have reached the maximum upgrade level, as specified in the blueprint. In addition, players must have access to a car cloning pod, which can be unlocked within the game's garage, and a robot to operate the pod.
Fusion Cloning is performed to produce new unique vehicles in the game which are faster and more valuable than the genesis cars. 🔥

🏎️To produce a fusion clone, the player must own the 2 genesis cars required for cloning.

Full Details in our WP: https://t.co/Ab9p38wVJw#NFTs pic.twitter.com/MGRflymQeQ

— Nitro League (@nitroleaguegame) February 8, 2022
Obtaining the necessary materials to clone a car can be a time-consuming process. Players must earn credits, the soft currency used within the game, by participating in races and other activities. They must also acquire nitro tokens, the game's hard currency, which can be used to speed up the cloning process or purchase other in-game items.
The cloning process is a time taking process; It requires players to be more patient. However, the rewards of successful cloning can be great, as cloned cars can provide a significant advantage in races and other competitions. Overall cloning is a combination of the following 3 factors:
Tokenomics:
Nitro is an ERC20 token with a total supply of 1,000,000,000 tokens. The initial market capitalization of Nitro is $2,600,000. The Fully Diluted MarketCap (FDM) for Nitro is $60,000,000. The Public Sales of Nitro amount to $2,000,000. Nitro is traded under the ticker symbol $NITRO.
The vesting schedule of Nitro is given in the table below:
| Category | Distribution | Lockup Period | Vesting Schedule |
| --- | --- | --- | --- |
| Seed | 0% at TGE | 1-month cliff | Monthly unlock for 12 months |
| Private Sale | 0% at TGE | 1-month cliff | Monthly unlock for 12 months |
| Public Sale | 100% at TGE | None | None |
| Treasury | Locked | 1-month | Weekly release for 24 months |
| Ecosystem | Locked | 1-month | Weekly release for 24 months |
| Team | Locked | 12 months | Weekly release for 24 months |
| Marketing | Locked | 6 months | Weekly release for 12 months |
| Advisors | Locked | 6 months | Weekly release for 24 months |
Conclusion:
Most blockchain games are earning-oriented platforms, not feeding the players with enough quality gameplay to spend their time. Nitro League is one of those games that are committed to bringing the quality gameplay of classic games with the touch of GameFi. Since P2E games require frequent NFT swaps and trades, Nitro League is developed on top of the Polygon chain which makes it a more accessible cheap, and a scalable option.