The nonfungible tokens are getting more and more popular since the people like Gary Vaynerchuk and others started to tweet about them and expressed interest in this industry. This is why we start to bring you the NFT marketplace analyzes series with the first one Opensea. There are not so many so that it won't take so long.
OpenSea is the first decentralized non-fungible token (NFT) marketplace for buying, selling, and trading NFTs. In fact, OpenSea brands itself as the biggest marketplace for digital goods. As such, it's worth taking a closer look at OpenSea and what the platform adds to trading NFTs. The difference between fungible tokens and NFTs is that they have unique characteristics and identifiers and are not interchangeable. Another way to think of them is that NFTs represent things, not currencies.
The OpenSea was founded in January 2018. So, you can see how new NFT marketplaces are. Founders Alex Atallah and Devin Finzer decided the ecosystem was ready for an NFT marketplace after seeing CryptoKitties in action.
OpenSea has raised a little over $4M in funding, most recently with a $2.1M round lead by Animoca Brands, gumi Cryptos, Stanford StartX, and David Pazdan from MetaMask. Previous rounds were supported by YCombinator, Founders Fund, Coinbase Ventures, 1Confirmation, Blockstack, and Blockchain Capital.
All kinds of NFTs and rising members
Started as the first and largest NFT marketplace, you can find all sorts of unique digital items at OpenSea. Besides digital art, there are collectibles, game items, domain names, even digital representations of physical assets. Essentially, OpenSea is like an eBay for NFTs with millions of assets organized into hundreds of categories.
Trading on OpenSea is a minimal trust operation. You don't need to trust that your counterparty will behave honestly, nor do you even need to trust OpenSea. Your transactions will rely on technology, not reputation—and on smart contracts, not third parties.
Furthermore, transactions on OpenSea are "atomic," meaning the whole deal happens or none of it does. The typical contractual agreement of "if you do this, I'll do that" occurs regardless of which party has to step out and act first.
That's because OpenSea uses what's called the "Wyvern Protocol." This protocol is a suite of smart contracts that have been audited and battle-tested in real-world usage. The Wyvern Protocol enables users to swap state changes such as an NFT ownership state for a cryptocurrency ownership state. So, when a seller sells an NFT, it transfers to the buyer instantly.
To participate in OpenSea or any NFT marketplace, you will need a wallet like Metamask.
The prove that the NFTs are really booming like an part of blockchain field is rising number of members as on the chart below.
OpenSea Fees and other features
OpenSea boasts that they have the lowest fees in the NFT space. They take 2.5% of the sales price. This fee is low in comparison to other platforms that take up to 7.5%. Also, there is no service fee for buyers, while others charge up to 3% on top of the sale price. Furthermore, traditional auction websites are known to take up to 12% of profits.
If you have NFTs from other marketplaces, you can still list them on OpenSea so long as they're in your wallet. OpenSea has over 200 payment options available.
The OpenSea team works hard to keep their users from getting ripped off. Well-known accounts with a positive track record get a blue checkmark next to their collections. They also add extra layers of verification with creator addresses posted above item descriptions. Users can also flag fake and inappropriate NFTs.
The Future of OpenSea and NFTs
NFT use cases are growing and appear to be limited only by the imagination. So far, those getting the most attention are in-game items, art, collectibles, virtual worlds, and tokenized real-world assets. But more things are sure to come, especially as the sector further integrates with decentralized finance. More integration means more NFT asset classes.
There are more marketplaces existing not only on ETH network but also WAX, FLOW and Binance chain but the OpenSea is still in TOP #3.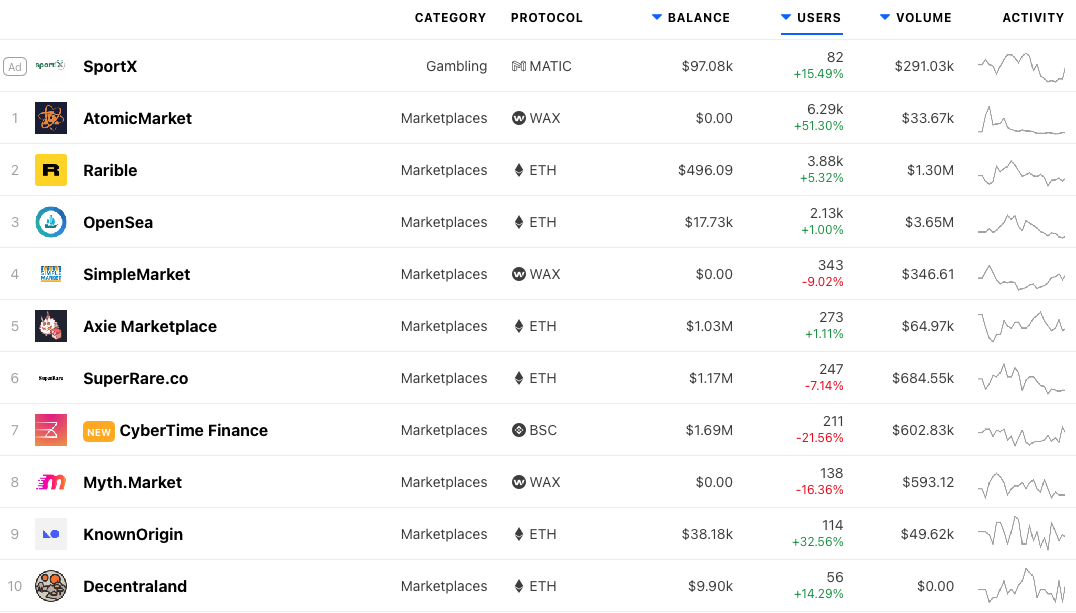 In summary, with all the attention and new projects pouring into the NFT ecosystem, 2021 will surely go down as a breaking year. It only stands to reason that the top NFT marketplaces like OpenSea, Rarible, and Nifty Gateway (the Winklevoss twins' acquisition), Swappable are poised to prosper.
Source: academy.ivanontech.com