Quick Summary
Orion Protocol is a DeFi cryptocurrency project looking to solve liquidity issues in the crypto markets. Orion Protocol has been launched in 2020, delivered massive gains and created 18 streams of income. 
Due to increased usage, new applications, and substantial investment, decentralized finance (DeFi) gained traction last year. According to DeFi Pulse, the trend isn't going away, with more than $80 billion in total value locked (TLV) in DeFi projects as of February 2022.
However, due to a gloomy start to the year in the broader crypto market, many DeFi coins have pulled back from their previous year's highs. Orion Protocol is a DeFi coin as well, so will it grow with the whole sector?
related: VeChain's 'VeCarbon' Platform To Help Drive Global Decarbonisation
Orion Protocol Explained
The Orion Protocol was created to combine the liquidity of numerous cryptocurrency exchanges into a decentralized platform that acts as a single, non-custodial entry point into the whole digital asset market. Alexey Koloskov founded it in 2018 and released it in 2020 in an attempt to address some of the major difficulties in the DeFi area.
Orion intends to address the challenges of conducting lucrative transactions on most crypto exchanges due to a lack of liquidity. Both controlled and decentralized exchanges fall into this category. Orion's approach is to combine order books from many exchanges into a single, easy-to-use and comprehend terminal. The Orion Protocol's purpose is to assist users to get the most out of their investments while reducing the hazards of using numerous exchanges.
"Orion Protocol solves some of the largest issues in DeFi by aggregating the liquidity of the entire crypto market into one decentralised platform. Governing the protocol is the proprietary staking mechanism Delegated Proof of Broker, fulfilling every function via a decentralised brokerage with the supply-capped ORN token at its core," states their whitepaper.
The Main Orion's Perks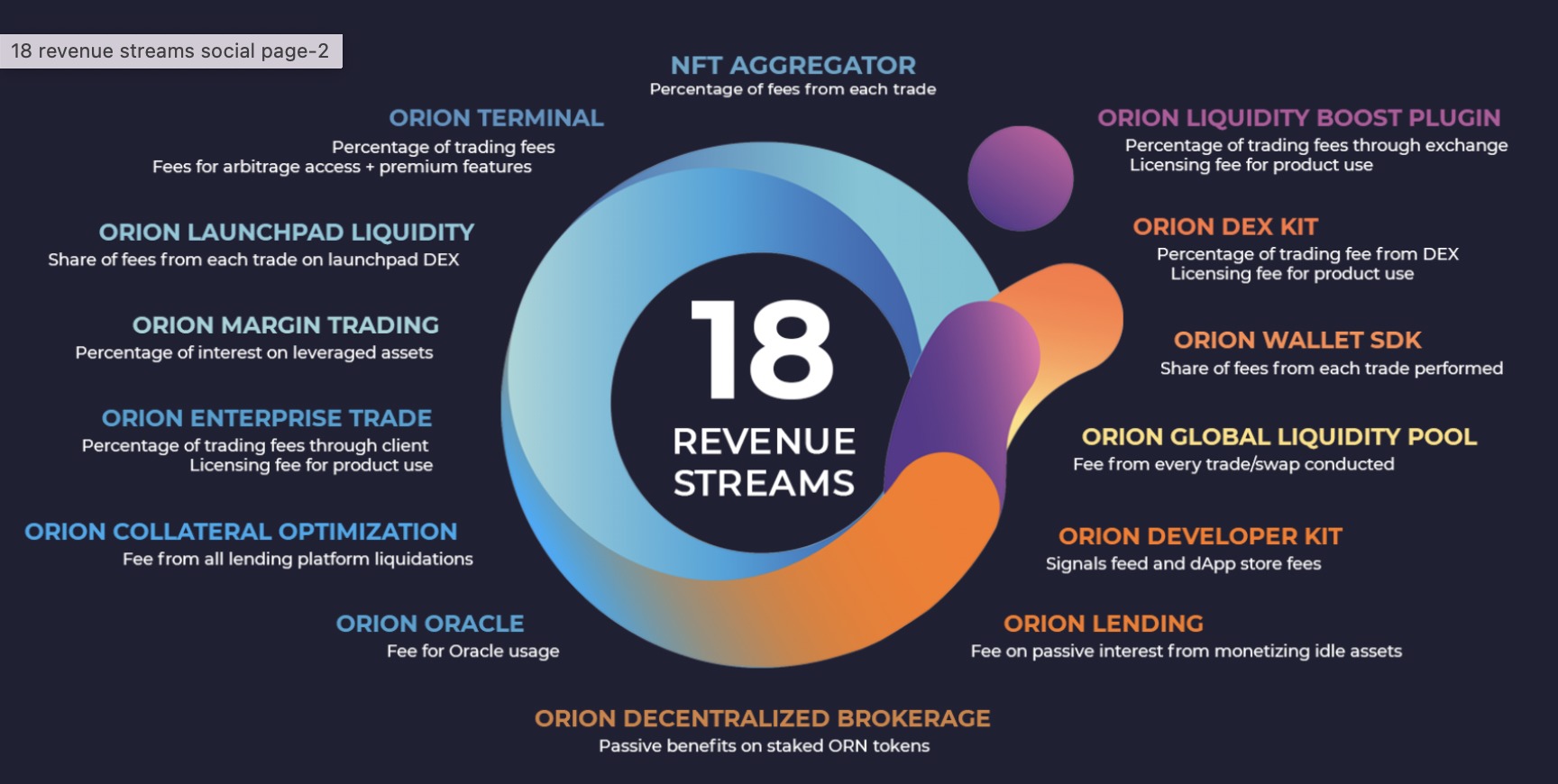 Holder Benefits
Holding ORN tokens is bringing a number of benefits, plus additional functionality that will add further value to users and incentivize them to hold: including discounted trading, advanced features, protocol access, and staking returns.
18 Revenue Streams
Orion Protocol has built 18 income revenue streams you can see in the photo above.
Supply-caped
New tokens are never minted beyond the TGE, while efforts are in place to strategically and frequently remove tokens from circulating supply. Only purchased tokens will be in circulation till the 16th month.
Dynamic Coin Offering
Orion is the first token sale to implement a DYCO: a token sale that succeeds, or the token buyers get their money back. This creates a price floor in the secondary market, offering down-side protection to participants without limiting their upside.
Token Information (ORN)
Orion Protocol is an ERC-20 standard-based token and it had a successful entry in the crypto market as it grew 10x in a few weeks. In 2021, ORN skyrocketed by another 10x after a little price fall! Currently, it has a $128 million market cap with a huge trading volume. ORN is available on the biggest crypto exchanges in the world, such as Coinbase, Binance, KuCoin, Gate, etc.
ORN has a max supply of 100,000,000 tokens with approximately 41 million (41%) circulating in the market or locked. This project is considered one of the best DeFi tokens and still has a lot of potential for growth in the future. Now it's down almost 90% from the top, making it possibly a great investment opportunity.
Conclusion
Even now, more than 13 years after Bitcoin's inception, the crypto industry continues to face liquidity concerns. Liquidity is required for the industry to function efficiently, and it can aid adoption.
However, in order to achieve liquidity in the first place, high adoption is required, which means that the sector will either struggle or find a way to offer liquidity from other sources until this occurs. By doing so, Orion has found a means to ensure a solution to this problem, which is why it has so much potential in the crypto sphere.
more to read
Monster Energy Expressed Clear Interest For NFTs And Metaverse
---
NFT World News Social Media: Twitter, Instagram, Telegram, Tiktok, Youtube
---
sources: capital, orionprotocol, coinmarketcap, securities
author: Rene Remsik
Disclaimer: This article is provided for informational purposes only. It is not offered or intended to be used as legal, tax, investment, financial, or other advice.