Quick Introduction
'Parallel' is a NFT-based trading card game (TCG) built around a play-to-earn (P2E) mechanic. Developer Parallel Studios is creating the game as part of a decentralized ecosystem developed by Echelon Prime Foundation (Echelon). According to their Twitter account, the game is currently in Alpha testing.
Basic Overview
Parallel Studios is a team of professionals with diverse backgrounds in the video game industry, crypto industry, and other vital sectors. Their collective experience includes AAA titles such as Call of Duty, Overwatch, Fortnite, Assassin's Creed, and The Division.
Eythan D'Amico – Co-Founder https://www.linkedin.com/in/eythan/

CPO and Co-Founder (Jul 2020 – current) at Blimp Homes.
CPO and Product Designer (Jul 2017 – Sep 2019) at Bunz.

Perry Haldenby – Co-Founder https://www.linkedin.com/in/perryhaldenby/

CTO and Co-Founder (Jul 2020 – current) at Blimp Homes.
CTO (Apr 2017 – Oct 2019) at Bunz.

Oscar Mar – Art Director and Co-Founder https://www.linkedin.com/in/oscar-mar/

Designer and founder (Jan 2018 – current) at Oscar Mar Studio.
Graphic Design Director (Mar 2013 – Jan 2018) at Ubisoft.
Motion designer and Concept artist (Apr 2009 – Feb 2013) at Ubisoft.
Lighter, motion and graphic designer (Mar 2007 – Feb 2009) at Electronic Arts.
Full list of employees can be found here: https://www.linkedin.com/company/parallelstudios/
NFT Game Assets
The team has been working tirelessly to bring some brilliant ideas to Parallel, which builds upon the concept of NFTs. The game will be designed to maintain the scarcity of each card as much as possible, while giving newer players access to cards they need.
Every card with the same name in Parallel does the same thing in-game, regardless of edition and rarity.
Special Edition (SE) – These cards are extremely rare.
Perfect Loop (PL) – These are also limited collectibles, but instead of a "holofoil," these cards will feature an animation. When using a PL card in-game, it will display the animation.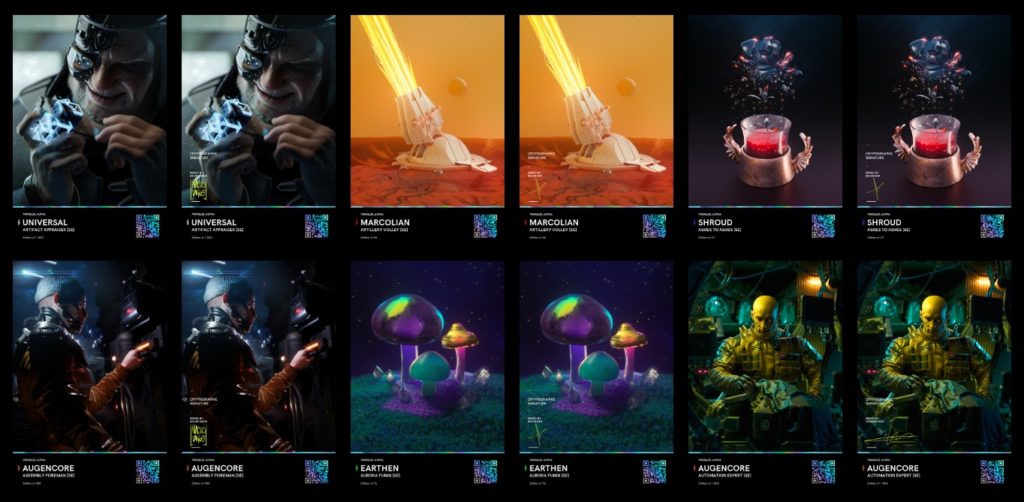 First Edition – is comprised of cards that have been minted for use in the game. Featuring "First Edition" artwork, they will have a unique appearance in-game.
Full list of cards: https://parallel.life/cards/
In addition to the "Card Continuum" and "Card Lineage," design editions of cards will be created as needed when needed.
The CC system provides an entry point for new players by allowing them to reproduce a set of cards. On CC cards, the generation will be indicated by a marker. The art, card frame, and other features may differ slightly from First Edition cards.
The Card Lineage system introduces card progression and card spawning. Experience points (XP) would be awarded to cards in this system. Participating in a winning game will give the card XP. When the XP bar is full, the player can spend PRIME to level up that card. There will be a variety of rewards, including temporary XP boosts and exclusive cosmetics.
Tokenomics
Within the Echelon ecosystem, PRIME is the token that rules them all. The system is designed to support P2E mechanisms in gaming in a novel manner. Approximately 30% of the initial token supply is reserved for P2E mechanics, which include players and collectors. However, the actual value of PRIME will be higher than 30%, as there are PRIME sinks that re-distribute PRIME back into the supply.
The P2E pool is for gaming projects leveraging the PRIME token and smart-contract system from the Echelon ecosystem. As well as governance rights and priority access to new sales, holders receive several perks within the ecosystem. PRIME tokens are based on the ERC20 protocol, and there is a fixed supply of 111,111,111 tokens. Feature access and governance are its two primary functions.
Roadmap
Currently there is no roadmap available.
Social Media Statistics
| | |
| --- | --- |
| Platform | Followers |
| Twitter | 108.6k |
| Discord | 40.4k |
Conclusion
In conclusion, Parallel Studios is an ambitious team of professionals from diverse backgrounds, including the video game and crypto industries. Check out their Twitter page or read the Whitepaper for more updates and information on the game's development. Don't miss the chance to be part of this exciting project!