Quick Summary
GuildFi is the interconnected ecosystem of games, communities and NFT assets. GuildFi maximizes players' benefits in gaming, organizes NFT drops and sales and rewards its communities regularly.
Play-to-earn (P2E) gaming and metaverse are creating a serious noise in the world right now. That's leading many companies to create and adapt new technologies and ways to play. GuildFi is one of the newest companies out there that want to take guilds to the next level. Recently, GuildFi company completed a seed round worth $6 million. What are they up to?
this might interest you: 4 Determinants For NFT Valuation
GuildFi Explained
GuildFi is the interconnected ecosystem of games, communities, and NFT assets. GuildFi maximizes players' benefits and enables interoperability across the Metaverse. It's organizing NFT drops and sales in the metaverse you are looking for. This project allows you to get the best and most unique NFTs with Proof of Play.
GuildFi is taking guilds to the next level by serving as an infrastructure to onboard, connect, and add value to Players, Guilds, Games, and Investors alike. The goal is to build an interconnected ecosystem where players' time and efforts are interoperable across the metaverse. Currently, GuildFi is offering Cybloc, Cyborgs on the blockchain, and mystery boxes for selected genesis members.
The main components of GuildFi in the works are GuildFi's ecosystem, Treasury, Token and Community rewards.
The Ecosystem
The ecosystem consists of the gaming platform, guild zone, NFT zone, and tools zone to provide the best gaming and user experience for players. GuildFi's gaming platform is arguably the central aspect in the entire ecosystem as it's a gateway for users to navigate the metaverse and access the other three parts of the ecosystem.
The Guild Zone consists of three key segments namely GuildFi Guild, Guild Network, and Guild-as-a-Service that are inherently important for GuildFi to achieve their vision.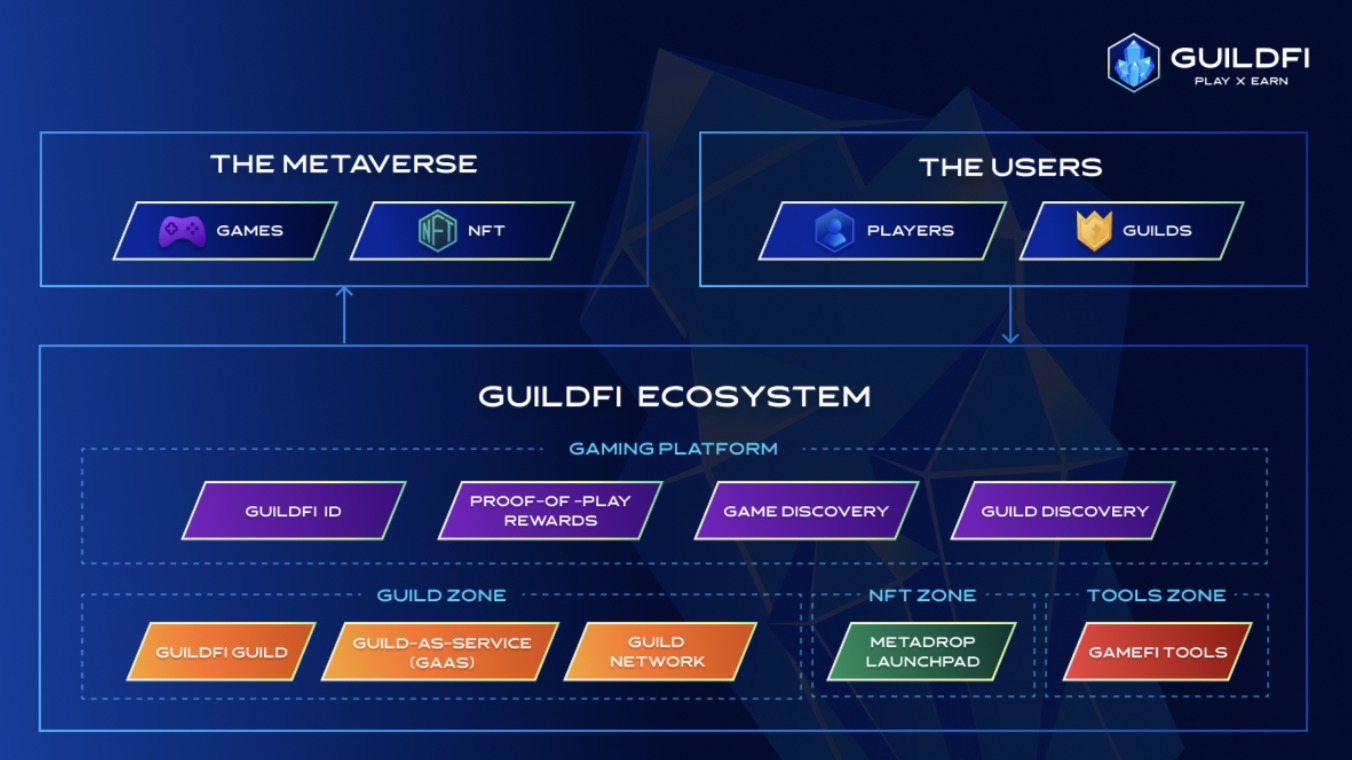 The NFT Zone consists of the Metadrop Launchpad which aims to reward early community members and supporters with special offers and giveaways from our partners. Recent examples include our first Triple IGO Launch of Cyball's NFT which resulted in a volume all-time high on Binance NFT and also garnered an oversubscription rate of 2000% on GuildFi!
GuildFi's Tools Zone consists of all the Axie Tools that can be utilized by community members. The tools provide features such as Scholarship management, Card explorer, PvP simulation, etc.
Treasury
The funds raised will be utilized to selectively invest in the different segments of the metaverse, be it games, infrastructures, or guilds. The treasury itself can be divided into multiple investment strategies to ensure that we can capture the growth of the metaverse or any other opportunity.
GuildFi is like a proactive VC and asset manager with the largest treasury in the guild's sector. GuildFi will be deploying multiple fund strategies as we believe that a well-managed treasury has limitless growth opportunities.
Community Rewards
There are multiple rewards prepared for everyone, however, it's divided into more types. There are early adopters rewards, staking rewards and community engagement rewards. The main prize communities receive will be GF tokens
Token Information (GF)
GuildFi project has its own token GF that got launched recently with a max supply of 1,000,000,000 tokens and a little more than 4% of that supply is in circulation. Since their launch, the token decreased by 50% in value and may very well be underrated right now with the current market cap of $72 million. GF is listed on many known exchanges like Gate, OKEx, MEXC and the community increase can definitely help the token to grow in value and get it listed on more exchanges over time.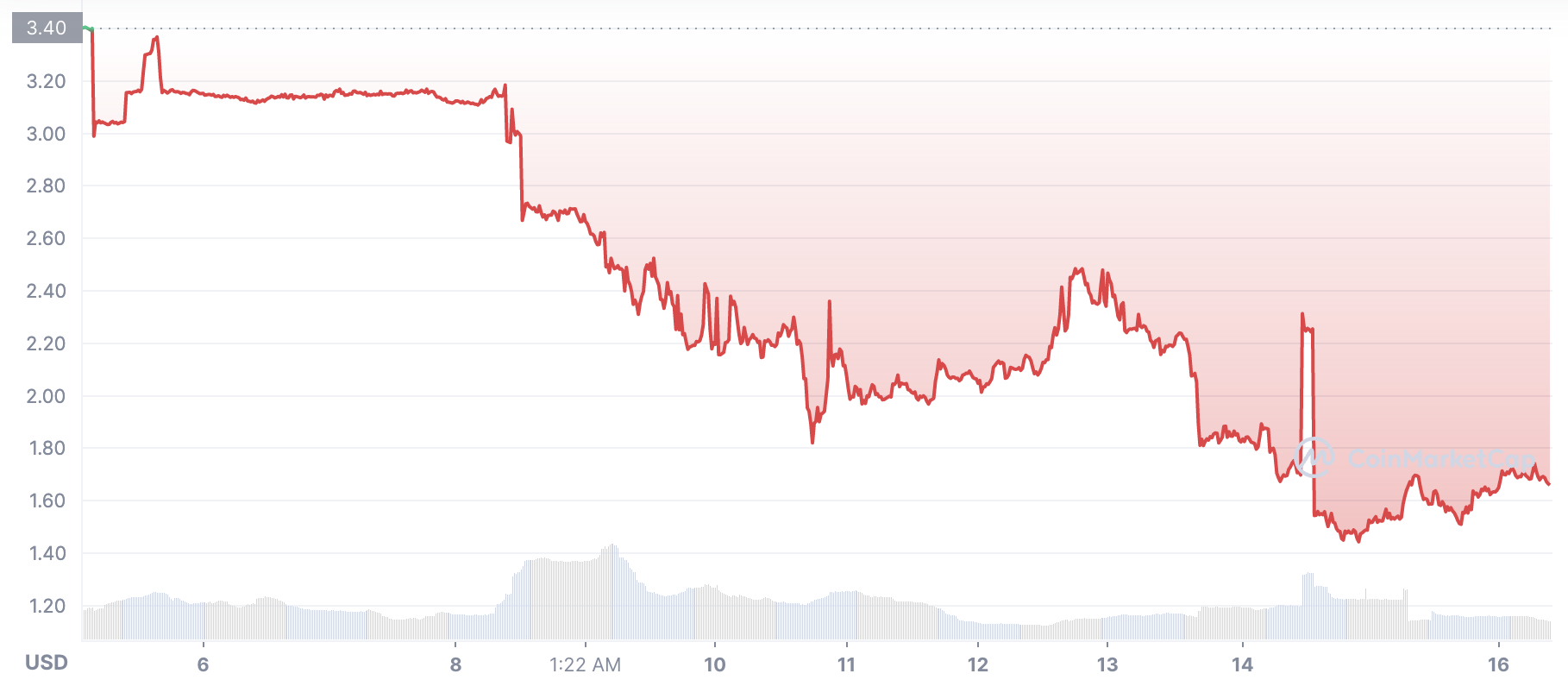 Conclusion
GuildFi built a comprehensive ecosystem and gaming platform that people can use not just to play around but also earn rewards. The year 2021 is definitely a good start for P2E gaming, and the world should see broader adoption of this concept in the upcoming years even more. GuildFi may well be a part of this crypto NFT sphere.
more to read
Americans Start to Give Cryptos as a Gift
Pitbull As The Ultimate Auto-Staking Token
---
NFT World News Social Media: Twitter, Instagram, Telegram, Tiktok, Youtube
---
sources: guildfi, coinmarketcap, medium
author: Rene Remsik
Disclaimer: This article is provided for informational purposes only. It is not offered or intended to be used as legal, tax, investment, financial, or other advice.