Quick Summary:
Square Enix, the Japanese game development company, joined Oasys – a PoS blockchain, as a 21st node validator. The gamers community believes that blockchain limits the fun part of the game and makes it more of a pixelated art.
Related: Banksy & LCD Labs join Magic Eden and Create "Radar Rats" NFTs
Square Enix joining blockchain
The Japanese video game development company behind final fantasy has now signed up as a 21st node validator on PoS Oasys blockchain, as revealed by Oasys sources. The duo will join hands with the blockchain developers to drop more blockchain games in the future. Oasys blockchain works on the Proof of Stake model and it is compatible with EVM (Ethereum Virtual Machine). Square Enix is a big name when it comes to developing games and the company joining Oasys will help the blockchain ecosystem drop AAA quality games, as it envisions claiming the throne in the mentioned category.
We are happy to announce that @SquareEnix joins Oasys as the final of 21 initial node validators🚀🚀

As part of this initiative, Square Enix and Oasys will explore development of New Blockchain Games🔥https://t.co/a2PGxf5uDz pic.twitter.com/QZ1rfRvSMC

— Oasys🏝Blockchain for Games (@oasys_games) September 12, 2022
This is not the first time when Square Enix is getting involved with blockchain. The company has already released a series of collectibles "Final Fantasy VII collectibles" in collaboration with Enjin blockchain. The fans can pre-order these 25th-anniversary figures that will be available in 2023 from the Square Enix Store.
Square Enix is one of the major video game publishers to join the list of Oasys' initial validators list. Jump Crypto, Ubisoft, Crypto Games, SEGA, and Yield Guild Games are already a part of its ecosystem. Oasys plans to develop a "token-based" game model to incentivize the players in the ecosystem.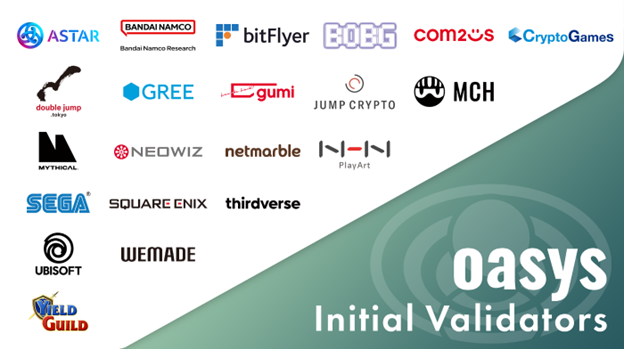 Why Gamer community is concerned?
If a gaming franchise is becoming a part of a major game development ecosystem backed by blockchain, why there's discomfort in the community?
Previously, Ubisoft started closing its services for several online games as the company was conducting research on NFTs and web 3. This uncommunicated takedown of over 100 games infuriated the whole community and raised concerns for other traditional video game players. This is the reason why the Square Enix community is concerned.
In 2022, Square Enix has done irreparable damage to its image by

– Investing in crypto
– No longer prioritizing "fun" in gaming
– Selling off all their western studios

I'd call it self sabotage, but compared to what's happened to Warner Bros this year, it's honestly nothing https://t.co/TD8d1O1nj9

— Bruh Momento (@JBoop_is_ballin) September 12, 2022
While it will open a stream of opportunities through the play-to-earn model, the players who play games for the sole purpose of fun will be disappointed. Blockchain games are not that advanced and it will take time to beat the traditional games.
Conclusion:
Communities look forward to these developers and when there's any miscommunication, it stirs discomfort in the entire ecosystem. Square Enix should take the community in confidence before venturing into blockchain because no project can succeed without the ample support of its players.