Quick Summary
Polygon Matic is a layer 2 Ethereum scalability solution that enables developers to build user-friendly dApps. It reached carbon neutrality, and its native token MATIC has experienced substantial gains in the past month
The Ethereum ecosystem is a whole infrastructure that offers developers every tool to build dApps, DeFi platforms, and NFT projects. However, Ethereum lacks scalability. Scalability means decentralization, speed, and security of the chain. The problem with Ethereum is it is not very fast and due to higher network traffic, it gets congested and the fees tend to increase with time. Therefore developers required something that is as secure and decentralized as Ethereum but processes transactions faster and cheaper. Polygon is exactly such a solution.
Related: The Polygon Network is attracting new users due to lower fees.
Advantages of Polygon
Polygon is making Ethereum more compatible by adding a layer to it. It achieves precedented transaction speed and cost savings due to its PoS model. The side chain utilization by MATIC is making it developers' favorite chain and expanding its ecosystem. The chain is being promoted in DeFi, NFT, web3, and GameFi environments. Who wouldn't want to use a chain that is 10,000 times cheaper and 500 times faster than Ethereum? Matic being the native token has increased utility and works as fuel across the network. The Polygon network has transactions in millions on daily basis even in a bear market like this.
Carbon-neutrality
Matic has gained over 215% in one month starting from $0.32 to $0.99 and the coin is still moving above EMA 21, 55, and 100 on a 4-hour chart. Matic is trading above $0.90 and the price is resting for a while after a huge surge. EMA 21 is acting as local support and the coin is still soaring above it. 
When Bitcoin dived to its recent cycle's bottom, Matic fell to $0.32, but has recovered more than 210%, while Bitcoin only gained 28%. Resistance occurred at $0.74 for Matic (as marked in the chart), but it successfully broke above it and then retested this level last week. There is a resistance at around $1.00 that MATIC didn't manage to brake for the third time in the past 3 months.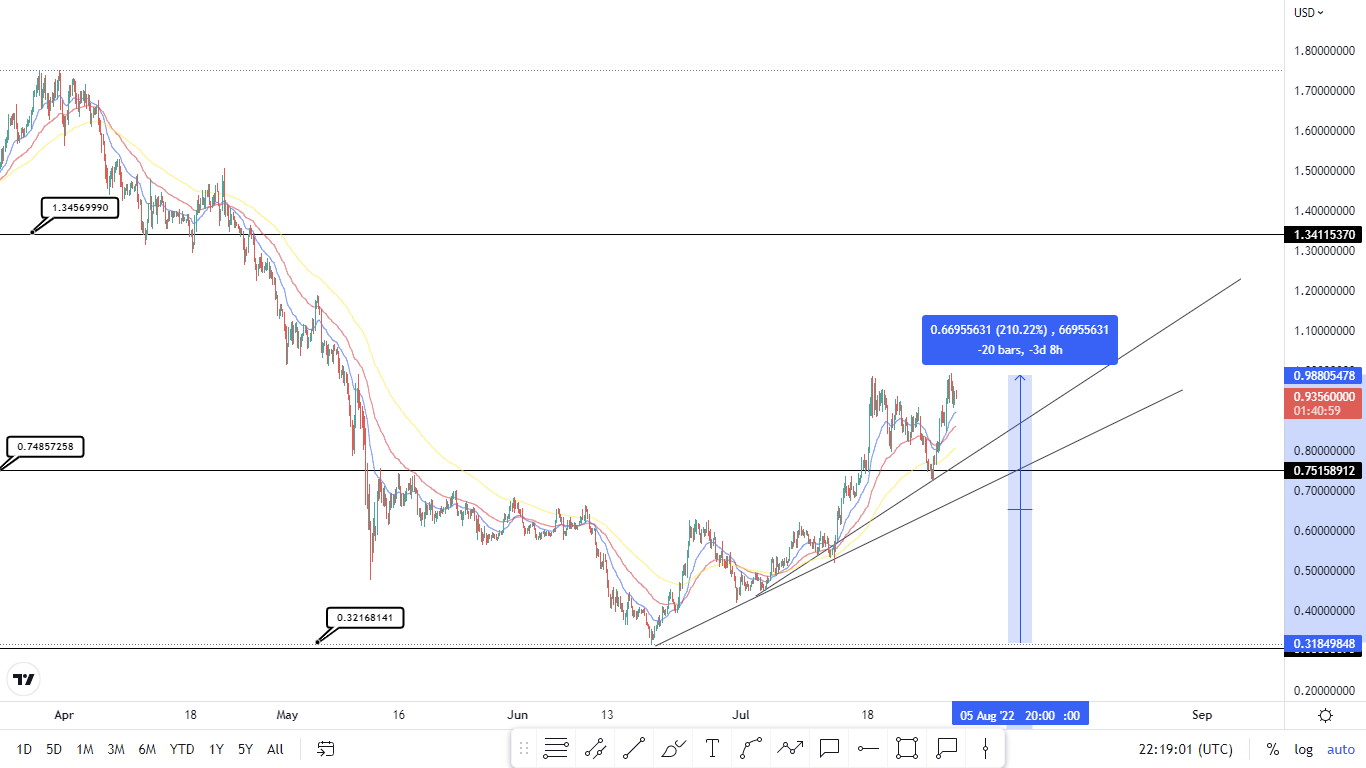 Part of the reason behind the upward trend is carbon neutrality achieved by the Polygon network in late June. This is the first step toward becoming a carbon-negative project, which is a very important target of the co-founder Sandeep Nailwal ."Polygon will lead the way as the whole industry moves toward becoming a net positive for the environment," he said. Polygon reached carbon neutrality by partnering with KlimaDAO, a decentralized collective of environmentalists, developers, and entrepreneurs that is widely recognized as a pioneer in the nascent, on-chain carbon market.
Some reports say that the surge in MATIC price has come in the backdrop of substantial whale accommodation over the last six weeks.
Conclusion
It's important to always keep an eye on Bitcoin, as being in the driving seat, it can steer the entire market in any direction. The above analysis is an editorial opinion, not financial advice. DYOR before investing.
more to read
Starbucks Has Entered The Realm of NFTs
JP Morgan Might Take Away the Decentralization of Ethereum
Follow NFT World News: Twitter, Instagram, Telegram, Tiktok, Youtube, Twitch
sources: Tradingview, Polygonscan
author: mansha
Disclaimer: This article is provided for informational purposes only. It is not offered or intended to be used as legal, tax, investment, financial, or other advice.