To forge the breakthrough ecosystem for game makers and services, QORPO Game Studio and its partners are proud to announce the launch of the biggest UAE Gaming Guild. The project arises from the will to enrich the gaming community and industry by organizing the Gaming Guild that's set to lead the way in the field.
The Founding Event will be held on March 2nd at Dubai's illustrious Cove Beach Caesars Palace. Guests will get the opportunity to network with more than 700 visitors worldwide at this exclusive ceremony and learn more about the entire gaming ecosystem.
Highlights
Values and goals
Founding members
Member games
Advisory Council
About Crypto Oasis
Guild's Core Values and Goals
To attain its ambitions and goals, QORPO Game Studio, along with its partners, has precisely set the objectives of the Crypto Oasis Game Guild right from the start.
Alliance
One of the goals is to create a network for the gaming industry. Crypto Oasis Games Guild deems it essential to provide a community for the leaders in the game space to share the latest insights and communicate trends to stay ahead. The point of this games guild is to stay informed of the ever-changing industry movement.
Thought leadership
The industry insights are better shared in the community and foremost within community events. Another cornerstone of the Crypto Oasis Games Guild stems from organizing frequent and highly focused topical events, along with creating engaging and helpful content. This way, the Crypto Oasis Games Guild believes to offer leadership in the gaming revolution worldwide.
Mentorship
The importance of the community aspect is also present in the last of the three pillars. Crypto Oasis Games Guild intends to create highly informative and educational content backed up by the industry's leading mentors and advisors. Crypto Oasis Games Guild provides mentorship for industry leaders to learn and embrace the best practices.
Meet the founding members of the Crypto Oasis Games Guild
Let me introduce you to the founding members, the leading companies in the game industry. Thanks to the strong background of the project, Crypto Oasis Games Guild believes in achieving the desired goals. The gaming alliance is in the hands of partners with long and diverse experience in the gaming industry.
Crypto Oasis Games Guild members include Web2 gaming veterans like Artisan Studios and Yallah Esports reinforced by well-established Web3 projects, including Crypto Oasis, Virtua, Carv, Metaverse Game Studios, or UFO Gaming.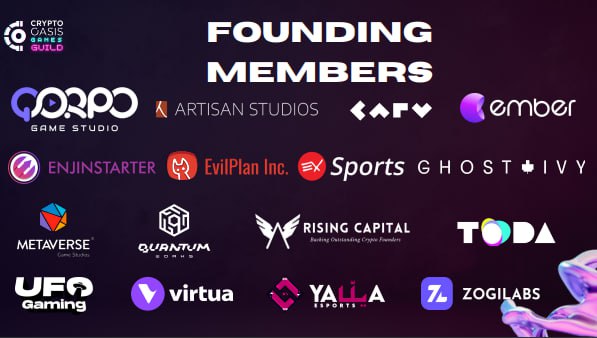 QORPO Game Studio – Born of a desire to challenge the limits, since 2018, QORPO Game Studio has been one of the best up-and-coming web3 games development studios with headquarters in Slovakia, strong ties to Dubai, and a web of affiliates around the world. QORPO Game Studio proved to be one of the most promising game studios in Europe thanks to titles such as Citizen Conflict, AniMate, QORPO Market, and QORPO ID.
Artisan Studios – Since its inception in 2016, Artisan Studios has been developing some of the finest 2D RPG games. Artisan Studios started as a small but passionate team from France just to quickly step up their game. Today, Artisan Studios is a well-established game development company operating in France and Quebec, Canada, with an international team creating top original IPs in Japan.
Enjinstarter is a pioneering web3-first launchpad, helping brands and businesses succeed on a blockchain. Enjinstarter is designated to help creators and game development studios embrace their native ecosystem for blockchain and digital asset strategies.
EvilPlan Inc – Rising World Dominators who claim to like pizza behind projects such as Secret Fight Club. In other words, EvilPlan Inc's core team is composed of seasoned industry experts with many years of experience in gaming, software, and sports entertainment.
Ghost Ivy is a game development studio introducing the future by changing the way people think about games with their titles, such as Ghospers and Haven's Compass. Their game titles bring an elaborate system of gaming and socialization.
Metaverse Game Studios is a worldwide, decentralized, and transnational independent company in the metaverse gaming field. Metaverse Game Studios has bases in Florida, the United States, and Istanbul, Turkey, with an intention to scale up its influence all over the world.
Introducing member games & organizations
Crypto Oasis Games Guild, needless to say, is a games-first organization. Right from the start, it's compelling to see the number of great game titles already involved. Crypto Oasis Games Guild is thrilled to introduce some of the most groundbreaking projects by highly skilled game developers. Let's see who's already on board.
AniMate is an upcoming open-world MMO RPG that blends the creature-catching action of Pokemon and the gameplay dynamics of Fortnite. The plot revolves around discovering the aesthetically alluring element islands in two primary game modes, amalgamating gameplay experience across desktops and smartphones. AniMate follows the story of the main human characters along with little monsters, AniMates, in several evolution stages.
Citizen Conflict is an upcoming free-to-play MMO hero-based shooter set in the open world of Ether Islands. The game introduces competitive gameplay with three rivaling syndicates waging war for dominance in a revolting society of cyberpunk dystopia. The game is based on BNB Smart Chain and crafted in Unreal Engine 5 to meet the benchmark of tomorrow's expectations. Citizen Conflict brings the open world gameplay along with competitive game modes set to disrupt traditional esports. There's no pay-to-win on Ether Islands, just pure skill.
ANGELIC is another game featured in Crypto Oasis Games Guild. In a dystopian science fiction setting, the turn-based strategy role-playing game Angelic tells a story. assemble magnificent heroes, take control of your own spacecraft, and venture out into the merciless universe.
Astral Ascending is an innovative RPG title. Discover a large, chaotic universe in a mature, emotional JRPG. Enjoy an epic tale with turn-based combat that is rewarding and offers a wide range of customization, all presented in gorgeous 4K hand-drawn graphics.
Haven's Compass – Ghost Ivy created the first-person tactical shooter game Haven's Compass. It focuses on a quick-fire kind of action where your reaction counts, but the strategy is what matters. Tactics are crucial to winning. Moreover, Haven's Compass will introduce characters with unique plots to follow across the gameplay.
Legends of Bezogia is a mystical open-world MMO RPG. Take on the role of a Bezogi and create potent weapons in a world full of quests, PvP battles, and PVE activities that will keep you busy for hours on end while the player's wealth and resources grow.
Nitro League – this racing game brings a shift to metaverse racing. In Nitro League, players can prove themselves in wild races, collect NFTs, and customize their cars to win big in the unbound racing fury.
Project Quantum – Another great shooter! With the distinctive IP running on Unreal Engine 5, Project Quantum is bringing AAA gaming into the twenty-first century, and cryptocurrency is the backbone of its economy. The system enables players to take part in the intensely competitive action of a AAA first-person shooter while also earning real money.
UFO Gaming is a team of gaming and cryptocurrency enthusiasts with years of experience in these sectors. It comes with the vision of advancing the gaming industry by utilizing the enormous potential of blockchain. UFO Gaming is collaborating with some of the top gaming companies in the world in addition to our amazing in-house team of designers, developers, and specialists to deliver a cutting-edge yet affordable experience for gamers everywhere.
Yallah Esports – Since 2016, Yallah Esports has been the leading Middle East esports organization. Their goal is to establish a regional community, promote the development of the local ecosystem, and foster young Arab talents while paving the way for the Middle East's gaming industry to flourish.
Crypto Oasis Games Guild Advisory Council
Crypto Oasis Games Guild includes a good portion of great minds in the gaming business. The gaming guild put together a strong team of advisors to help others scale up their businesses. Let's take a closer look at the team behind the advisory council of Crypto Oasis Games Guild.
Rastislav Bakala is a Slovak entrepreneur and a visionary with 10 years of experience in banking and brokerage. Driven by a passion for gaming, Rastislav is now the founder and CEO of the only blockchain game development studio in Slovakia – QORPO. Being a member of the Blockchain Game Association, Fintech, and Slovak Game Association, he is at the forefront of creatives driving the industry.
Erkan Bayol has a broad experience in game development, having worked in leading positions in several forward-thinking companies. Erkan is the CEO and founder of Metaverse Game Studios. Advisory-wise, he has experience as Game Production & Game Business Lecturer at Bahcesehir University, as well as lecturing at Istanbul Technical University or mentoring at FasterCapital.
Doug Dyer can be called a veteran of the gaming industry since his broad experience dates back to 90'. Currently, he's the COO and the Board Member of Virtua. Doug's expertise includes working with Warner Bros or Microsoft Games Group as a Product Planner, among many others. His mentoring competencies are imprinted in his advisory work for SkillSports LLC.
Mario Rizzo is the CEO and Co-Founder of Artisan Studios. He cemented his unquestionable industry expertise at companies such as Ubisoft, Acony Games, and Jagex or as a CEO of Kobojo. Mario has been working in positions such as Game Director and Executive Producer before launching his own project.
Prakash Somosundram is the CEO and Co-Founder of Enjinstarter. His professional background is rooted deeply in mentorship and the business advisory field. For years. Prakash has been working as a strategic advisor for several successful companies, such as CGCX.io, iBG Finance, PathDAO, and MetaOne.
About Crypto Oasis
The goal of Crypto Oasis is to become one of the world's top blockchain ecosystems.
As an ambitious blockchain ecosystem with a Middle Eastern focus, Crypto Oasis is funded by the Swiss entrepreneurs that founded Crypto Valley. With more than 1000 organizations recognized in the UAE alone, it is now the one with the quickest growth.