QORPO Market is the NFT marketplace dedicated to web3 gamers and players. Here you can explore hot NFT collections, discover new blockchain games, and collect rare digital collectibles under one roof, free of transaction fees.
Highlights:
Introduction
Integration with QORPO ID & Binance Connect
Multi-chain experience
Premium utilities
QORPO Game Studio is not just a web3 game developer but also a creator of a complex gaming ecosystem, which wouldn't be complete without the experience of buying, selling, and collecting the hottest in-game NFT discoveries. Hence QORPO keeps on perfecting its very own NFT Market, so everyone can access the web3 gaming universe thanks to ease of use without ever going bankrupt because of the draconian fees – NFT marketplace by QORPO Game Studio has none.
Exclusive NFT Collections & Gaming Dedication
QORPO Market is a games-first marketplace by design. Players can look forward to frequent listings of new, fresh game titles and explore enticing NFT collections. To leverage the marketplace experience into a gaming discovery hub, players can find and learn about unconventional yet worthy game titles thanks to comprehensive game insights.
Visitors should be able to dig deep and learn about the projects before investing time and money into the listed titles. Therefore QORPO Market offers in-depth reviews, showcases, and user references to each game placed under its roof.
QORPO Market connects to QORPO ID
Since its inception, QORPO Game Studio has always been pursuing the bigger picture. Their NFT marketplace is not just a stand-alone hit-or-miss project. It is rather an integral part of the entire QORPO ecosystem.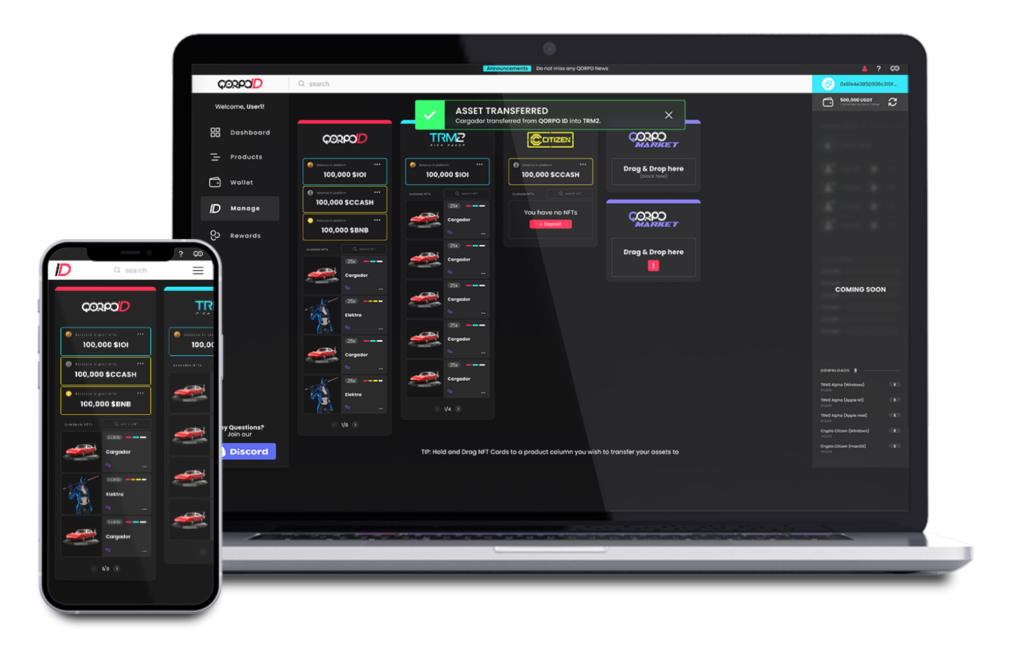 Users can flow freely between the market and ID, where they can manage all of their QORPO ecosystem assets instantly and at no cost. QORPO Market and QORPO ID altogether represent a well-integrated, user-friendly, yet sophisticated experience with no transaction fees involved.
Multi-Chain Experience & Binance Connection
The competitive nature of this NFT marketplace also stems from a user-friendly interface and seamless integration. In QORPO Market, you can switch between chains and networks with the push of a button. It's that easy. Furthermore, it is one of the first NFT marketplaces integrated with Binance Connect to ensure a flawless user experience.
QORPO Market introduces the first NFTs Insurance Programme
Sometimes, you might have second thoughts about your purchase. It has happened to me, it can happen to anyone. Don't worry. QORPO Market is ready to offer the first-ever NFTs insurance program, so you don't have to worry about your NFT purchases anymore.
Get back as much as 80% money back in case you're not satisfied with your newly bought NFT utilities. You'll be able to claim your money back within 7 days from making the purchase. NFT insurance is coming soon…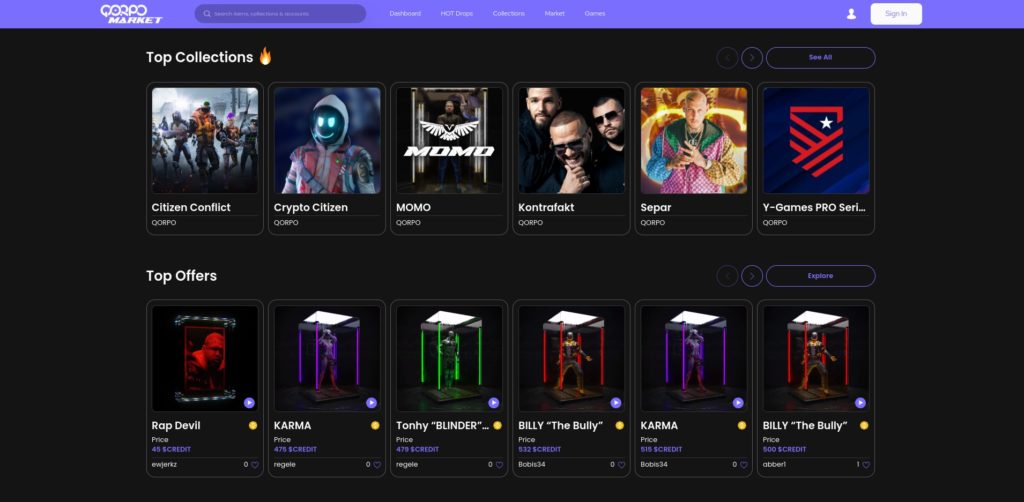 Community & Advanced Social Features
QORPO Market is not just the ordinary NFT marketplace. It seeks to offer a rather extensive gaming hub where players can socialize, chat, and exchange their gaming experience and opinions without ever leaving the comfort of the platform. You will be able to add people to your friends list, meet up in virtual spaces, and experience a true community-driven gaming ecosystem.
Charity Donation Program
Explore the elaborate charity donation system to help organizations you care about. Support the charities and NGOs of your choice with the push of a button. QORPfriends'O Market allows users to donate an optional amount of revenue share to charity, starting from 1%. Believe me, every donation counts.
Premium Rewards For The Growing Community
QORPO Market is giving away! Every new user will receive an instant airdrop straight to the crypto wallet or QORPO ID. Furthermore, soon enough, the QORPO Market will introduce a mystery box. You'll be able to try your luck every week and keep looking forward to free NFTs and BUSD drops after opening the box.
Luck didn't work? Don't worry, you can try again next week. Just log back into your market account and get rewarded.
Generous Referral Program
Spread the word and let your friends know about your experience. QORPO Game Studio not only appreciates your dedication but also sets themselves to reward every user who brings friends to their marketplace. They will offer rewards for every new user you bring, so don't hesitate and share your insights.
The amount is yet to be announced. The team will notify users soon.
QORPO Market in a nutshell
Although there are quite a few NFT Marketplaces all around, QORPO Market appears to be more than just a UI selling digital collectibles. NFT marketplace by QORPO Game Studio amalgamates gaming focus rooted deeply in a community-first platform.
Buy, sell, discover, trade, socialize, and get rewarded in return. Try it out for yourself, sign up, and get the app today.