Quick Summary
Quentin Tarantino announced auctioning of seven uncut scenes as NFTs from Pulp Fiction movie. These NFTs will be released on The Secret Network emphasizing privacy and protection of IP via smart contracts.
We already wrote an article about non-fungible tokens (NFTs) entering the film industry here, and now there's some big news again. Almost every industry is now interested in an NFT even though the possibilities of this sector are not fully explored, and yet to be discovered. Pulp Fiction fans can now get another piece of the pie if they are willing to do so through NFTs.
Quentin Tarantino – Pulp Fiction NFTs
A world-class director and writer Quentin Tarantino announced he will auction seven uncut scenes as NFTs from one of his most popular films ever, Pulp Fiction, including exclusive audio commentary and handwritten scripts. Tarantino is supposed to release the NFTs on The Secret Network, which emphasizes privacy and protects intellectual property (IP) via privacy-preserving smart contracts. This means that only the owners of these NFTs will be able to view them.
"The privileged person who will purchase one of these few and rare NFTs will get a hold of those secrets and a glimpse into the mind and the creative process of Quentin Tarantino stated Tarantinonft's website."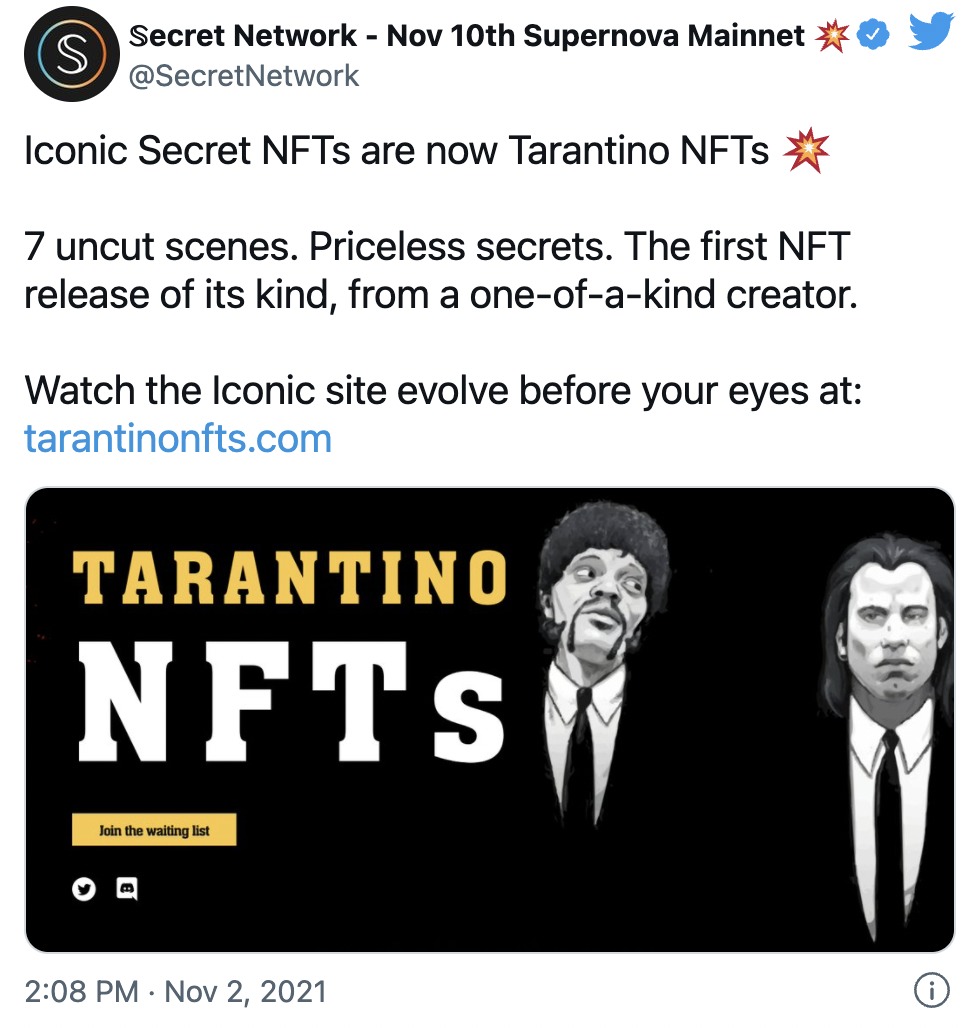 Your crypto address is normally pseudonymous (not anonymous) when trading famous cryptocurrencies, such as Bitcoin (BTC), Ethereum (ETH), or various stablecoins, there are some coins that are totally private, protecting even your public key from being known. While this need for absolute privacy is still a hot topic for debate, some prefer to exercise their right to financial privacy as much as they can. For example, Monero (XMR), Verge (XVG), and Zcash (ZEC) keep the data and information of every transaction and transactors safe from outside entities using technologies like stealth addresses.
The director explained that he was introduced to NFTs a year and a half ago by fellow filmmaker Eli Roth. At the time, he couldn't wrap his head around the concept. But, "the more I started to think about it," he said, "the more I started to think, 'This is a neat idea. This is really kind of cool.'"
Conclusion
Under the same idea, privacy networks like The Secret Network and the various privacy coins continue to show that even in crypto, the right to privacy is still front of mind for many people. It will be interesting to see if the privacy of Tarantino's Pulp Fiction NFT extras will be somehow violated, or if they will succeed in being kept private in respect to the creator and owners.
more to read
Bloktopia – New Metaverse Leader?
Kevin Durant is Interested in Crypto and Blockchain
Sentiment: positive
NFT World News Social Media: Twitter, Instagram, Telegram, Tiktok, Youtube, Facebook
---
sources: artnet, coinmarketcap
author: Rene Remsik
Disclaimer: This article is provided for informational purposes only. It is not offered or intended to be used as legal, tax, investment, financial, or other advice.