Quick Summary:
Reddit is secretly shifting its community's interest to NFTs and Web3 as Reddit Avatars have taken social by storm.
The price peaking at a high of 2.8 ETH reveals the secret formula utilized by the platform to onboard millions of users without mentioning NFTs.
Reddit is an American-based one of the largest content rating and discussion platforms. The users can upvote a thread worth discussing and downvote what they don't like. Founded in 2005, Reddit has an average of 430 million active users monthly.
Starting in July this year, Reddit started testing NFTs as avatars which were mainly airdropped free to the most active users. As the community strengthened the popularity of the avatars started to surge. Currently, 3 million wallets which are more than that of Opensea. Reddit has minted over 86k NFTs and more than half were airdropped for free. Some of the NFTs are listed on Opensea as well.
Reddit's Sneaky moves in NFT space:
It's very difficult to outsmart and win exposure with the current competition in the NFT space. There are hundreds and thousands of projects there and even more are coming every week. Therefore, these projects have to spend thousands and even millions to win exposure and sell their idea. The conversion rate is drastically low. Normally when people hear about NFTs, they put their guard on and consider this something unapproachable, technical, and speculative.
Reddit played it pretty naïve. It never calls reddit NFTs 'NFTs'. It arcane user experience by cutting out all the complex terms and unnecessary details for a seamless onboarding to the NFT world. Whenever a user tries to buy a Reddit avatar (an NFT), it asks the user to open the vault (Wallet). Since the wallet creation requires a password, the Reddit vaults are custodial wallets and the privates are never shared with the users as the exchanges do.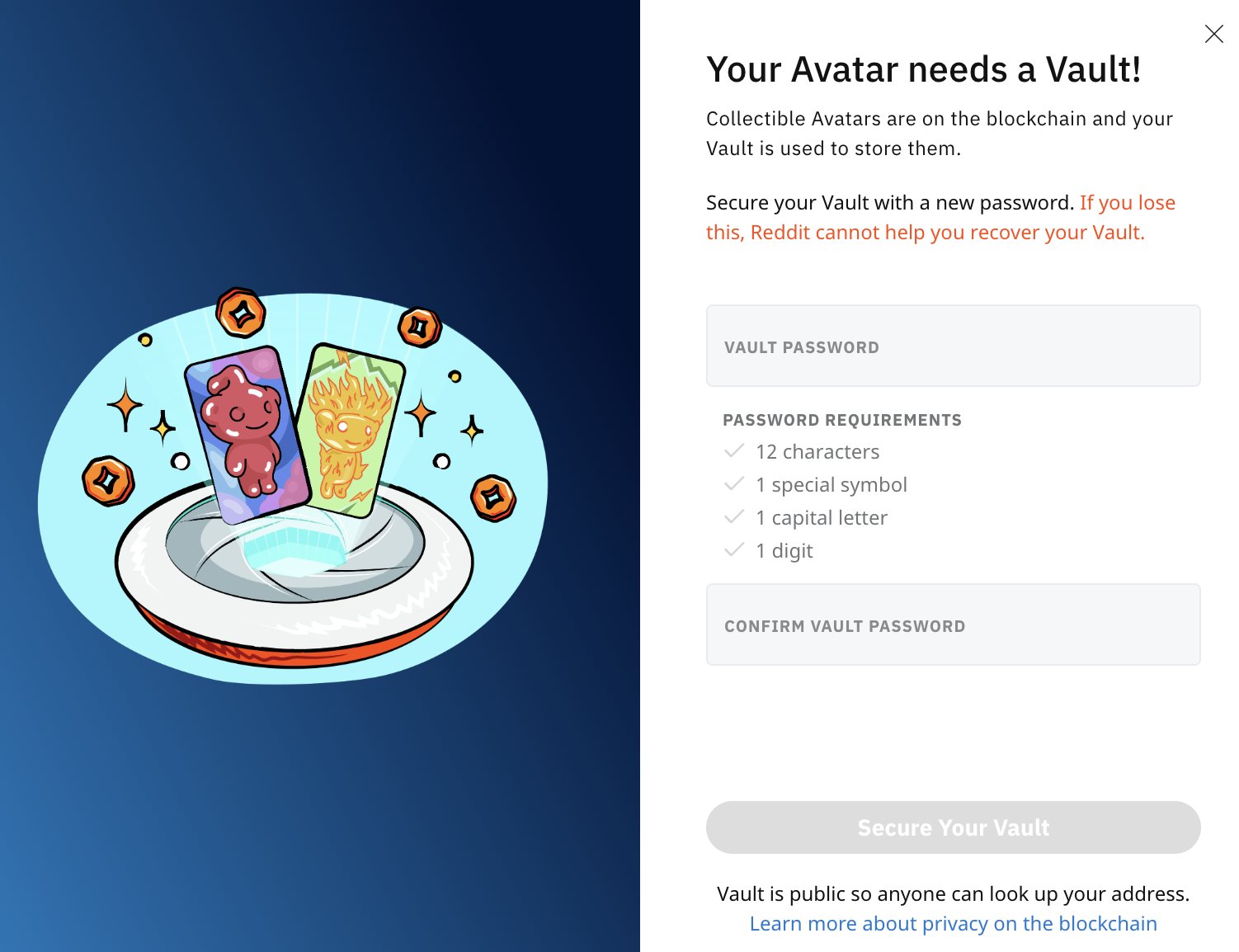 As far as the utilities are concerned, Reddit coaxes its community like a typical NFT project through a number of perks, without ever mentioning the term 'NFT'. Generally, even if a non-technical person decides to jump into NFTs, the problem is to first create a wallet and then buy crypto through an over-complicated method. After this, that crypto is used to pay the fee and price of the NFT. Reddit avoids all the fuss by allowing users to directly buy the avatars through Credit/Debit card payments.
Conclusion:
Reddit avatar's hype and popularity voice that the current NFTs lack accessibility and credibility as assets. The $100 million marketcap of these NFTs shows that Reddit is going to be a big name among NFT communities and many other projects will follow the lead of Reddit.