Analysts from the giant multinational investment bank – JPMorgan Chase & Co. claimed that the retail investors have finally arrived at the bitcoin scene and have outbought institutions and concluded that smaller investors had bought nearly 190,000 bitcoins so far in this quarter. They analyzed data on popular retail-oriented payment systems, such as Square and PayPal.
The arrival of retail. The cryptocurrency community speculated for months if and when retail investors would come for BTC, as it was mostly driven by institutions and large corporations.
The price of Bitcoin expanded by approx. six-fold after massive purchases from the companies like MicroStrategy, Tesla, MassMutual and more.
This impressive increase led retail to started an accumulation of larger portions of BTC in the first quarter 2021.
The strategists concluded that smaller investors had used Square and PayPal to buy 187,000 bitcoins so far this quarter. At the same time, institutions have purchased 173,000 coins, while the number was over 300,000 in the fourth quarter 2020.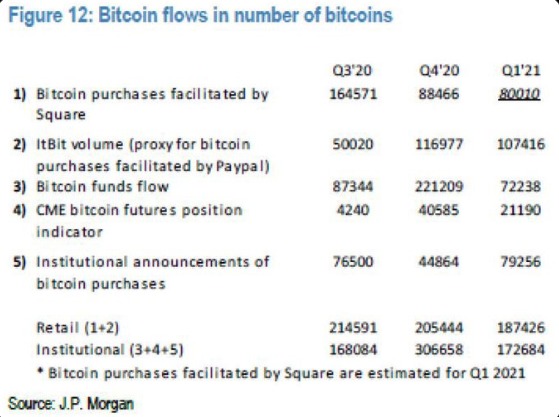 Mike Novogratz from Galaxy Investment Partners explained that it is interesting that the BTC's price skyrocketed to a fresh ATH precisely over the weekend in a retail-driven rally.
Previously, the largest US-based crypto exchange, Coinbase, saw an uptick of deposits of $1,200 (the amount of the first stimulus checks) in mid-April 2020 – just a few days after residents received the funds.
Ed Moya, a senior market analyst at Oanda Corp, said: "For many retail cryptocurrency traders, bitcoin was the bread-and-butter trade of the pandemic. Meme stock trading volatility burnt many, but Bitcoin has maintained an amazingly bullish trend that has made most winners. Retail traders got reinvigorated with the latest NFT buzz and as the stimulus checks hit their bank accounts." 
Source:www.cryptobriefing.com