Quick Summary:
Famous Fintech firm Revolut lists Elrond's EGDL making it accessible across 36 countries to 20+ million users.
Revolut is a $33 billion payment giant company, while Elrond's is an internet-scaled blockchain network.
Revolut has introduced Elrond's EGLD token, which powers the internet-scale blockchain system that acts as the foundation for Web3, DeFi, and the emerging Metaverse economy, to its listing of supported crypto assets, making it possible to trade it on the well-known financial application.
Related: Nike Tops Other Brands With Revenue From NFTs. By a Long Shot
Elrond had its major launch in July 2020, and since then, with 3200 validators, it has grown to be the second-largest PoS blockchain in the world, behind Ethereum 2.0. The advanced POS network of the company is also the first carbon-negative blockchain in Europe. Elrond's native asset is trading above $50 per unit with a 24h trading volume of $56 million.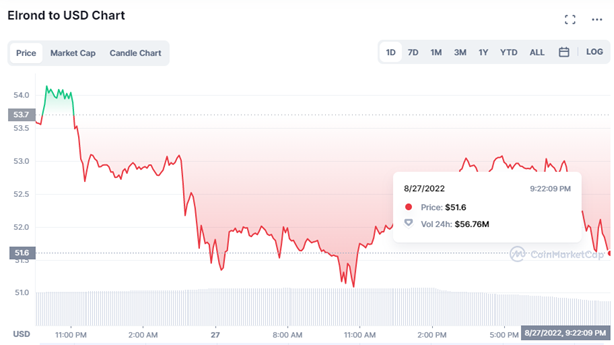 Revolut Lists Elrond
According to a press release by Elrond, it has joined forces with Revolut. Revolut's listing of EGLD will bring more extensive audience access to the smooth transactions at the center of Elrond's concept. In addition to providing a new age of digital assets with a currency utilized to power the seamless transfer of any value globally.
The $33 billion digital banking firm with 20 million customers across the globe intends to enhance its financial accessibility. It has now enabled its users in the EU and UK to purchase, sell, hold, or trade cryptocurrencies with the same simplicity as other digital assets, like EGLD.
Revolut operates in more than 30 countries (including the European Economic Area, the United States, the United Kingdom, Switzerland, and others) and has plans to expand into new markets thanks to its ongoing regulatory and compliance efforts. They have an EU banking license and a CASP license just granted for crypto-related services.
The CEO of the Elrond network explained this partnership in the following words:
"The most innovative and disruptive startups in the fintech field gravitate towards crypto, bringing unique talent pools and fully engaged communities. When you add to this vision that transcends its own product and industry, Elrond is such a project. That's why we are excited to be able to offer EGLD to Revolut's customers and help them accomplish their vision of an inclusive global financial system."
Elrond has been developed with a mission to resolve the issues of early blockchains like Bitcoin and Ethereum. Elrond network can easily handle 15000 transactions in a second, but this capacity can be increased to 100,000 transactions by utilizing sharding.
Concluding Thoughts
The partnerships like these will increase the reach of the digital assets to a broader audience. Once people have seamless access to crypto assets, adoption will definitely increase. The broader global audience will force governments to regulate this unstoppable giant. 
more to read
Metaverse Market Size is Predicted to Grow 8x by 2029
Internet Made NFT Wants to Transform the Fashion Industry
Follow NFT World News: Twitter, Instagram, Telegram, Tiktok, Youtube, Twitch
sources: Coinmarket Cap
author: mnmansha
Disclaimer: This article is provided for informational purposes only. It is not offered or intended to be used as legal, tax, investment, financial, or other advice.