Quick Summary
Ritestream is a web3 platform for creating, monetizing and consuming Film and TV content. With blockchain and NFTs, Ritestream wants to change the film industry forever.
Non-fungible tokens (NFTs) and cryptocurrencies are the latest and most viral innovations in the world. Their existence is disrupting how industries work, and now they're even changing the movie industry. Ritestream wants to create a world where creators can produce Film/TV projects in an easier, faster and more rewarding way. How? Let's have a look.
you might wanna read this: VeChain's 'VeCarbon' Platform To Help Drive Global Decarbonisation
Ritestream Explained
Ritestream is a Web3 ecosystem platform for creating, monetizing, and consuming film and television content. It comprises of a launchpad for film and television material, a marketplace for film and television titles, and a consumer app for viewing content and earning RITE Coins. Ritestream's mission is to democratize the creative economy by generating revenue for creators and the community in the metaverse and via NFTs.
Ritestream has been formed in 2017, with 80,000+ hours of content, 5,000+ B2B customers, $6 million recurring revenue, and a global experienced team consisting of 35+ people led by senior executives from Fox, Disney and Fashion TV. Many people recognize the opportunity NFTs are offering, and it's just about time to adopt this great innovative technology.
The nature of NFTs creates many possibilities that were unknown, until now. Ritestream seeks to empower creators by using blockchain technology and there are several benefits that users and creators receive thanks to the blockchain and NFTs:
secure, peer-to-peer (P2P) transactions
proof of authenticity in an immutable digital record
fast global payments in real time
transparency in digital rights and ownership
enabling micro licensing
creation of global crowdfunding mechanisms
Monetization Problem & Solution
According to Ritestream whitepaper, 90% of the produced content does not reach its full monetization potential. The linear TV model is not built for scale and growth, and content licensing is a long and painful process. There's a little place for transparency as only a few giant distributors control the majority of distribution and there are big operating expenses. Due to the limited bandwidth of sales teams, there are limits to their reach. Ritestream is solving all these issues.
NFTs minted on the blockchain provide a powerful monetization mechanism that is in step with the financial system of the future. NFTs put power back into the hands of creators and transform Film/TV projects into long-term investments. Expensive middlemen are removed and distribution alongside monetization become transparent. There are also programmable commissions for creators, for eternity!
Anatomy of Ritestream Content Funding
It will be possible to fund individual projects, share revenue with team and audience and unleash full creativity on projects without constraints through the Ritestream platform. Here are other perks of the Ritestream shown in the Ritestream flywheel. 
The Ritestream Flywheel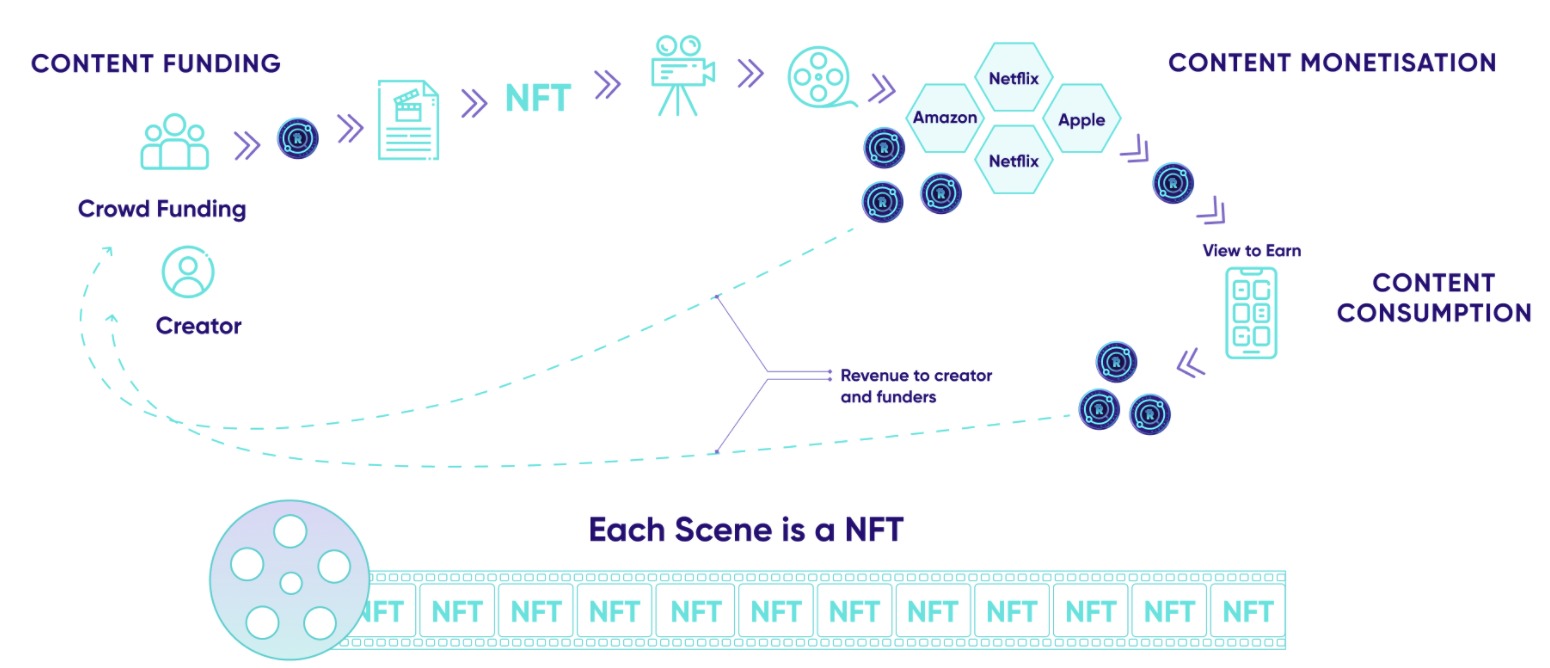 Token Information (RITE)
Their native token RITE hasn't been yet launched but their total supply is set at 1 billion tokens with an initial $290,000 market cap. The entry price for private investors was at $0.03 and $0.04 for public sale. There's a 3-month linear daily vesting for the public investors and 12-month vesting for the private entries.
There are also some listings confirmed on a centralized exchange (CEX). There are 5,000,000 tokens for sale at the IDO while raising $200,000. Check out more info on coinmarketcap in this link.
Follow Ritestream Here: Website | Medium | Twitter | Telegram | Discord
Conclusion
NFTs and blockchain are seriously opening new doors of possibilities in the industries that need the change the most. We've seen numerous companies revolutionizing art, music and fashion industries, and the latest game-changer is Ritestream, with the aim to enhance how film industries work.
more to read
Ledger uncovers its Partnership with POAP and NFT-focused Hardware Wallets
Sandbox and World of Women collaboration will drive female mentorship and education
Klitschko Is Releasing NFTs To Help Ukraine
---
NFT World News Social Media: Twitter, Instagram, Telegram, Tiktok, Youtube
---
sources: medium, twitter, ritestream, coinmarketcap
author: Rene Remsik
Disclaimer: This article is provided for informational purposes only. It is not offered or intended to be used as legal, tax, investment, financial, or other advice.