Quick Summary
Robinhood is preparing to enter the NFT market with its own web3, non-custodial wallet. This NFT dedicated wallet will offer higher accessibility and decentralized nature than its other products.
Robinhood is all set to let its users access a wide range of cryptocurrencies and NFTs through a non-custodial Web 3 wallet. The multichain wallet will be launched as a standalone app, as announced by Robinhood this Tuesday.
related: Why Web3 Gaming is the New Generation of Gameplay
Web 3, Non-Custodial Wallet
The current web 3 wallets are following the heels of the previously released digital wallet by the trading platform. The previous digital wallet was revealed last September and was beta tested with 1000 users in January this year. Since the waitlist was thronging, the digital wallet spiked to 2 million users in just two months. This wallet was the only way for Robinhood users to move their funds out of the platform's ecosystem.
Robinhood users were limited to buying and selling their assets, and transfers out of the platform were restricted previously. There was one limit still concerning the traders as the platform told, "Any NFTs sent to a Robinhood Ethereum address may be lost and unrecoverable." With so much going on in the non-fungible tokens' domain, Robinhood has announced the launch of an NFT dedicated wallet that has more to offer with its accessibility and decentralized nature.
The Web3 wallet is not available just yet, but it will be rolled out to beta test like the previous wallet before going into public hands. Web3 wallet is being developed for "most advanced DeFi believers," as claimed by Vlad Tenev, Co-founder of Robinhood. The wallet will be non-custodial, meaning the users will have complete control over their assets and private keys – promising a genuinely seamless and decentralized experience of how crypto should be.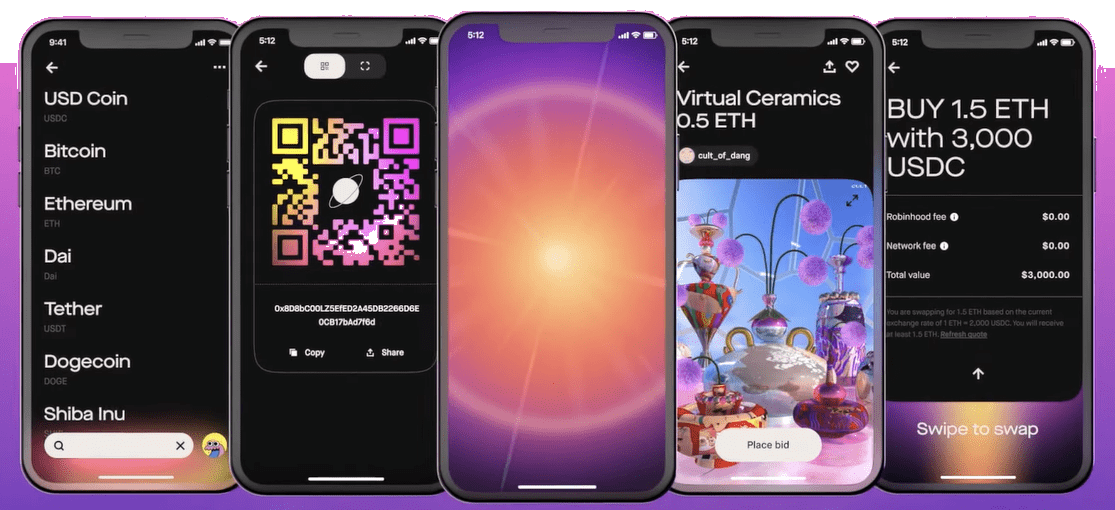 Robinhood is not planning to include these new features into their previously rolled out digital wallet but launching a separated Web 3 wallet as a standalone app. This multichain non-custodial wallet is expected to offer the same simple, accessible design Robinhood is known for. Users will be able to interact with the DApps for various purposes, mainly the followings:
Trade and swap crypto with no network fees
Store NFTs and connect to NFT marketplaces
Earn yield using their assets
Access a variety of crypto assets
Web3 wallet will be a low-cost option to explore and experience all the opportunities that digital assets offer – believed to co-founder and CEO of Robinhood Vlad Tenev. Whenever people think the crypto era is over, there's an app that keeps the hype: this web 3 wallet is one such app.
Conclusion
Following the same method used to launch the digital wallet, Robinhood is open to sign up, and anyone can get on the waitlist for early access to the new product. The beta-tested will begin this summer, and the Web 3 wallet will surface to the public by the end of this year. Robinhood looks pretty keen to upgrade its crypto unit significantly.
more to read
Cancel Culture: The Next Big Name In The NFT Space
Okay Bears exploded in popularity: could it be the next BAYC?
Bored Ape Kennel Club: Companions for Bored Apes
---
Follow NWN: Twitter, Instagram, Telegram, Tiktok, Youtube, Twitch
---
sources: robinhood
author: mnmansha
Disclaimer: This article is provided for informational purposes only. It is not offered or intended to be used as legal, tax, investment, financial, or other advice.