Quick Summary
Snap Universe is an NFT project made on the Ethereum network. It's a 10,000 collection of marvel-like collectibles of heroes and villains.
Snap Universe has a comic book NFTs in the progress where holders have access via a subscription.
There are many NFT projects out there, and we will help you discover them. In this blog, we picked marvel-like collectibles from the project Snap Universe, which contains 10,000 heroes and villains as non-fungible tokens (NFTs). 
Snap Universe
Join the giveaway on our Twitter for one NFT worth at least 0.09 ETH!
This NFT project is made on the Ethereum (ETH) network and they have 1,200 alt comic covers, with a 10,000 collection full of profile pictures coming soon. While others focus on creating different CryptoPunks or Ape-like NFTs, Snap Universe wants to create something that the NFT world hasn't seen yet. They are trying to build a decentralized marvel universe from the ground up.
It's not about building it from the top down. It's about the community coming together and adding their own lore to their mints from the collection of 10,000 NFTs. The mission of Snap Universe is to add customization of each holders' NFT on their website which is going to make the holder's information transparent. 
Snap Universe also has a comic book NFTs in the progress, where holders will have access to via a subscription. When the whole 10,000 collection gets minted, more information and details are going to be revealed.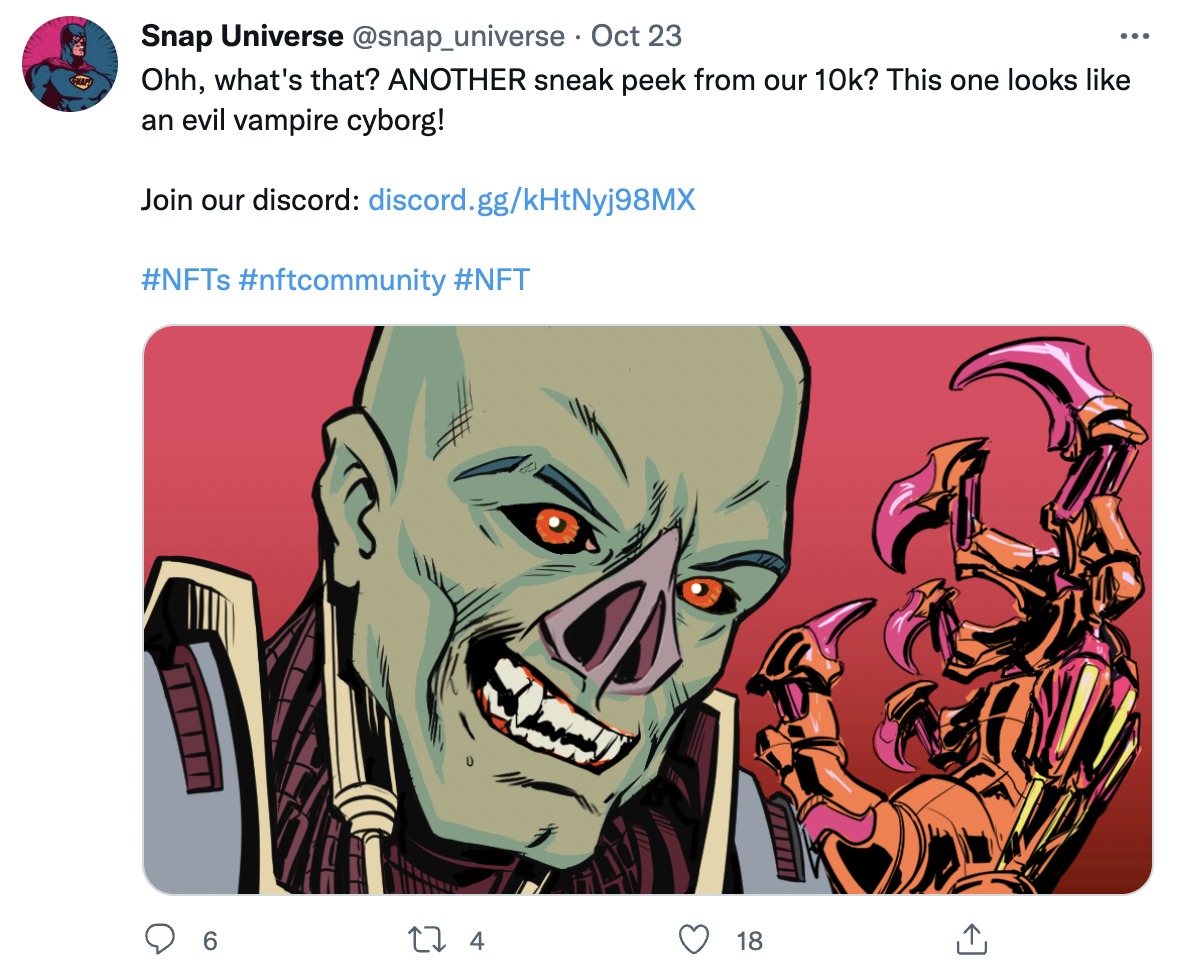 You can buy mystery boxes from Snap Universe which are like buying a Pokemon card pack. It can be a common one, but also a rare one. If you want to pick a project with big potential, this might be the one! 
Conclusion
Snap Universe is a cool and good-looking NFT project that could be popular one day due to its original ideas and graphics coined in an NFT. It's still in the early stages, but with the increasing demand after NFTs, Snap Universe should get some form of recognition and success.
more to read
'NFT World Will Get Much Bigger', Says Ripple's CTO
Faraland Review – NFT War Game
NFT World News Social Media: Twitter, Instagram, Telegram, Tiktok, Youtube, Facebook
---
sources: snapuniverse, twitter
author: Rene Remsik
Disclaimer: This article is provided for informational purposes only. It is not offered or intended to be used as legal, tax, investment, financial, or other advice.