Quick Summary
Solana is ranked the fourth-best NFT blockchain in terms of 24-hour sales volume. Solana's network recorded sales of $497.7 million from 348,000 transactions in the last 3 months.
Solana's top NFT project is Degenerate Ape Academy, which has generated more than $100 million in sales since August.
Ethereum is the most famous platform for the creation of non-fungible tokens (NFTs). However, there are other platforms that support creating and minting of NFTs, such as Cardano, Tezos, or Solana. Solana is one of the newer projects but already established itself as a strong cryptocurrency and NFT platform. How's it doing so far?
Solana Record-Breaking NFT Sales
CryptoSlam ranked Solana as the fourth-best NFT blockchain behind Ethereum, Ronin, and Wax in terms of 24-hour sales volume. There's more than half-billion-dollar sales in the last three months on Solana's network. According to data from CryptoSlam, secondary sales of Solana NFTs have generated a total of roughly $497.7 million from around 348,000 transactions, with the average sale per NFT at a price tag of $1,500. 
Solana is viewed as the "Ethereum killer", but Ethereum remains a number one network when it comes to sales volume. "While Solana displays promising metrics in unique addresses (buyers and sellers) and a lower average NFT sale price, Ethereum still dwarfs Solana in total NFT secondary volumes. Still, Solana has become one of the top NFT blockchains by secondary trading in mere months", said Mason Nystrom, research analyst at MessariCrypto.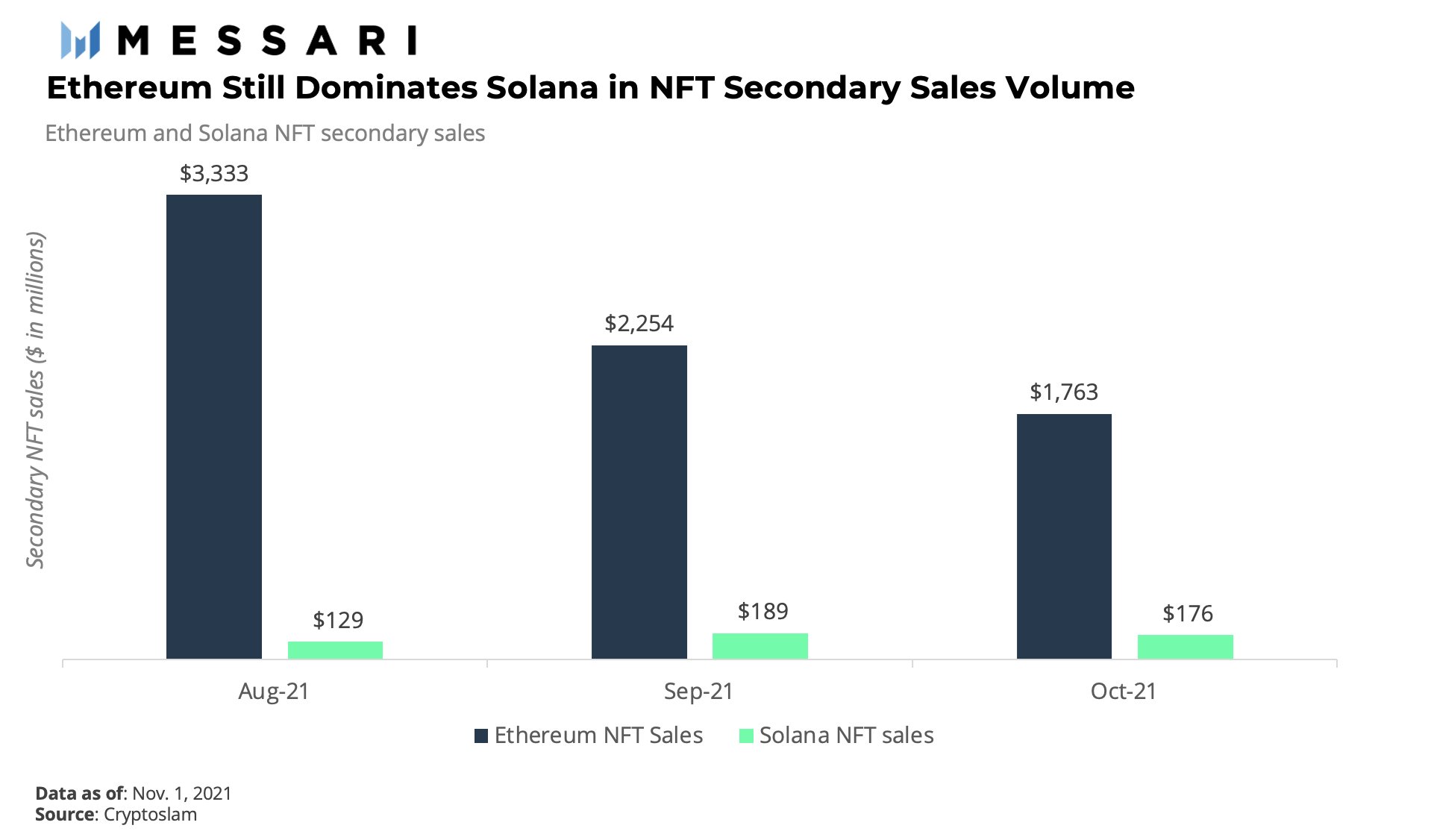 The Most Successful NFT Project on Solana
Solana's top NFT project is the Degenerate Ape Academy, which has generated $105.9 million worth of secondary sales since its launch in mid-August. The Degenerate Ape NFTs show animated gorilla avatars with unique traits, and the project has recorded sales worth $454,000 in the last 24 hours.

Token Information (SOL)
Solana is one of the strongest and most popular cryptocurrencies of 2021 without a doubt. The price of SOL began at $1.8 at the beginning of 2021 and recently broke its all-time-high level of $211 and continued to $232, making more than 10,000% return in a year. It has a market cap of approximately $69 billion and is the #6 cryptocurrency according to coinmarketcap. Solana could grow to more than a $100 billion market cap with the continuing expansion in the NFT and crypto world.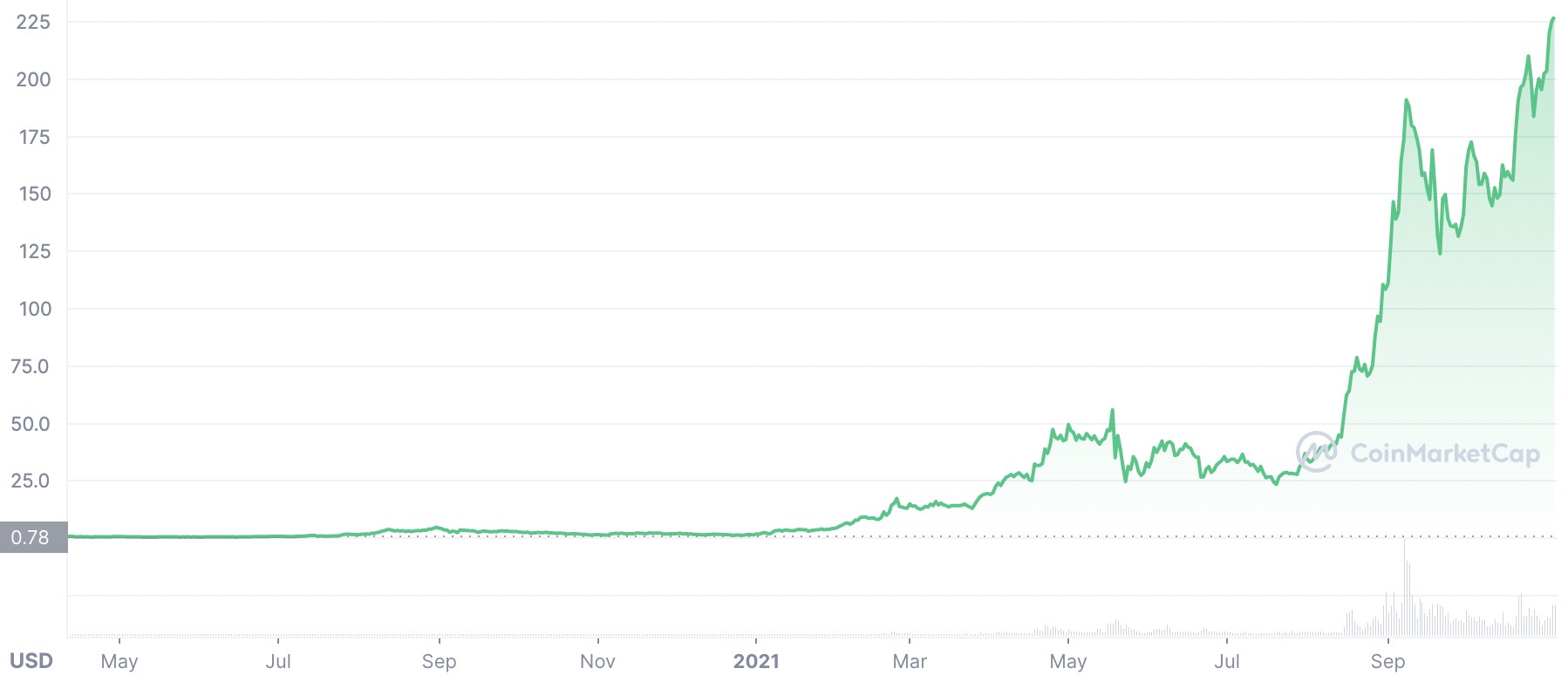 Conclusion
Solana is one of the most interesting and hottest projects of 2021 and continues to establish itself as one of the NFT-crypto leading platforms in the world. As it offers many benefits compared to the Ethereum network, we may see wider adoption of Solana's network and its effect will be visible on the price of the Solana token.
more to read
5 Biggest Upcoming Metaverse Projects
Ethernity Chain – Unique NFT Marketplace
Sentiment: positive
NFT World News Social Media: Twitter, Instagram, Telegram, Tiktok, Youtube, Facebook
---
sources: cointelegraph, cryptoslam, coinmarketcap
author: Rene Remsik
Disclaimer: This article is provided for informational purposes only. It is not offered or intended to be used as legal, tax, investment, financial, or other advice.