Quick Summary
Solice is a VR Metaverse built on Solana blockchain for the best gaming and virtual experience. Players can earn tokens and rare assets by playing games and become a part of the future.
The metaverse industry is growing at a rapid speed and only the most ambitious projects will succeed in this sphere. As the Solana blockchain grows in popularity, there are more projects created on it regularly, and one of the latest is Solanium. What is it and what's their goal? Let's find out.
also read this: These NFT Ducks Cost More Than Your Paycheck
Solice Project Explained
While Sandbox and Decentraland are well established in the metaverse sphere, Solice wants to compete with these giants. Investors see the potential in this project as it acquired millions of dollars in VC rounds. Solice is a VR metaverse built on the Solana blockchain, where users can play, create, own, socialize, and monetize their virtual experiences. Solice will offer digital land sales and it'll also have its own NFT marketplace. 
Solice supports multiple platforms removing the barrier of disparate hardware, software, and operating systems. As a result, people can invite and interact with their friends and family, increasing the user base's exponential growth potential. In Solice's world, players can collect numerous pets, gemstones, collectibles as NFTs, develop their own assets, mini-games, and build on top of their land plots.
"Landowners are able to stake parcels of land for an APY, but while staking there is a small chance to obtain rare loot. Users will have to complete a quest to upgrade the loot into a unique NFT," said Solice founder Christian Zhang.
Additionally, they can earn tokens and other rare assets for completing quests, clearing dungeons, and reaching leaderboards by actively participating and building in the metaverse. The Solice metaverse is built to provide people as much flexibility as possible just like in real life. Users will experience a democratic governance mechanism based on a liquid democracy and real-world inspiration rules over a DAO through the Solice native token (SLC).
"Obviously gaming and NFTs have been taking off the past year," said Zhang. "The only issue is, a lot of the projects out there, they have a good launch, but in the long term it's important to look at a sustainable economic model."
Genesis Staking
Solice allows a special opportunity to be a part of Genesis Staking Pools that are available from January 10 – 31. This program allows you to earn a higher annual percentage yield (APY) than usual, so you have 12 more days left! 

Token Information (SLC)
The metaverse gaming token of Solice is SLC and it has been launched at the end of 2021. The IDO offered an opportunity to get for a price of 0.07 USDC per token, and now SLC is worth $3.83! That means SLC grew by 50x in just three weeks! Astonishing returns were delivered and now the project has a $167 market cap with a maximum and total supply of 400,000,000 SLC tokens. It has been listed on big exchanges like Gate and Huobi right away and we can expect further listing and price growth in the future.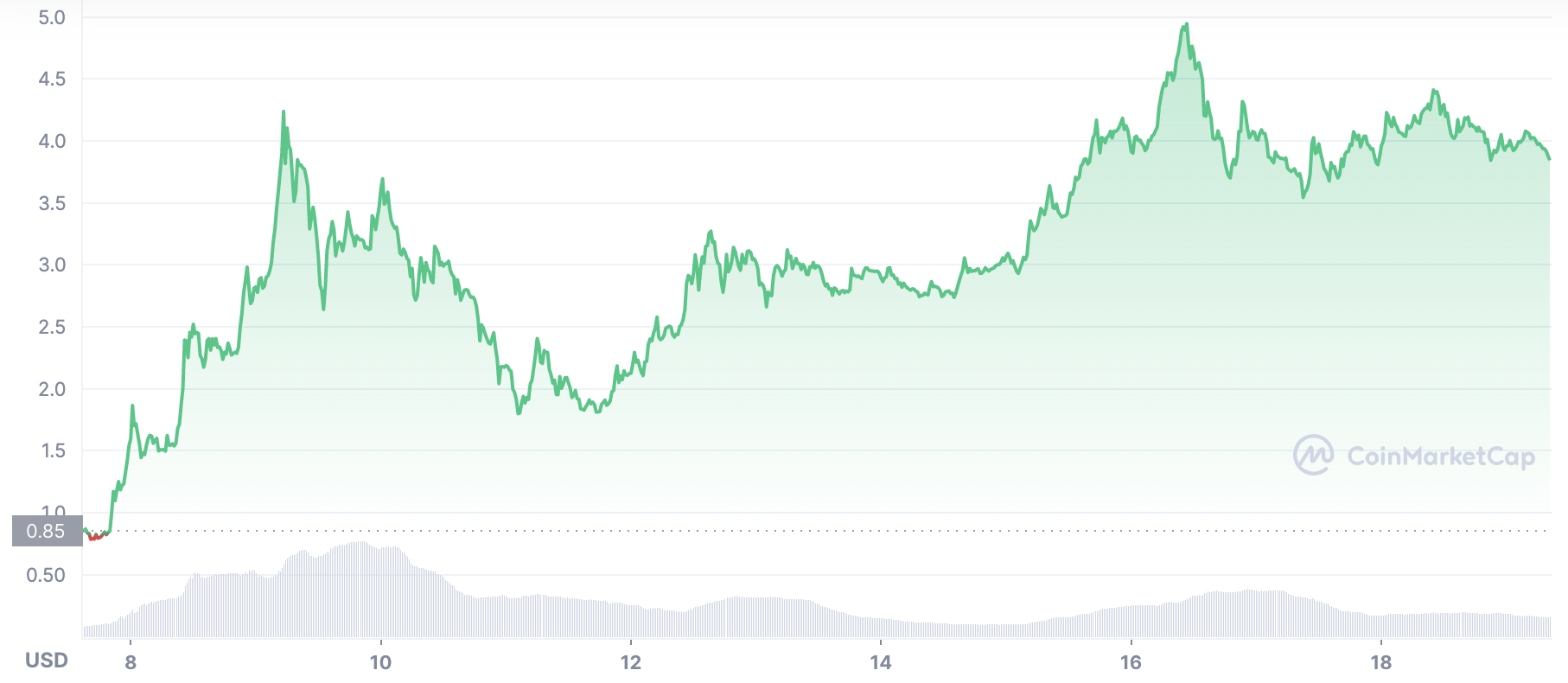 Conclusion
Metaverse is another ladder in the evolution of gaming and virtual experience, and Solice is one of the projects that will be a part of this "game-changing" event. The launch of this project has been pretty successful, but will the growth sustain? It's a Solana-based project so it may be significantly influenced by the price development of Solana cryptocurrency.
more to read
3 Most Anticipated NFT-Crypto Projects In 2022 (part 3)
NFT Punks Also Succeeded On Solana Blockchain
---
NFT World News Social Media: Twitter, Instagram, Telegram, Tiktok, Youtube
---
sources: solice, coinmarketcap, coindesk, solanium
author: Rene Remsik
Disclaimer: This article is provided for informational purposes only. It is not offered or intended to be used as legal, tax, investment, financial, or other advice.