Quick Summary
Starsharks is an NFT-GameFi ecosystem based on the BSC chain developed by game players, governance committees, and game developers.The game integrates different types of games and breaks down barriers found between games by allowing players to use the same character to enter the Shark-metaverse.
Their metaverse will use a double token economy consisting of governance token SSS, and utility token SEA. Their P2E model is very strong as they want to give out more than 60% of the revenue back to the community.
Cryptocurrencies and NFTs are a hot subject in the world right now, and metaverses even hotter! Many companies like Facebook are building their virtual worlds and Starsharks is one of them. However, Starsharks' metaverse is going to be underwater, so let's take a dive in.
Starsharks Metaverse
Starsharks is an NFT-GameFi ecosystem that has been developed by players, governance committees and game developers. Their website has been launched only recently in October 2021, so it's one of the newer projects which also follows the trend of play-to-earn (P2E) games pioneered by Axie Infinity.
The project integrates more games (e.g. Starsharks Warriors) but their main purpose is to acquire players on the marine metaverse, where everybody will have a character – a shark. Moreover, the project aims for encouraging a community culture, empowering players to come together, build and govern the metaverse.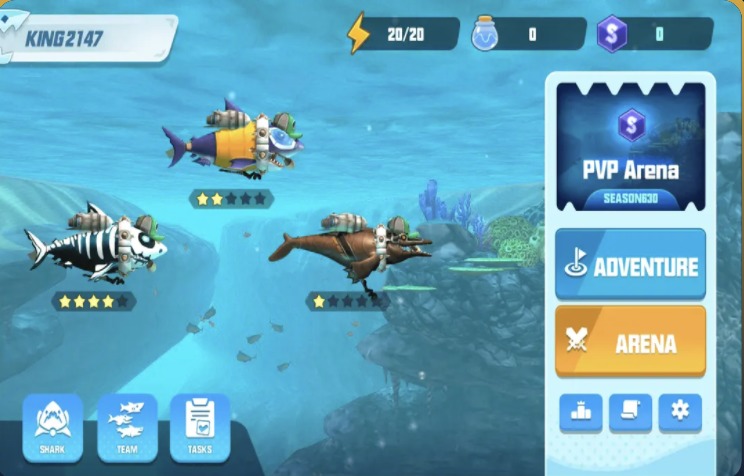 Starsharks announced its Binance Secret Box-NFT presale, IDO, and community-building rewards, and was able to build a notable fan base pretty quick. In order to build up their metaverse from the ground, they will need as any other virtual world, a significant number of people building it. The interesting fact about this game is that they will have sharks as NFTs.
At first, Starsharks metaverse 1.0 wants to start a combat game where each shark will have specific body parts, genes, kind, skills and attributes. All players will begin with six cards and there are three main game modes: adventure, PvE and PvP. When it comes to the earning potential of the game, it has multiple layers. You can earn SEA tokens by completing daily quests, in PvE and PvP, and for a special performance. Metaverse 2.0 should consist of four games: Shark Raising Simulation, Starsharks Land, Shark Racing and Starsharks Card.
Tokenomics
This shark metaverse has a dual token economy with StarSharks SEA (SEA) and StarSharks (SSS). They work as an underlying asset, leveraging the resource outputs of various game types. The majority of revenue generated by Starsharks will go back to the community, incentivizing creative growth ideas for the Starsharks ecosystem and community. To carry out its vision, the Starsharks project has relied upon a dual-token economy.
SSS & SEA tokens
SSS is the token for governance, and SEA serves as a utility token for its metaverse. The project decided to create 100 million SEA tokens. A player has to own three sharks to play the game, and it can be obtained by purchasing blind boxes using SEA tokens on the official marketplace. SEA tokens that the platform receives from user purchases will be burned. Furthermore, players can also spend SEA tokens to raise their sharks. The platform has plans to bring in a BNB-SEA trading pair on PancakeSwap that will help maintain the token liquidity.
The governance token SSS will also have 100 million issued tokens. Almost two thirds (61%) of tokens will be allocated for fulfilling the P2E model, and the rest will go to IDO, angel financing, private round, team, etc.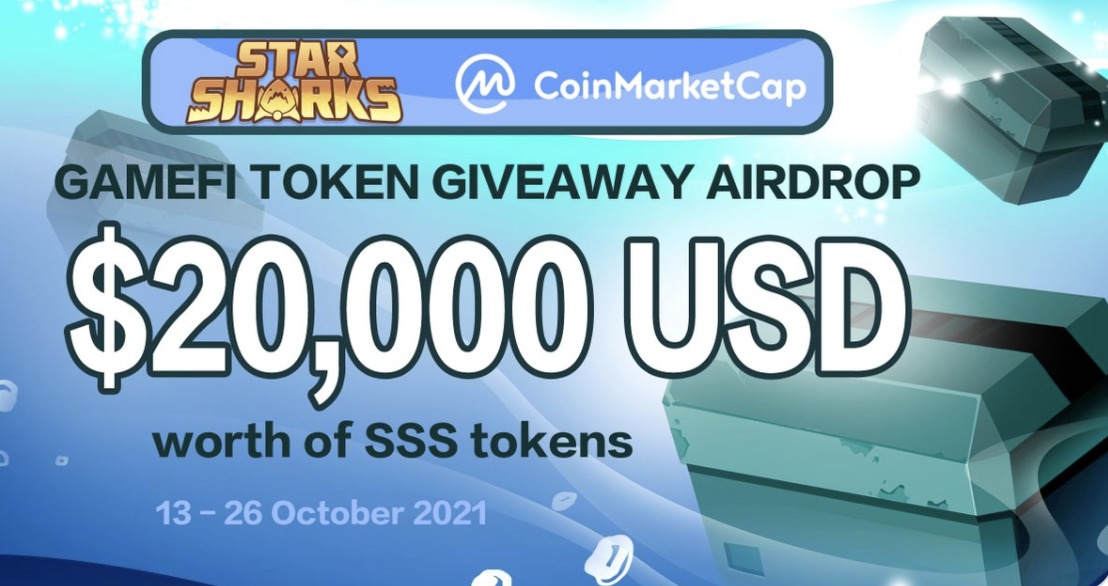 They are also very generous as you can see in their giveaway of the token value of $20,000 for the community. $20,000 worth is going to 1000 people during 2 weeks.
Conclusion
The progress of Starsharks would expectedly rely on four crucial assets: the game NFTs, the community-driven games, NFT markets with built-in rental systems, and the community-governed revenue pool. Games like Starsharks will continue to define the new era of gaming, where revenue is shared with the players – fair gaming for everybody.
more to read
Kaby Arena – Multiplayer Tactical NFT Game Review
---
sources: coinmarketcap, sharkshakesea
Rene Remsik
Disclaimer: This article is provided for informational purposes only. It is not offered or intended to be used as legal, tax, investment, financial, or other advice.