Quick Summary
StartFi is a platform tailored for NFTs and INOs. StartFi wants to help empower NFT creators, buyers and sellers in this dynamic market. It's ETH-powered, fully decentralized and ready for all the NFT enthusiasts.
Non-fungible tokens (NFTs) became important parts of our world and their existence will continue to disrupt many industries. There are many kinds of NFTs and we are sure many new types will only be created, and there is a platform that can help you with this process! What's StartFi? Let's find out.
read this too: NFT Punks Also Succeeded On Solana Blockchain
StartFi As The Gateway for NFTs
StartFi is a brand new platform tailored specifically for NFTs. This platform can help empower NFT creators, buyers, and sellers a safe and sound opportunity to own and participate in the ever-changing dynamic NFT markets. There are many possibilities to do an ICO, IDO, IMO and now even INO (initial NFT offering).
StartFi is an Ethereum-Powered, fully decentralized NFT platform that enables NFT creators to make unique digital assets and sell them through INOs. As a content creator, you can mint unique NFTs for assets like digital art, music, videos, etc. This is only a start as NFTs will be available in every possible industry besides art & gaming that are now trending.
NFT holders can promote their favorite artists, organize or participate in fan get-togethers and engage like-minded individuals in other creative activities. In return, you will receive rewards and revenue shares in the form of the platform's native token, STFI. It's beyond the buying/selling NFT, with MCNs support, Creators incubation and Digital Copyrights Management using NFT.
Features of StartFi Ecosystem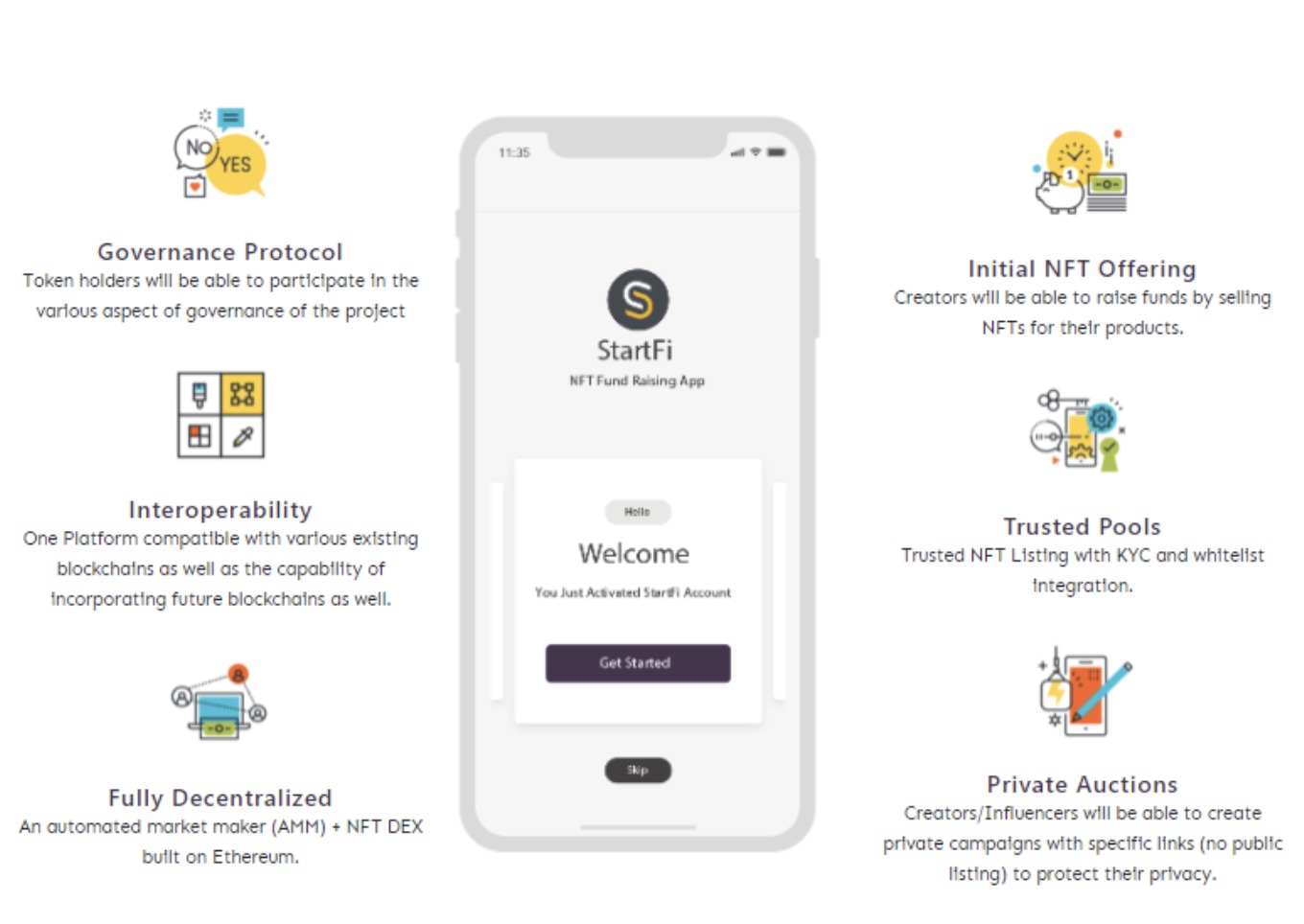 One of the most interesting features of this platform is its interoperability with other blockchains and decentralized automated market maker developed on the Atrium platform. It also offers staking of STFI tokens and more. If you're curious, have a look at the StartFi website to see it all by yourself. 
Token Information (STFI)
The initial exchange offering (IEO) happened on August 2021 at $0.2 for one STFI token. The price of the token grew by more than 200% right away, but then it fell as you can see in the chart. There are 100,000,000 tokens in total and while the market cap is unknown on coinmarketcap, we can find that out with the current price of STFI at $0.054.
100 million x 0.054 would make this project worth $5.4 million which seems very underrated at the moment, so if StartFi establishes itself in the market, this market cap could easily grow by hundreds of percent. STFI is available for trading on MEXC exchange and PancakeSwap.
Conclusion
StartFi is one of the best projects that work for project development and implies services such as easy trading methods, easy payment solutions, and decentralized finance development. This platform is ready for utilizing smart chain facilitates and at the same time ensures platform independence. Moreover, StartFi offers high security to protect operating systems and investment in their assets, so if you look at all the features and benefits of this platform, and they are really true, you shouldn't hesitate and try it out!
more to read
Solice – The Future Of VR Metaverse Experience
2 Huge Gaming Projects Just Started Partnership
---
NFT World News Social Media: Twitter, Instagram, Telegram, Tiktok, Youtube
---
sources: startfi, medium, coinmarketcap, cointelegraph
author: Rene Remsik
Disclaimer: This article is provided for informational purposes only. It is not offered or intended to be used as legal, tax, investment, financial, or other advice.