Quick Summary
Cryptocurrency exchange Coinbase wants to enter an NFT world with its brand new marketplace that is supposed to make it easier for people to create and sell art. Moreover, the platform should be socially oriented, which means it will allow people to engage with each other and grow community exponentially
It's official now. Coinbase is not only the biggest crypto exchange in the world. They also did an IPO at the beginning of 2021 and their company is valued at more than $60 billion in the stock market. Recently they announced an NFT marketplace to launch in late 2021. What's their goal?
Coinbase is already greatly established in the world as a crypto exchange. Now it seems like they want to conquer the NFT world. Coinbase wants to enable more people to join the creator economy and profit from their work. NFTs shook up the traditional world and are changing the rules of the game. 
Many industries such as fashion, gaming, and music see the power of NFTs and how they unlock new forms of creativity and ownership. But if you've tried to create or purchase an NFT, you've probably found the user experience lacking. This is the place where Coinbase wants to help and make it easier for people. If you know their exchange, you know that it's really user-friendly. They want the same experience for the upcoming NFT marketplace.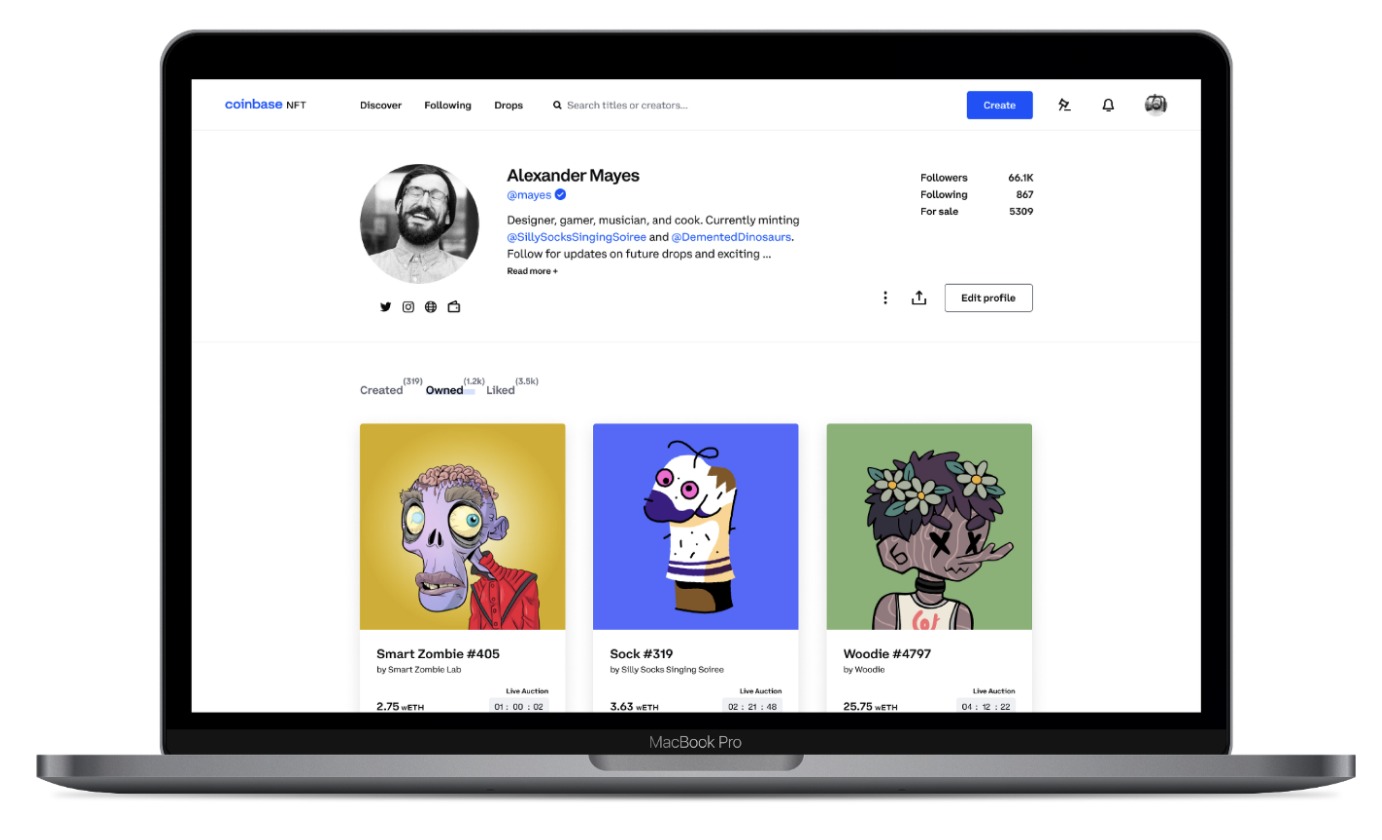 "We're announcing Coinbase NFT, a peer-to-peer marketplace that will make minting, purchasing, showcasing, and discovering NFTs easier than ever. Just as Coinbase helped millions of people access Bitcoin for the first time in an easy and trusted way — we want to do the same for the NFTs."
Coinbase plans to make NFTs more accessible by making them more user-friendly and put complexity behind the scenes. There will be new social features such as conversation and discovery. This community rising exponentially, it's a win-win situation for artists and fans (and Coinbase, of course). 
Simple creating
Creating an NFT should be as simple as tapping a few buttons. Anything more complicated is a barrier to creativity. Coinbase NFT will be a peer-to-peer marketplace that empowers the imagination. With an intuitive design built on top of a decentralized marketplace, Coinbase NFT puts the art and artist's experience at the forefront.
Conclusion
All the mentioned features make Coinbase NFT a very promising marketplace that could stand out from other marketplaces. The waitlist makes it even more appealing for people to join as they have to wait for access. NFTs revolutionize many industries and Coinbase can speed things up. If you're excited about Coinbase NFT, you can join the waitlist here. Will this marketplace become one of the biggest in the world with its established crypto community? 
Sentiment: very positive
more to read
First McDonald's NFTs Available
NFTs -Digital Way How to Store Culture
---
sources: coinbase, cnbc
Rene Remsik
Disclaimer: This article is provided for informational purposes only. It is not offered or intended to be used as legal, tax, investment, financial, or other advice.