General Overview
Tellor is a decentralized Oracle for bringing high-value off-chain data onto Ethereum. The system utilizes a network of staked miners that compete to solve a PoW challenge to submit the official value for requested data. Tokens are mined with every successful Tellor data point, and the company takes a 10% dev share to support the development of the ecosystem. The Proof-of-Work (PoW) miners compete to fetch data and place it on-chain for smart contracts, and the Tellor's token provides crypto-economic incentives to secure this network. Their smart contract was audited by credible company CERTIK.
Ticker: TRB Market Cap : 71 M USD, website: https://tellor.io/
Vision
Since smart contracts on Ethereum are fully self-contained, and any information or access to off-chain data is restricted, certain types of smart contracts are reliant on an outside provider (an oracle) off-chain data points. The problem is that you now have a decentralized smart contract with a centralized key point of failure. The issue with this is obvious to anyone who values decentralization.
Tellor set out to solve the oracle problem in a specific context: a lack of secure and decentralized price feeds for DeFi applications. Tellor aims to enable the growth of the DeFi industry by providing a secure source of high-quality pricing data. The Tellor Oracle is an on-chain data bank where miners compete to add the data points. To create a properly incentivized system Tellor mints a native token, "Tributes."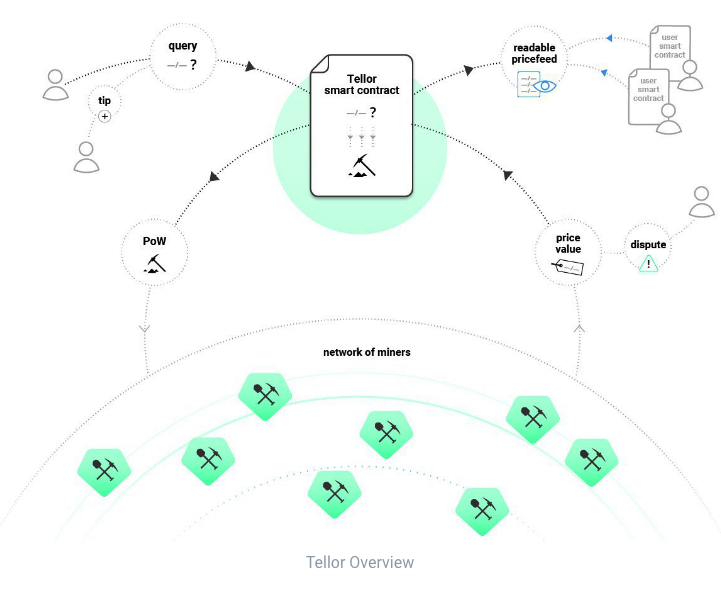 As the CTO expressed himself, their place in the industry is similar to Chainlink – BIG BROTHER with a $12 mil market cap or Band with $330 mil. market capitalisation.
Team & Partnership & Updates
According to the team's website, We found only three members of the team and checked on Linkedin.
The Tellor founding team, Nicholas Fett, Brenda Loya, and Michael Zemrose, began the journey in early 2018. The team is doing regular AMA hence is open with the updates and building trust with the community.
We have not found any significant partnerships except Polygon (Matic), which is also more like a technical update but only investors – Maker Dao, Binance Labs, and Consensys.
The Tellor team has presented Chorus, a community currency protocol. Chorus is being built to empower communities through customizable semi-stable coins that can be tailored to fit their specific needs.
Potential (Market)
Their competitors have different philosophical views when it comes to decentralization. Similar to how Ethereum, EOS, and Hyperledger all have different models when it comes to who ultimately secures their protocol, Tellor aims to be a system that is truly censorship-resistant and transparent in its approach. They've built a crypto-economic system that ensures accuracy and liveness, all while being completely open for anyone to become a data reporter or validator and participate in the system.
This approach contrasts starkly from the competition that uses centralized whitelisting, the reputation of known parties, or other trusted architectures in their methodology. As an oracle system is a huge need to connect the real data to the blockchain without decreasing security, it is a priority as per their website. They have excellent smart contract security audit results. As per the CTO interview, there is no way of any reverse operations like the DAO hack.
Tokenomics
They did no ICO, no premine.
The total supply is very small, 1,748 Mil TRB and circulating 1,7 Mil TRB. There are three use cases of TRB token: provide security, create community, and create a sustainable system. You can stake and be part of the ecosystem with 1000 TRB.
TRB is used for:

Payments: Users utilize TRB to request specific data they need, and when a miner submits data on-chain, they are paid in TRB tokens as rewards.
Security Deposits: Miners are required to place a deposit of TRB in the Tellor smart contract before they can compete and begin mining. If a bad piece of data is submitted, the community can dispute the value and slash a miner's stake for being malicious.
Dispute Resolution and Governance: i.e., voting for the validity of the data.
Adoption and Strategy
Tellor's demand may grow faster in the short term than in several years. It's plausible to imagine a scenario where the Tellor system comes to a point where demand is no longer growing. Having a system that does not have a shortage or surplus of tokens given each stage is desirable.
Within the context of Ethereum, oracles can be thought of as authoritative sources of off-chain data. These data points allow smart contracts to receive and condition execution instructions.
As Tellor is a contract mechanism that allows oracle data to be derived in a competitive, decentralized manner – we envision a wide array of use cases for this product.
Namely:
Exchange-rate data
Cross-Chain Information
Static/pseudo-static data
Damage verification for insurance contracts
Pseudorandom number generation
Potential (Growth) & Roadmap
The Tellor team is already looking toward furthering research in the field of decentralized Oracles. Compared to the huge players, there is still for growth even from a market cap point of view. Several solutions have already been identified as potential ways to increase security and speed of the Tellor Oracle:
Zero-knowledge submissions
TLS Notary Proofs
Optimistic Implementation
Summary: Overall, there are still some concerns regarding TRB, although it is a very ambitious project. Despite its ambition to compete with Chainlink, which we consider a positive point, the team seems to be very small; the product is on the Ethereum Rinkeby testnet, probably now migrating. Generally, the idea of having the decentralized oracle blockchain project with a hybrid POS and POW model is challenging. The concern is that we have not found any partnerships, and the project is still in development now in migrating phase. This is a general review without going deeply to company whitepaper, code or community traction, on-chain analyses, and trading overview and in time of reading the information may be outdated.