Tesla Inc. has announced an investment of $1.5 billion in Bitcoin. This has made the electric automaker the second-largest publicly-traded corporate holder of the digital currency, according to data from bitcointreasuries.org. Is Bitcoin going to become the reserve currency and the best store of value, as mentioned in the last article? Time will tell.
Tesla is diversifying its portfolio
Tesla invested $1.5 billion in bitcoin in January in a nontraditional move to diversify its investments. The investment, which the electric vehicle maker disclosed today in a public filing, comes as CEO Elon Musk promotes an alternative cryptocurrency in recent weeks.
Tesla said in its annual report that the company made a move as part of a policy change designed "to provide us with more flexibility to diversify further and maximize returns on our cash." It is not typical for major corporations to acquire digital currency due to its dependability and concerns about its volatility. The new policy authorized by the Tesla board allows the company to invest in various forms of digital assets
Purchase TESLA with Bitcoin.
Moreover as per the announcement, you can buy TESLA cars using Bitcoin very soon, which will again help the mass adoption of the cryptocurrencies.
"We expect to begin accepting Bitcoin as a form of payment for our products soon, subject to applicable laws and initially on a limited basis," Tesla said in a securities filing.
The Palo Alto, California-based manufacturer, follows only Michael Saylor's MicroStrategy Inc. with its $3.1 billion hoards of Bitcoin. Saylor, who has been an outspoken proponent for Bitcoin, held a webinar earlier this month. He said over 1,400 firms signed up for the session on legal considerations of holding the digital currency.
"If your company has money on its balance sheets and it's sitting in fiat currencies like euros and dollars, they are losing about 15% of their purchasing power each year," Saylor said at the virtual summit that attracted industry participants from at least 16 countries, including Israel, Switzerland, Brazil, Iceland, Ireland, Italy, and Portugal. "The simple solution is to convert some of that cash into Bitcoin."
Bitcoin is competing with TOP companies
Bitcoin's frequent rise past all-time highs has made the cryptocurrency's size larger than TESLA for some time when reaching the price of 45 000 USD hence price jumped as much as 17% to this record on the news of Tesla's investment during not more than one hour.
As you can see in the picture below, Bitcoin is slightly below Tesla now, but as Bitcoin believers say .."this is only beginning."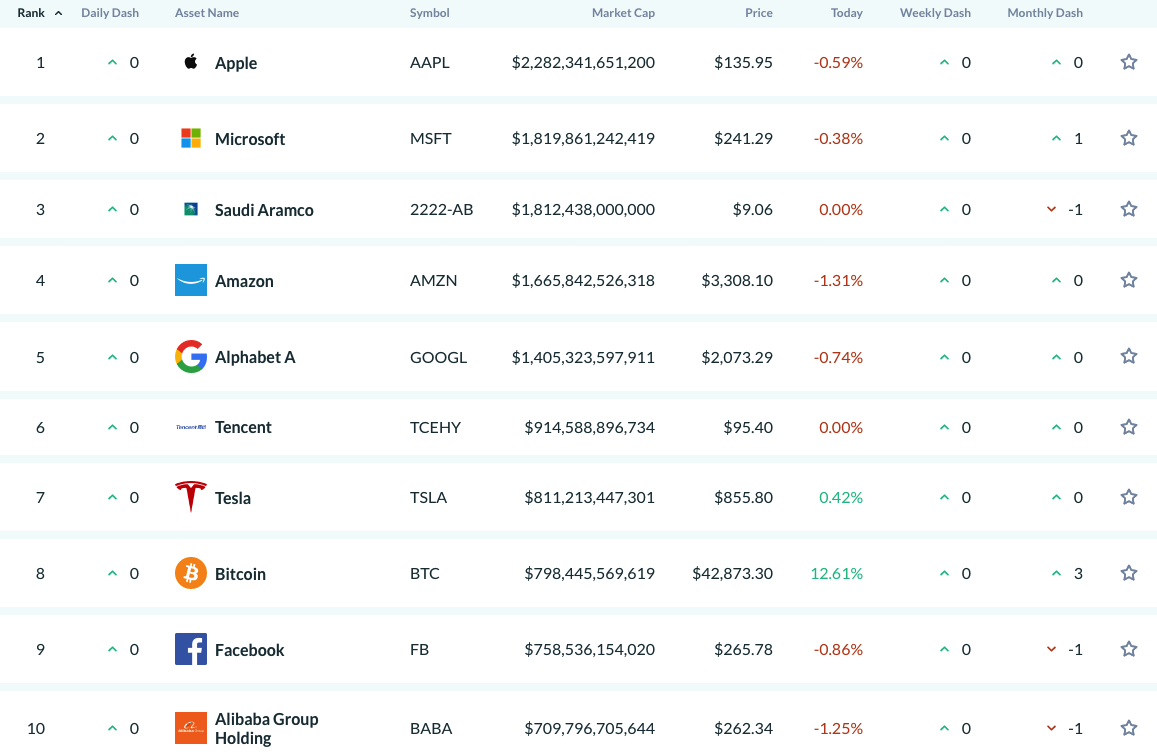 Is Bitcoin going to become the reserve currency and the best store of value, as mentioned in the last article? We seriously think it will. What do you think which company from the top above will announce the Bitcoin allocation as next?
Source: usatoday.com