Quick Summary
Degenerate Ape Academy is the best-selling NFT project created on Solana blockchain. It consists of 10,000 unique 3D ape NFTs with 137 different traits. This NFT project proved success doesn't only come on Ethereum based NFTs.
The boom of non-fungible tokens (NFTs) in 2021 was obvious. A lot of NFT projects blew up and made a big noise. However, most of them were created on the Ethereum (ETH) blockchain. There are also some successful projects that were created on other networks, such as Solana. Let's have a look at the most successful project made on Solana – Degenerate Ape Academy.
you might wanna read this: 3 Most Anticipated NFT-Crypto Projects In 2022
Degenerate Ape Academy
The Degenerate Ape Academy is an NFT brand made on the Solana (SOL) blockchain. The academy consists of 10,000 3D degenerate ape NFTs with 137 different traits. The Degenerate Ape Academy project, which is Solana's first million-dollar NFT collection, is run by 'Monoliff,' who heads the art and development team, 'Obbotis1', who is responsible for project management, and 'Conorholds,' who manages the development side of the project. 
Buyers can stay relaxed as they will acquire full intellectual property (IP) rights of both the art and the Degen Ape itself after purchasing the asset, thanks to the power of smart contracts. After the purchase, the Degenerate Ape Academy cannot modify, seize, or freeze ownership of Ape NFTs from new owners.
As mentioned earlier, there are 137 different traits consisting of mouth, head, background, skin, clothing, etc. All of these 10,000 NFTs also have different rarities – Common, Uncommon, Rare, Super Rare and Mythic. The higher the rarity, the more valuable the NFT is. Buyers can also measure each rank's value on the website's 'Academy Trait' section and check their percentage, which indicates their likelihood of being minted. 
The project has allocated 10% of the total sales and 10% of the secondary market royalties into its Community Vault and will increase this percentage as it continues to establish its presence in the NFT space. A part of this fund will go to hiring team members and contractors to expand the Academy further, strengthen its position, and roll out new offerings.
Last September of this year, MoonRock Capital, a blockchain advisory company, purchased Degen Ape #7225, the collection's 13th rarest Ape for 5980 SOL, which was equivalent to $1,109,170 (now it's less due to price decline).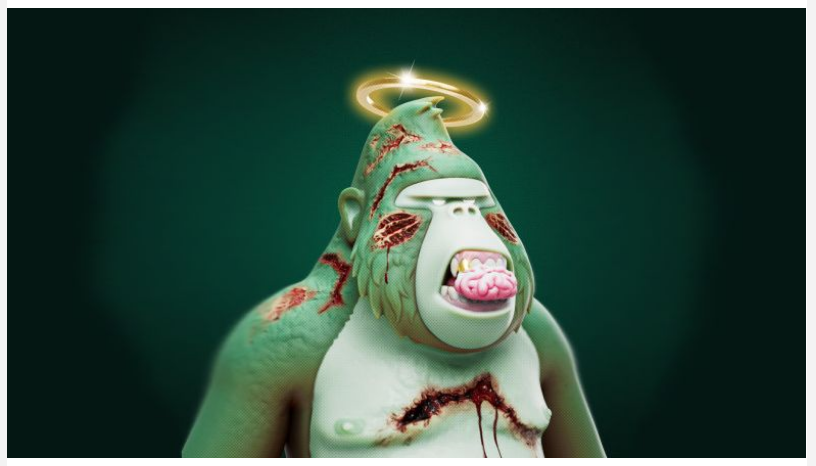 Conclusion
The achievement of Degen Ape Academy project is not just amazing but also game-changing. This project is a proof that you can create successful NFT project on other networks than just Ethereum. In the future, we will very probably see more projects receiving success that get built on other networks.
more to read
The Biggest NFT Events of 2021
Ray Dalio Is Impressed By Bitcoin
---
NFT World News Social Media: Twitter, Instagram, Telegram, Tiktok, Youtube
---
sources: degenapeacademy, solanart, asiacryptotoday
author: Rene Remsik
Disclaimer: This article is provided for informational purposes only. It is not offered or intended to be used as legal, tax, investment, financial, or other advice.