The 15th of December has arrived. The Polkastarter GAM3 Awards, also known as the "Grammys" of Web3 gaming, have concluded, and the winners have been announced. With over 250K votes across all 16 categories to further cement the status of the GAM3 Awards as the biggest web3 gaming event of the year.
It is no surprise that the GAM3 Awards Game of the Year category drew the most attention, since it celebrates the best web3 game that blurs the line between traditional and blockchain games. To crown the top content creator in our industry, 23 unique web3 gaming content creators were nominated until the final day of voting.
Among the award's judges were Justin Kan, Founder of Fractal; Urvit Goel, Head of Global Games at Polygon Studios; Itai Elizur, Managing Partner of Market Across; Rachel Levin, Director of Venture & Strategy at ImmutableX; Matt Sorg, Head of Technology at Solana Foundation; Edward Chang, Head of Gaming at Avalanche; and Yoshihisa Hashimoto, Co-Founder of Lv.99 and veteran of the gaming industry.
Winners
GAM3 Awards' inaugural edition showcased the games that won each category.
Game of the Year: Big Time
Most Anticipated Game: Shrapnel
Best Graphics: Star Atlas
Best Action Game: Superior
Best Mobile Game: Thetan Arena
Best Adventure Game: Big Time
Best Casual Game: Blankos Block Party
Best RPG: Illuvium
Best Shooter Game: MetalCore
Best Strategy Game: Gods Unchained
Best Card Game: Gods Unchained
Best Multiplayer: Game: EV.IO
Best Esports: Game: EV.IO
Best Content Creator: Brycent
People's Choice Award: League of Kingdoms
Games' Choice Award: The Harvest
The winners will share prizes valued at over $1M thanks to contributions, services and grants partners including Immutable X, Blockchain Game Alliance, Machinations, Ultra, Naavik, Galxe, Hacken, Venly, HackenProof, Shorooq, Elixir, Arcade, and MetaCon.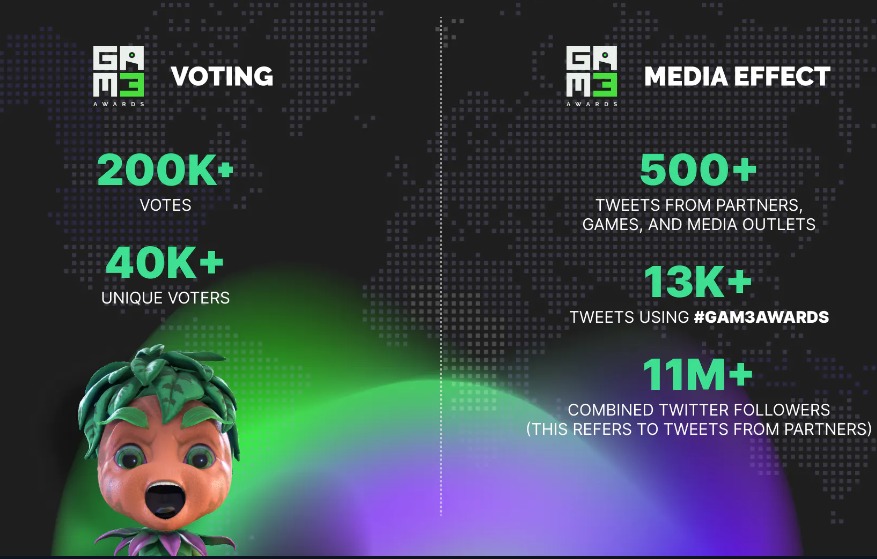 We can see that this event has really gained a lot of attention, which is confirmed by the data shared by Polkastarter. They report that across all categories they collected approximately 250,000 votes from 40,000 unique voters. More than 13,000 tweets with their hashtag evidenced that it was a hot topic on Twitter.
Conclusion
It's great to see that the gaming community in the Web 3 space is growing and that events like this are starting to happen. It's definitely slowly starting to attract the Web 2 community as well, which will bring the best games to many players in the future when they create a game that works.