Polygon Network is a protocol on the ETH Layer two solution gaining a lot of popularity with much lower fees than Ethereum. It has become a compelling alternative for several new up-and-coming projects. In this analysis, we're going to explore the Polygon ecosystem architecture. Let's jump in!
Matic Network Background
Polygon was rebranded from "Matic Network" in February 2021. Matic Network was created as a layer-2 scaling solution on the Ethereum blockchain. Thanks to the accurate development, the Matic Network became a platform which is:
easy
cheap
fast to get dApps to market
What is Polygon Network ?Polygon Network is a new name with built foundations and strong community support. It inherited from Matic the layer-2 scaling solution. It is a network designed to bring mass scalability to Ethereum and interoperability between other blockchains. Polygon is shaping up into a platform to help developers bring products to market quickly. 
How is this achieved?
Using customizable and modular blockchain network tools that harness the power of the Ethereum network. The disadvantages associated with high transaction fees and network congestion are eliminated. The popularity and traffic on Ethereum have grown. Developers are seeking enterprising avenues for reducing cost and finding a lower barrier to entry, whilst maintaining the security of the Ethereum Network.
Polygon Network's Solution
Etherum has some drawbacks which are supposed to be settled by the launching Ethereum 2.0. Low throughput, high gas fees, and network congestion create limitations for developers that can hinder progress. Polygon has developed a layer-2 network for building Ethereum-compatible and interoperable blockchain networks. Polygon's modular framework for building custom networks allows builders to deploy preset blockchain networks with a single click. Polygon makes it easy for any blockchain to interact with another blockchain without friction.
Polygon networks can harness the established technology, standards, languages, and tools to create customizable enterprise-ready blockchain networks. It enables developers with zero protocol knowledge to create highly customizable and upgradeable networks with short time-to-market that promote interoperability and cross-network collaboration.
Quick swap DEX trending
QuickSwap is a next-gen DEX on Layer 2, powered by Matic Network. It was created as a fork of Uniswap. There you can trade at lightning-fast speeds with close-to-zero gas fees. We also experience a much higher demand for quick swap dex trading and liquidity with transactions and price growth.
What is a Layer-2 technology?
Layer 2 blockchain technology is often referred to as an "off-chain" solution. Its main purpose is to scale blockchain transaction capacity while retaining the decentralization benefits of a distributed protocol. Solving the scalability problem will significantly help with blockchain mainstream adoption.
To build a good blockchain ecosystem, we need a few things in the architecture to balance the security, decentralization, and scalability. Layer 2 blockchain technology systems are those that connect say for example Ethereum, and rely on Ethereum as a base layer of security and finality. In other words, we add smart contracts on the main blockchain protocol that interact with activities off-chain. Rather than changing the base Ethereum.
Polygon Architecture
The Polygon Architecture consists of four abstract and composable layers. Each layer has its own foundation and is responsible for a specific range of functions. Let's check out what purposes can each layer be used for.
Ethereum Layer
Polygon chains can use Ethereum to host and execute any mission-critical component of their logic. Ethereum is considered to be the most secure programmable blockchain in the world. The Ethereum layer acts as a series of smart contracts that are responsible for several functions:
dispute resolution
finality/checkpointing
message relaying
staking
Security Layer
It is a "specialized, non-mandatory layer managing a set of validators that can periodically check the validity of any Polygon chain for a fee". The security layer serves as a meta-blockchain that operates in parallel to the Ethereum blockchain. This layer takes care of functions such as:
Validators management (registration and deregistration, rewards, shuffling etc…),
Polygon chain validation
This layer is fully abstract. The security layer can have multiple instances, implemented by different entities and organisations. Each security layer can have its own characteristics and can be implemented on the Ethereum blockchain.
Polygon Networks Layer
The networks layer is a constellation of independent blockchain networks that operates to serve its own user base and community. This layer's main functions are:
block production
local consensus
collating transactions.
Each network can connect with one another to facilitate the exchange of arbitrary messages using the Polygon protocol.
Execution Layer
Interprets transactions that are agreed upon by any of the blockchains within the Polygon network. The execution layer is made up of two sublayers:

Execution environment – provides plug-and-play virtual machine implementation
Execution logic – state transition function of a specific Polygon networks, which is usually written as Ethereum smart contracts
Polygon Chains
There are two main types of Ethereum compatible blockchain networks supported by Polygon.
Secured Chains
Blockchain networks that use "security as a service" instead of establishing their own validator pool. The service can be provided in two ways:
by Ethereum directly (via fraud proofs or validity proofs)
by a pool of professional validators (similar to Polkadot's "shared security")
Secured chains offer a high level of security, with the compromise of sacrificing a portion of independence and flexibility.
Stand-Alone Chains
Includes sovereign Ethereum-compatible blockchain networks. These networks are fully in charge of their own security. What means in practice that they have their own pool of validators. Stand-alone chains offer the highest level of independence and flexibility, with the compromise of sometimes challenging validator pool establishing.
Polygon Token (MATIC)
The ERC-20 Polygon token (MATIC) is the base asset of the Polygon ecosystem. Not only is it used for transaction fees, but it is also used for staking to secure its network. Since the rebrand, the Polygon (MATIC) token has seen incredible price action in line with a huge increase in usage.
The MATIC token has a capped supply of 10 billion tokens, with a current circulating supply of around 5 billion. The Polygon (MATIC) token is available on the most popular centralized and decentralized exchanges (DEXs). Available with both crypto and fiat token pairs, the crypto community is working together to make it simple and easy to buy Polygon (Matic).
The utilization of the Polygon Network is increasing, and the numbertransactions is catching up even with Ethereum, as shown in the chart below.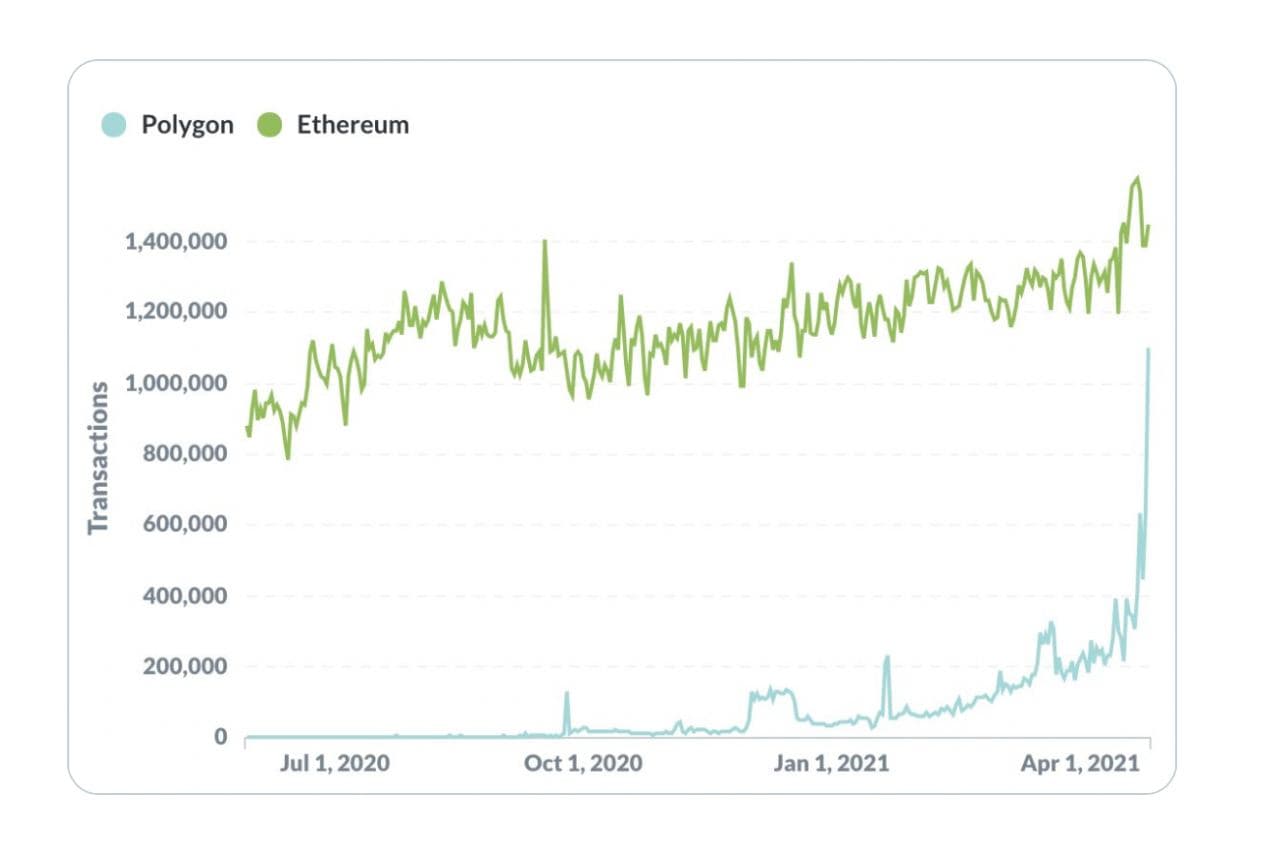 According to CoinGecko, at the time of writing, Polygon (MATIC) has a total market cap value of $4,758,782,920, with the MATIC token price sitting at around $0.79.
Summary
Polygon is at the forefront of interoperability. It brings together several thriving communities for the prosperity and good of the entire industry. It has been made possible thanks to the revolutionary technology introduced via Bitcoin, called a blockchain. It was built for developers, by developers, with scalability in mind.
source: https://academy.ivanontech.com