Quick Summary
Sup Ducks is an NFT project of 10,000 unique ducks built on the Ethereum blockchain. This project was created by Franky Aguilar and it sold out in 48 hours. Sup Ducks is one of the most successful and 8-figure NFT projects till this day.
Creating an NFT collection became easy. Almost anybody can do it. However, selling it out in 48 hours? Only a few people can do that. This time, Latin American NFT CryptoArtist FrankyNines has done it with his beautiful project called Sup Ducks.
you might also wanna read this: These NFT Aliens Are Worth Millions!
What's Sup Ducks
Sup Ducks is an NFT project of 10,000 unique ducks that are themed around 90's pop culture and have looks of cartoon-like ducks. Sup Ducks were built on the Ethereum (ETH) blockchain and sold out within 48 hours since their launch. The hand drawn features are determined once a SupDuck egg is hatched; this is a few minutes after a verified transaction.
10,000 individually unique Sup Duck NFTs went on sale on Friday, July 16th to the general public. Each unique Sup Duck NFT featured a variety of wacky, punk, and wavy pop culture-themed cartoon ducks featuring 90's artistic references. Each Sup Duck NFT was sold on the ETH blockchain, ranging from 0.1 to 0.7 ETH per NFT. Now, the floor price is 2.3 ETH (around $7.5k per duck at the time of writing).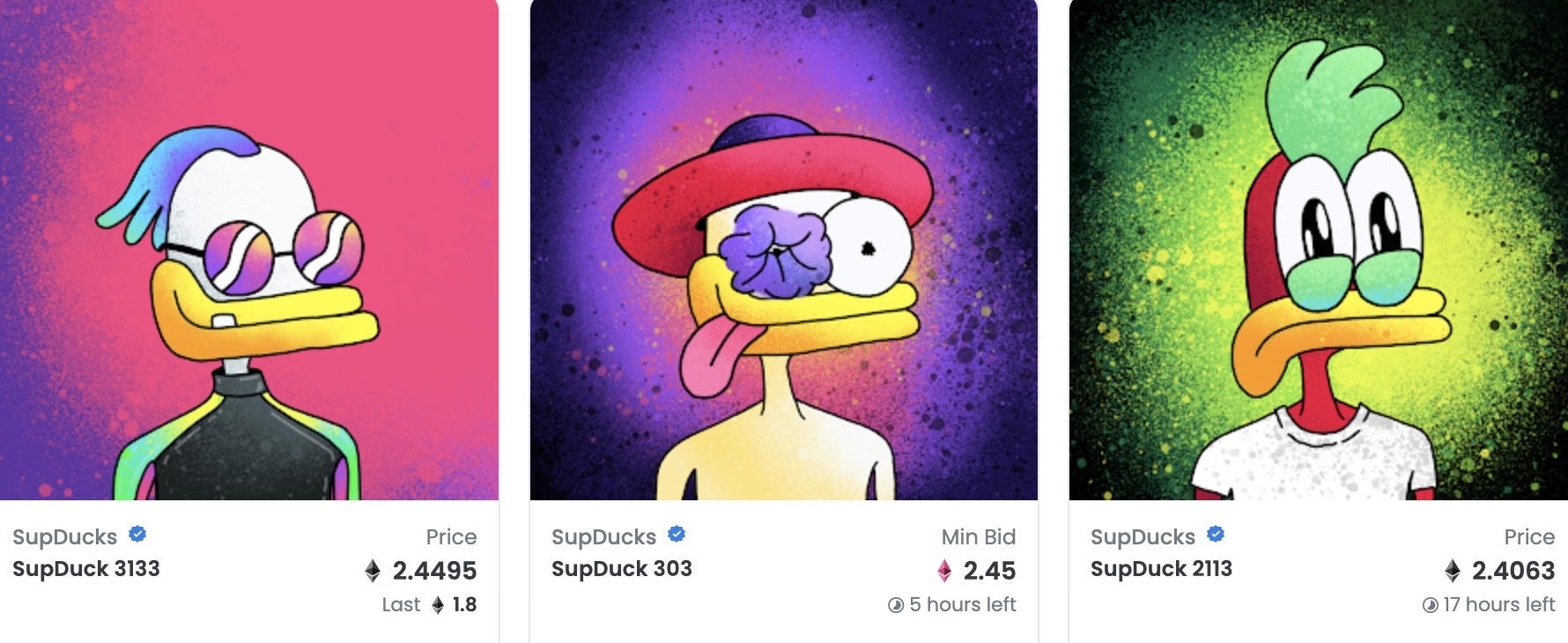 Depending on where you're from, there's a very high probability that this NFT duck is worth more than your monthly, or even quarterly paycheck! But there's no doubt why. Franky is a well-known artist and these NFTs definitely stand out from other projects with its vivid colors and playful attributes of the artworks.
The trading volume of Sup Ducks on OpenSea is more than 20k ETH in a half year (more than $65 million at the time of writing) which made this project one of the best-selling NFTs on OpenSea at certain times. The SupDuck NFT collection has an array of scarce features that contribute to higher prices and they have many different attributes.
Franky and his team used Procreate on iPads to draw each element that composes the Sup Ducks. "I'm always traveling for work and play, so some of these Sup Ducks were drawn in Vegas, Los Angeles and Costa Rica. There are a variety of themes– hip hop, rock N' roll, flowers, surf, you name it." Aguilar said.
ABOUT FRANKY AGUILAR (FRANKYNINES)
Franky Aguilar, AKA FrankyNines, is a Latin-American artist, blockchain designer and product developer based in Los Angeles, CA. He's built several apps that have garnered millions of downloads over the course of his tech career. He also co-founded nameless, a venture capital-backed company built around providing tools and open source code to developers and brands who want to create their own NFT projects.
Since 2017, Franky has been focused on art and innovation in the blockchain industry. To learn more about FrankyNines and his latest blockchain business ventures and art projects, visit https://www.frankyaguilar.com or follow him on Twitter and Instagram.
Conclusion
Sup Ducks is just another example of what can be created by combining blockchain and NFT technology with art. We personally love this project and we think it has a great future ahead as it's really original and beautiful form of art.
more to read
Verasity As The Next Gen Of Video Sharing
What It's Like To Be Crypto Promoter – @wizardara
---
NFT World News Social Media: Twitter, Instagram, Telegram, Tiktok, Youtube
---
sources: supducks, opensea, prnewswire, nftevening
author: Rene Remsik
Disclaimer: This article is provided for informational purposes only. It is not offered or intended to be used as legal, tax, investment, financial, or other advice.