Quick Summary
Theta Arena is an e-sport game based on the blockchain technology. The gameplay is designed to combine personal skills and teamwork. Theta Arena contains various game modes, such as MOBA & Battle Royale.
Thetan Arena is a unique game that features multiplayer-based model, where users can compete against each other through in-game champions. The game has a native token THG which made some astonishing returns.
There is a continuing hype around blockchain games, and the possibility of earning money by playing and having fun at the same time is stronger than ever before. In this blog, we will take a look at Thetan Arena, a game that took a different approach while creating an NFT game and applying more gaming modes. 
What's Thetan Arena?
Thetan Arena is an e-sport game based on blockchain technology. You can gather your friends, form a team, battle with others and make money thanks to your skills. The gameplay of Thetan Arena is designed to revolve around the combination of your personal skills and teamwork. Challenge yourself with various game modes: multiplayer online battle arena (MOBA) & Battle Royale, coming with monthly updates and attractive rewards. 
There are tons of blockchain-based games in the world today. However, most of them employ a card or turn-based gaming model, which is already a bit saturated in both the traditional and crypto gaming sectors. Thetan Arena, on the other hand, features a multiplayer-based model where users can compete against each other through in-game champions. They will also have the opportunity to earn native tokens from the game by participating in several activities and events.
You have a guaranteed gaming experience that's never been known before and you may lose to anyone the second you pause the fighting. So, gear up your heroes with a large selection of hundreds of weapons. You have to come up with the best tactics in order to survive.
Mobile Beta Game Launch
Thetan Arena has officially launched its own mobile beta game, with thousands of players competing to become the greatest Thetan warriors. The game is now playable not only on PC but also on Android and iOS. The game promises to be both a money earner and a social platform.
Who's Behind the Game?
Thetan Arena is a new game developed by studios such as KardiaChain and WolfFun Games based in Vietnam. The game received an initial investment of a little over $2 million. At first, it was patterned after Heroes Strike, a multiplayer online battle arena (MOBA) game developed by the WolfFun Games. That game had more than 10 million unique downloads on Google and also earned a Google Editor's choice award, so Thetan Arena has chances to succeed. Also, many blockchain investment firms supported this project, such as Spark Digital Capital, Animoca Brands, K300, Kardia Ventures, etc. 
Token information
Details on the Thetan Arena Polkastarter IDO:
IDO Date: Thursday, 16th September 2021
Price of THG token: $0.08 per token
$200,000 was available through the IDO, totaling 2,500,000 THG tokens
Network: Binance Smart Chain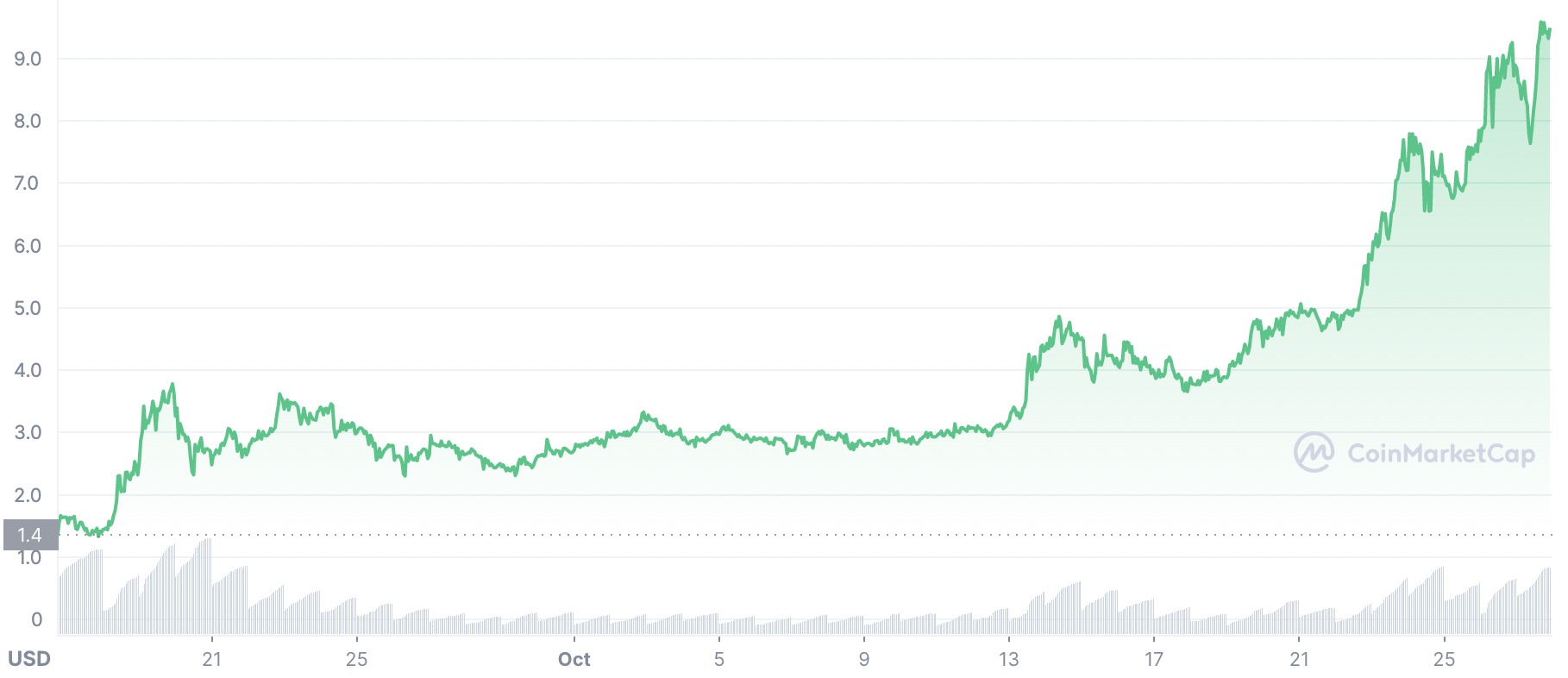 Thetan Arena has an in-game token called Thetan Arena (THG). Those who invested at IDO had a chance to make a 100x return with the current token price! THG has different use cases, such as being a medium of exchange, store of value, staking, and voting rights. This project has an approximately $255 million market cap with a daily trading volume of around $18 million at the moment. Max supply of tokens is set at 294,000,000. This project has risen from the ground up even though it's still only traded on decentralized exchanges like Pancakeswap and Apeswap. No listing of some big centralized exchange (e.g. Binance or Coinbase) currently. 
Conclusion
The rise of play-to-earn games on the blockchain is becoming more and more noticeable. Thetan Arena was able to grow in value more than any other project in such a short time. If it acquires many users like their previous project, THG's value will continue to rise. 2021 is no doubt the best year for blockchain NFT gaming so far. 
more to read
The Potential of NFTs is Endless
Ethernity Chain – Unique NFT Marketplace
---
sources: coinmarketcap, bsc.news, nftevening, asiacryptotoday
author: Rene Remsik
Disclaimer: This article is provided for informational purposes only. It is not offered or intended to be used as legal, tax, investment, financial, or other advice.