Quick Summary
Dontplaywithkitty is a decentralized platform that connects gaming with NFTs and cryptocurrencies. It has several functioning products as well as many other goals and plans in the future.
There are a lot of projects focusing on the metaverse and non-fungible tokens (NFTs) right now as the combination of these two will change our world forever. The implementation and use of NFTs in the metaverse is something new and exciting, and frankly, many people are looking for this possibility. Metaverse is more than just about gaming and users shouldn't have to pay for its enjoyment. Dontplaywithkitty seeks to solve this problem for good.
you might wanna read this: 4 Determinants For NFT Valuation
Don't Play With Kitty
The project sees the metaverse as a world where users can verify private assets. Dontplaywithkitty (DPK) is creating a digital community with access to a vast universe and its mission is to achieve a free play-to-earn (P2E) ecosystem for its users. They want to achieve this with a mix of GameFi and NFTs.
This project is a decentralized platform for chain games and all of the DPK 7,000 Kreatty NFTs got sold out. The average price in the secondary market is 1.39 BNB which is more than 10 times its launching price of 0.12 BNB. Dontplaywithkitty also has a dual token economy that will be explained later below. Currently, the main project is Pet Garden and DPK has its own marketplace. However, there will be a new project called "Mine Planet" launched in January 2022, and the second game is coming in February 2022.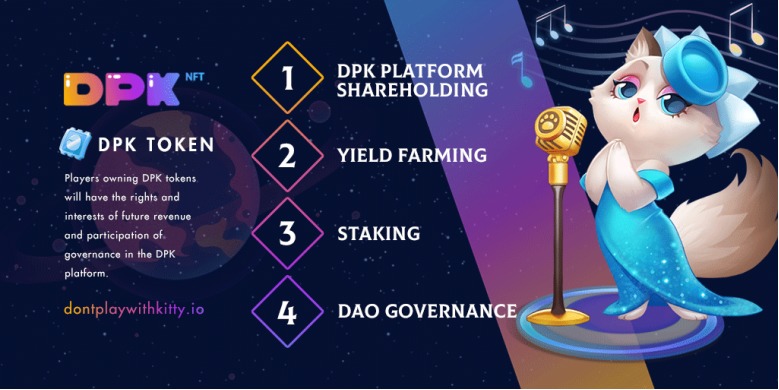 DPK sees the metaverse as a platform for living, not only gaming. It enables users to create and get income. At the same time, it provides support in obtaining resources for the members of the community. Central to the DPK platform are Kreatties and their offspring. Kreatties are NFTs that act as vouchers for logging on to the platform. All 7000 Kreatty NFTs of the DPK platform have been sold out and will no longer be released.
"Today you breed kitties, tomorrow kitties can bring wealth to you. With one NFT, you can play all games of the DPK platform," the team shares.
Dontplaywithkitty also offers two gaming options – a player versus environment (PvE) option where a user competes against computer-generated characters. Alternatively, players also have a PVP (player versus player) feature, where you compete against other players.
Kitty Token (KIT)
The economic model of the platform uses a dual-token model (KIT Token and DPK Token). The KIT token has a limited total amount and continuous deflation, mining cards can be produced through staking KIT tokens, and KIT tokens are used for reproduction of Kreatty/Kitty NFTs and creating clans so as to ensure economic development.
KIT is a utility token of the DPK platform with a total supply of 100,000,000,000,000 tokens. The circulating tokens are still unknown but since the token's launch, there is a 6-figure trading volume on daily basis and all the upcoming projects can help start a strong uptrend on the KIT token. Currently, it's only available on PancakeSwap but any future CEX listing may cause a strong upside movement.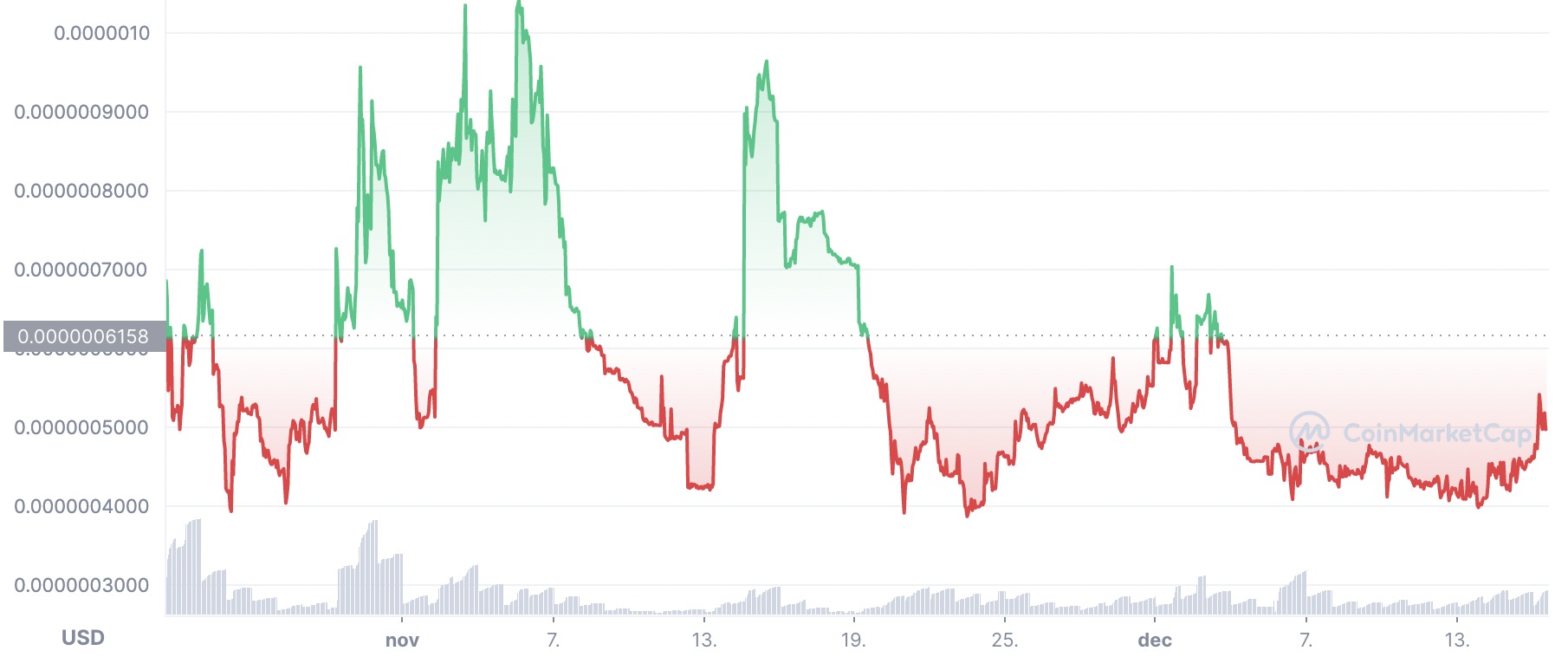 DPK Token
Besides the project's cryptocurrency KIT, there's also a DPK token that is proving DAO governance and has a higher value than the KIT token. The initial DEX offering (IDO) of DPK tokens will take place on December 21st. At first, it will be listed on the PancakeSwap exchange.
Conclusion
Dontplaywithkitty will be implementing cross-chain transactions by connecting with ETH and Polygon networks as well as developing its native wallet. This project is very comprehensive and offers many possibilities for everyone who gets involved. The combination of the metaverse, NFTs, and cryptocurrencies will change gaming forever, and the early adopters will benefit the most.
more to read
Virtual Lands In Metaverse Dominate The NFT Market
---
NFT World News Social Media: Twitter, Instagram, Telegram, Tiktok, Youtube
---
sources: cointelegraph, dontplaywithkitty, coinmarketcap
author: Rene Remsik
Disclaimer: This article is provided for informational purposes only. It is not offered or intended to be used as legal, tax, investment, financial, or other advice.