Everyone wants cryptocurrencies these days as the profits are exponential, and with coins pumping hard every day, it becomes harder to resist. To buy cryptocurrencies, you'll always need a cryptocurrency exchange that works like any traditional exchange online. Deciding which coin to trade is no doubt the main step as your capital depends on its growth.
However, there are more important factors to trading/investing, such as choosing the right exchange so you can save a lot of money on trading fees. So here we have listed the TOP 3 cryptocurrency exchanges for 2022 for you to pick the right one depending on your geo-location, funds limits, and cryptocurrency coins choice. Now let's have a look at our short review on TOP 3 crypto exchanges.
related: TOP 4 Hot NFTs In April 2022
Binance
Binance (founded in 2017 in the Cayman Islands) stands first on our list and we have strong reason to list it so. Binance (rated 9.9) collects the largest cryptocurrency volume and has the largest number of active users. Binance was founded by Changpeng Zhao aka CZ and was initially based in China. Binance has weekly 24,448,014 visits on average. It's the most known and largest crypto exchange in the world with the most possibilities for traders.
Coinbase Pro
Coinbase Exchange (8.4) ranks second on the CoinMarketCap crypto exchange based on the trading volume. Coinbase Exchange has weekly visits of over 2,952,564 and it currently supports 169 coins and 3 main Fiat USD, EUR, and GBP. Coinbase exchange is extremely user-friendly and easy to use, making it perfect for beginners. The interface of the Coinbase wallet is easy to use and focused for the beginner, however, the Coinbase pro interface is like the one Binance has as it comes with advanced tools to assist trained traders. Coinbase has fairly lower fees.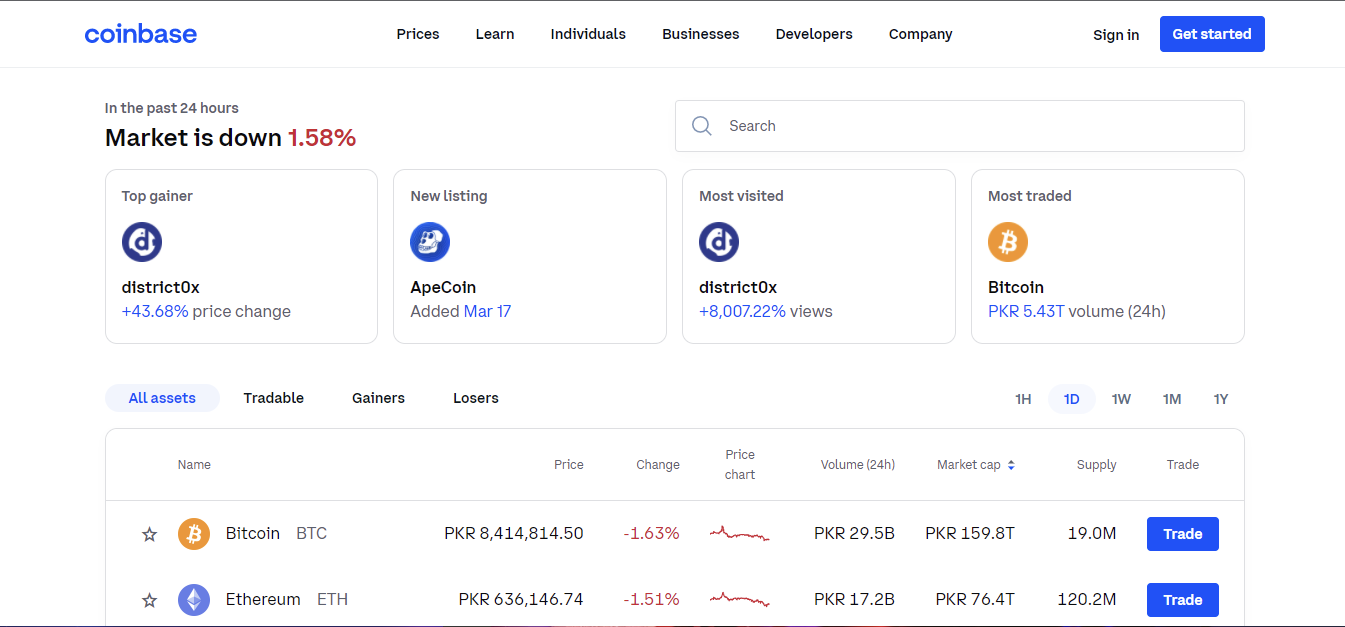 Kraken
Kraken Exchange (rated.8.0) ranks fourth on CoinMarketCap crypto exchange (but third in our list) based on the 24h trading volume. Kraken Exchange has weekly visits of over 1,851,046 and it currently supports 508 pairs. Kraken Exchange supports every type of trader from beginner to expert to trade and invest with trust and ease of use. Kraken Exchange is different for different levels of traders and platforms.
Conclusion
These exchanges can be the first choice for the ones coming in crypto as well as the professional traders. Binance has an intermediate interface and its fees are extremely low. Moreover, Coinbase Pro and Kraken offer a beginner-friendly environment and offer US-regulated Crypto futures trading tools.
more to read
Is This The Next 100x Metaverse Utility Token?
Ninja Squad Is The Most Searched NFT Project In April 2022
Elrond Is Bringing Important Innovations Into The Crypto Space
---
NFT World News Social Media: Twitter, Instagram, Telegram, Tiktok, Youtube
---
sources: binance, kraken, coinbase, coinmarketcap
author: mnmansha
Disclaimer: This article is provided for informational purposes only. It is not offered or intended to be used as legal, tax, investment, financial, or other advice.