Low-value cryptocurrencies are traded for a few cents or less than $5, just like penny stocks. Due to low market capitalization and substantial risk in the crypto market, they are affordable investments. However, the ideal penny cryptocurrency to invest in should have the ability to appreciate value over time. Otherwise, it is illogical.
Numerous aspects determine the potential of crypto. It might be the worth of the underlying technology, the team or community behind the initiative, or just plain hype. These kinds of coins and tokens, whose value is likely to rise over time due to their current potential, are available in the crypto market.
Related: AMAZY is the Most Anticipated Web3 Project Launch of 2022
ThorChain (RUNE)
According to tradingview, Rune is trading at $1.81 per unit with a 24-h trading volume of more than $165 million. RUNE is holding the 65th position with a market cap of $599,695,708. RUNE is down more than 90% from its all-time-high level (ATH) due to this ongoing bearish cycle in the crypto market. 

A group participating in the 2018 Binance Dexathon (decentralized exchange coding competition) came up with the idea for THORChain. In the DeFi space, THORChain reduces the need for centralized exchanges and third parties by facilitating cross-chain liquidity. Cross-chain swaps and yield generation on digital assets like Bitcoin and Ethereum are accomplished by it. It's hard to determine a long-term target for this coin, but it certainly has a bright future.
2. Cardano (ADA)
Cardano (ADA) is one of Ethereum's biggest rivals. Its proof-of-stake network enables faster transaction processing and minimal transaction costs. Besides founding Cardano, Charles Hoskinson is also one of the Ethereum co-founders. The market cap of Cardano, which is $15 billion, is the largest of the coins on this list. The token's price has plunged from its all-time high of almost $3.10 per coin to $0.4496 at the moment. Cardano has a great team and considerable potential to grow in the upcoming years.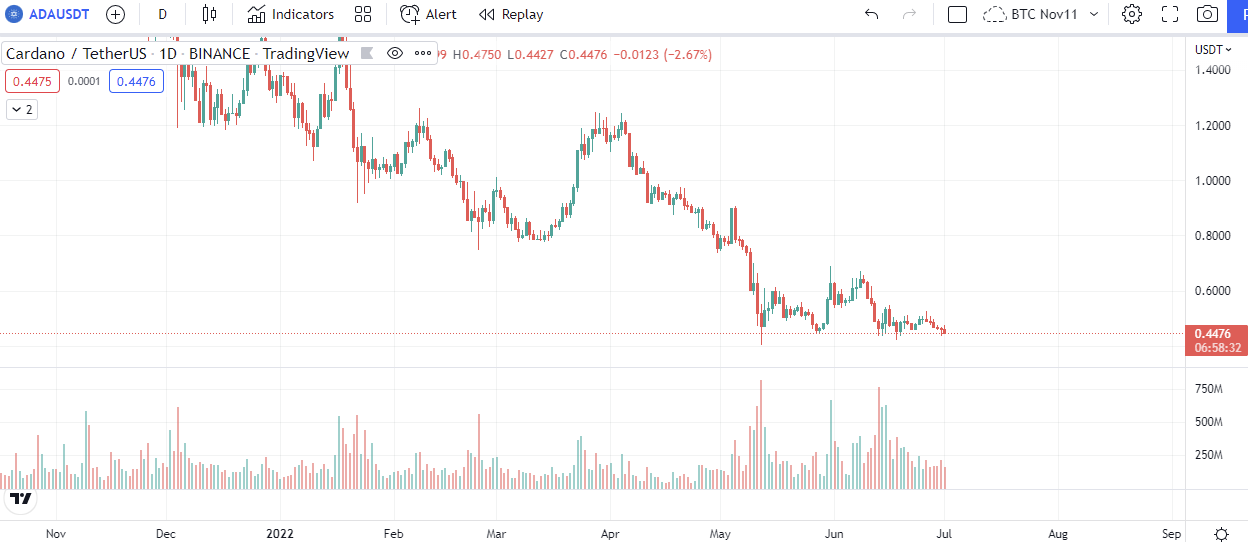 3. Polygon (MATIC)
Built on the Ethereum network, Polygon is a decentralized app (DApp) that aims to turn Ethereum into a multi-chain system. Polygon might be the answer developers are looking for to deploy decentralized applications more quickly, effectively, and affordably. MATIC is the most promising "layer two" token, or token built on an existing blockchain.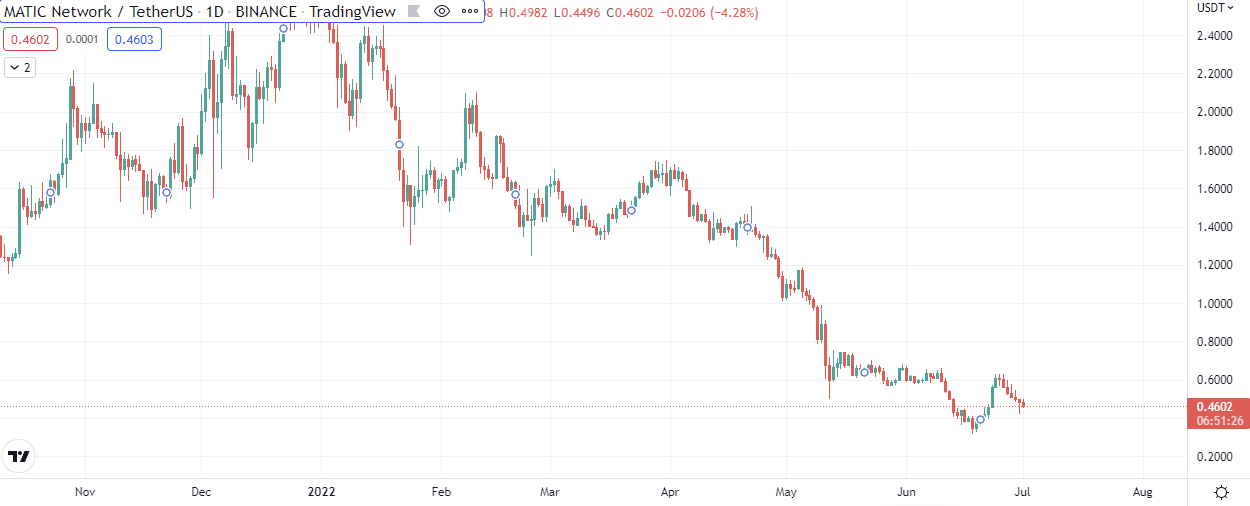 Polygon is also one of the TOP favorite blockchains for gaming NFTs and NFT artworks. Polygon is trading at $0.4602 with a market cap of more than $4 billion. MATIC has lost more than 84% from its ATH of $2.92 and it might be a great buying opportunity for investors. 
4. PancakeSwap (CAKE)
Running on the Binance Smart Chain, PancakeSwap is a decentralized exchange (DEX) that enables the direct trading of cryptocurrencies and tokens. It is based on an automated market maker (AMM) system, which allows cryptocurrency trades by utilizing user-fueled liquidity pools between token pairs. CAKE is exchanging hands at $3 per token with a market cap of $430 million. There are strong chances that CAKE will continue to grow as it's one of the pioneers in DEX & AMM tokens. 

5. IOI Token (IOI)
IOI Token is a utility cryptocurrency that combines trading, gaming, and a blockchain technology. The backbone of the project are NFTs and complete ecosystem consisting of Marketplace, Multichain Wallet and play-to-earn games. IOI Token is tying this whole ecosystem together. This strong bear market caused brutal sell-off on this token, and it fell under its ICO price by more than 95% from its ATH, which makes it an oversold token with an easy 5x-10x potential in the next few months.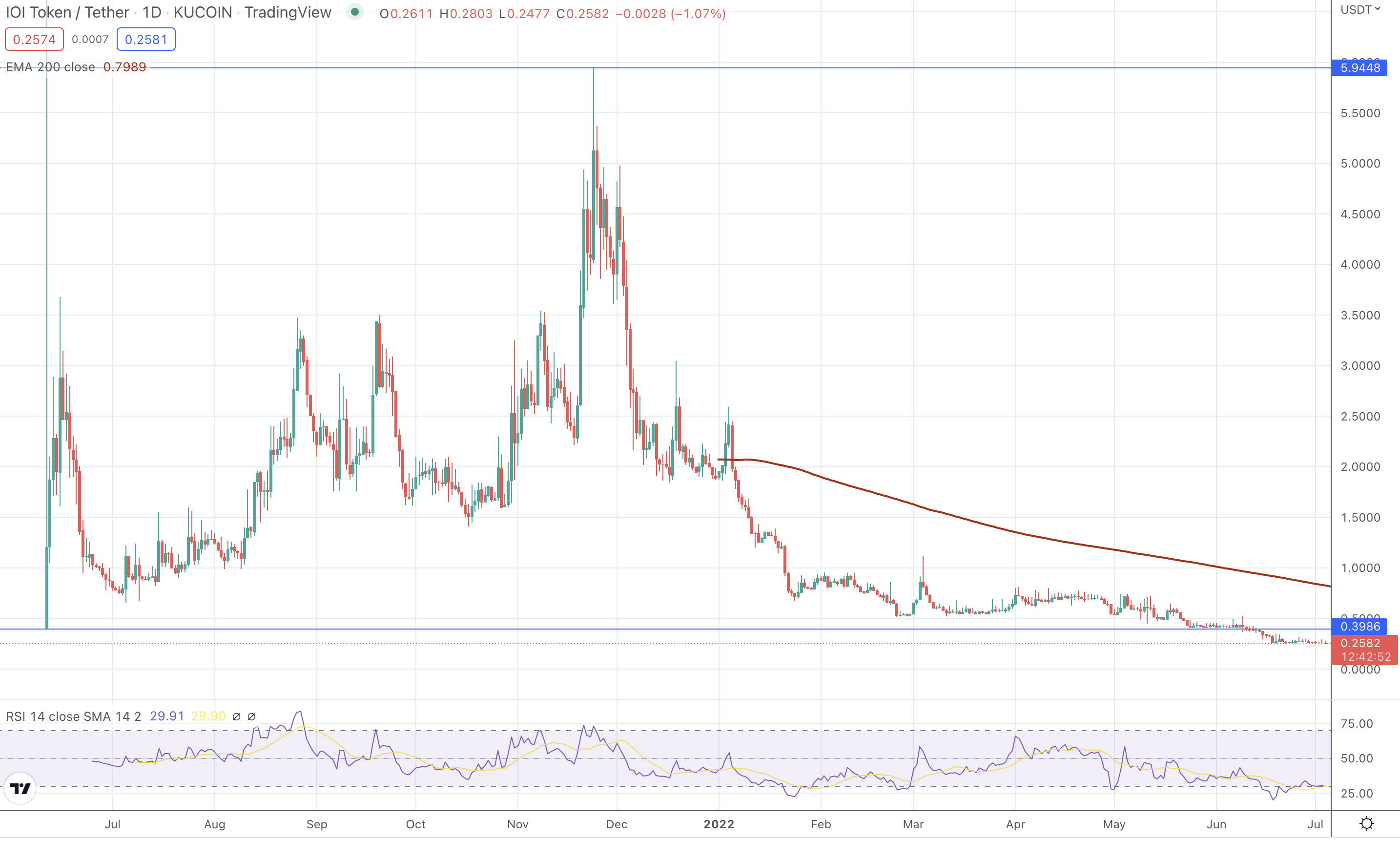 Conclusion
The essential thing is to find and buy the most fundamentally sound digital asset, consider utilities, and have patience. We have explored the affordable cryptocurrencies that can be purchased for under $5 and can offer investors a colossal return on investments (ROI). Also, diversify your portfolio to avoid the bearish cycles in the crypto market. You might bear the loss in the short term, but you will be successful in the long run.
more to read
Would You Let Bitcoin Die or Change it to PoS?
Kevin Hart Joined Web3 Space With New NFT Collection
---
Follow NFT World News: Twitter, Instagram, Telegram, Tiktok, Youtube, Twitch
---
sources: tradingview
author: Rene Remsik, mnmansha
Disclaimer: This article is provided for informational purposes only. It is not offered or intended to be used as legal, tax, investment, financial, or other advice.