Quick Summary
TRM 2 is trade racing simulator where players race and earn cryptos. This game is building its own metaverse and epic NFT cars, avatars and tracks. TRM 2 recently launched alpha testing with prizes worth $50,000 in IOI and NFTs.
NFT World News likes to review and show projects that have real value and potential for users and investors. Trade Race Manager 2 (TRM2) is an NFT trade racing game that offers the best gaming experience while players can earn cryptocurrency and have fun. Let's take a look at the whole project as TRM2 is currently in the Alpha Testing Mode.
this might interest you: 5 Biggest Upcoming Metaverse Projects (Part 2)
What's TRM 2?
TRM 2 is a Trade Racing Simulator where players race and earn cryptocurrencies in the process. TRM 2 is an updated 3D racing game of TRM 1 that revolutionizes online gaming. TRM is the ultimate game connecting metaverse, NFTs, cryptocurrencies and racing. This game allows you to own avatars, cars, race tracks and much more.
If you don't just want to be a player, you can manage a team, own a team or even have your own racing track that will serve as a passive income. TRM 2 is the next generation of Play-2-Earn (P2E) gaming with its own Metaverse and endless possibilities.
Alpha Testing & $50,000+ Gifts
TRM 2 has just entered an alpha testing phase where players can try out avatars, cars and races as NFTs and win gifts worth around $50,000!! Everyone can join, you just need to have 100 $IOI in your wallet and you will receive 10,000 $IOI (as a demo account balance) you can buy cars for. At the end of the testing phase, 10,000 $IOI will be divided among the best 16 players. Moreover, people will receive free NFTs for participating. Find out more information here.
How to Effectively Win Races
There are several fueling choices you can use to race and win. If you want your car to be the fastest in the race, you need the best guess. Fuel up with 3 cryptocurrencies, choose short or long (you can also use 2x leverage) and if you guess the direction correctly, you should be the winner!
When you use cryptocurrencies as fuel, keep in mind that cryptocurrencies rise more than they fall, so long strategy will have a higher success rate. The manager chooses a team's strategy but you can also customize your own. For every crypto, there is 33% of the fuel you can use, but you can also use 90% of one and 5% for those other two.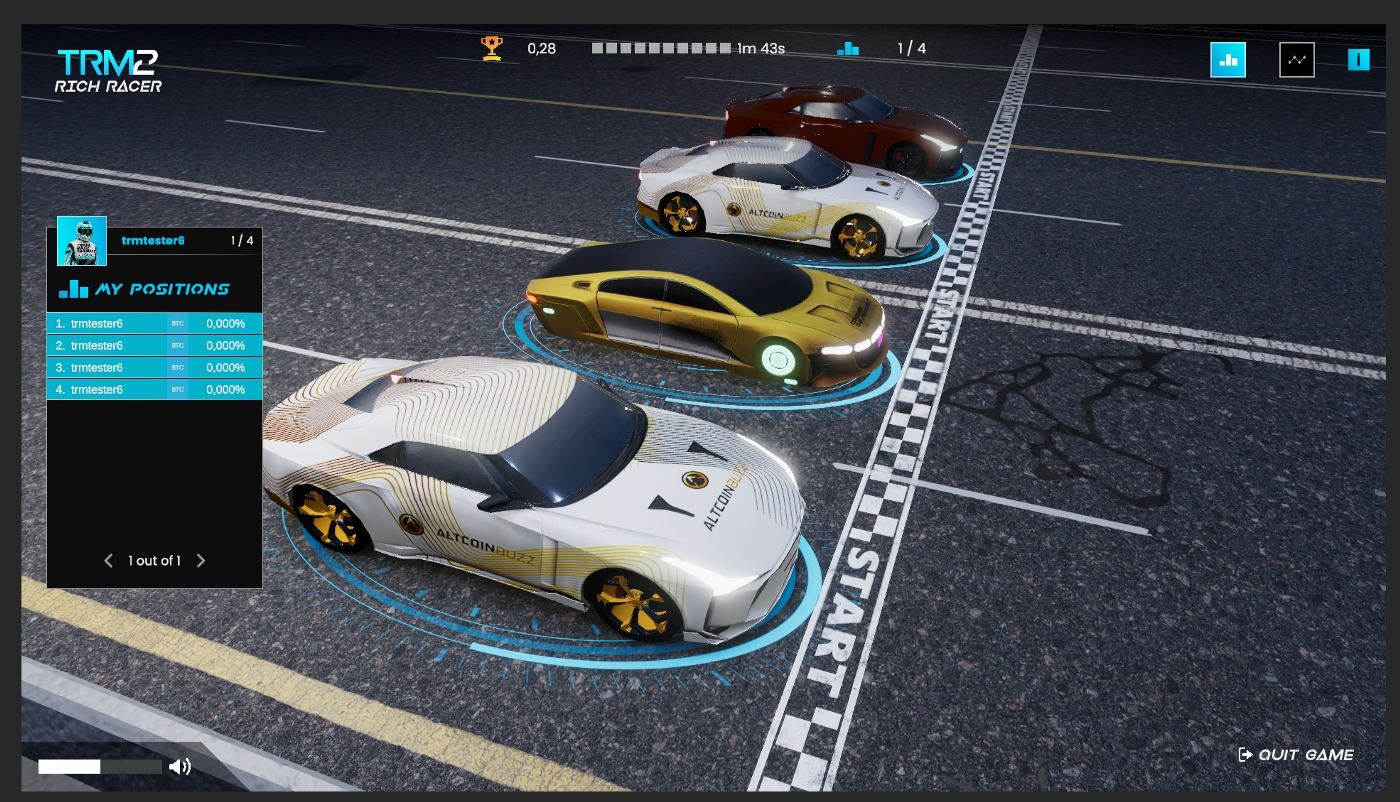 Why IOI Token is Going to at least $20
TRM 2 has an in-game token IOI which is used throughout the whole game and is supposed to fuel the whole ecosystem. However, the utility of IOI doesn't end in this game. This token is also used inside of the Qorpo market where people can buy, sell and trade NFTs using the IOI token.
IOI token recently hit a new all-time high of almost $6 but currently sits at a price of $4.08. This token has a market cap of $29 million and a max supply of only 37,500,000 tokens. Since it grew above the $3 level, the token has an everyday trading volume of several million US dollars. The company also regularly burns tokens to support the price growth, so we are pretty bullish on IOI.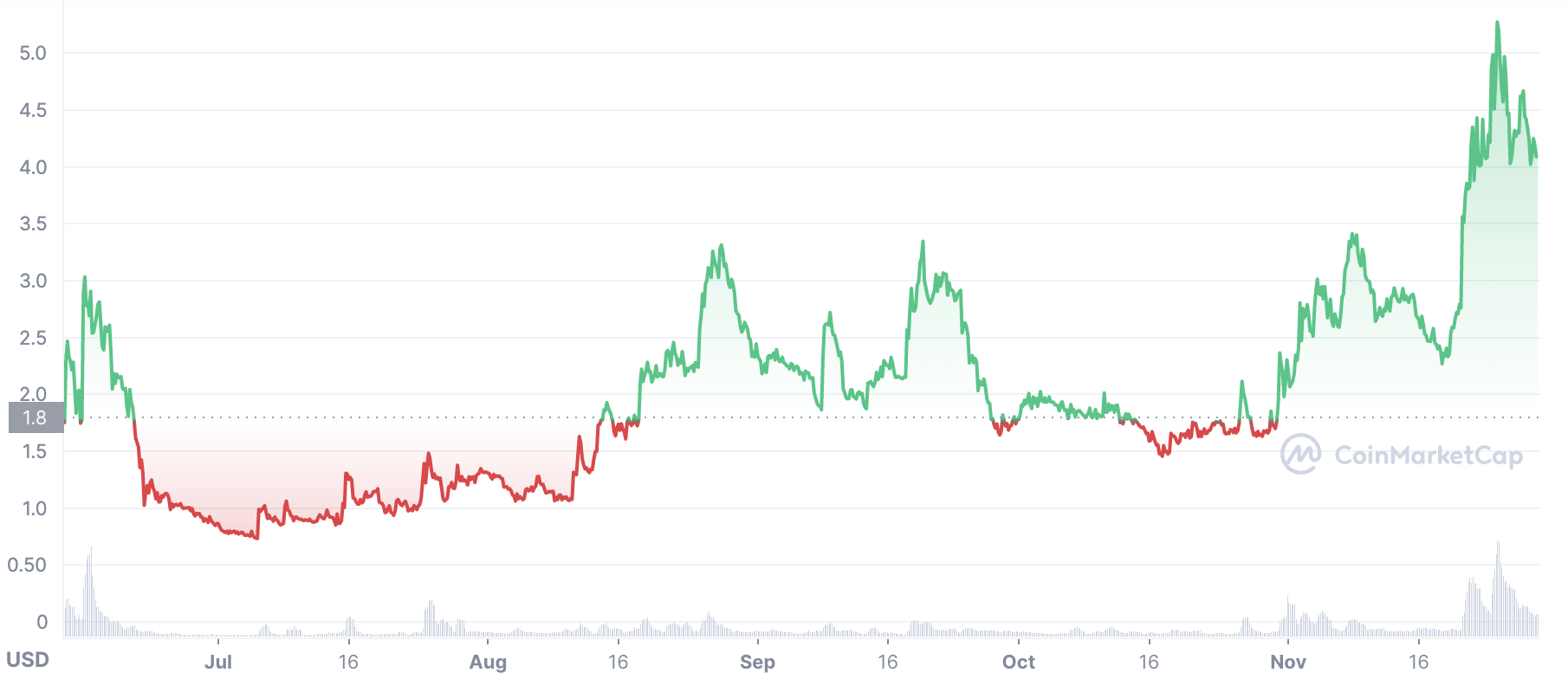 If we were to compare some NFT gaming projects through tokens, let's look at IOI, DeRace (DERC), Illuvium (ILV). While TRM 2 is already in its alpha testing phase, has a huge fan & user base, the market cap is only around $30 million. Companies such as DeRace or Illuvium have a much higher market cap even though they still didn't release their game. Derace has a market cap of $230 million and Illuvium even more than $1.05 billion! Just imagine those returns if you invested in IOI right now.
Considering all the mentioned attributes of Trade Race Manager, this is one of the most worked-up games and projects with a low market cap of under $100 million. There are other projects that have done less work and have a much higher valuation. That's why we think IOI is going to at least $20, as it will put the company to a valuation of $150 million (this should be the minimum).
TRM 2 NFT Airdrops
Trade Race Manager sold out a collection of 200 NFT Cars on OpenSea in a few hours, so their NFTs are very trendy. They used all the profits to buy IOI tokens and burn them which results in bigger and more stable growth. Those who follow this project may be a part of NFT airdrops which will be happening very soon. Let's be honest here, who wouldn't want a free NFT that has an in-game utility and can help you earn crypto? Don't miss it and follow TRM on Twitter.
Conclusion
NFT Gaming is coming whether people want it or not. Gaming used to be a pay-to-earn model and now everything's changing with the play-to-earn model. TRM 2 will allow you to own different kinds of NFTs which you can use to play and earn cryptocurrency or sell to other players. The best way to really find out what TRM 2 is capable of for yourself, head over to their website, download, and try it out.
more to read
Kalao – Perfect Combination of NFTs & VR
Global Brands Test NFTs in the Metaverse
Sentiment: positive
---
NFT World News Social Media: Twitter, Instagram, Telegram, Tiktok, Youtube, Facebook
---
sources: qorpogames.medium, traderacemanager
author: Rene Remsik
Disclaimer: This article is provided for informational purposes only. It is not offered or intended to be used as legal, tax, investment, financial, or other advice.