Quick Summary
Vaulty is a decentralized platform designed to bring automatic asset allocation across DeFi instruments. It offers quality yield strategies, NFT opportunities and much more.
The crypto world is full of new terms and technologies. Vaulty came and implemented many of these new amazing possibilities connected with NFTs, DeFi, staking, yield strategies, etc. Let's have a look at what complex features and possibilities Vaulty actually offers.
you might wanna read this: 5 Biggest Upcoming Metaverse Projects (part 3)
Vaulty – Innovative Tech Company
Vaulty is a unique profit-sharing yield optimizer that incorporates both traditional DeFi and NFT yield strategies into the same decentralized platform. Vaulty is one of the first vaults to offer NFT strategies into its system architecture, harnessing this exciting new trend through features like NFT staking and structured NFT rewards.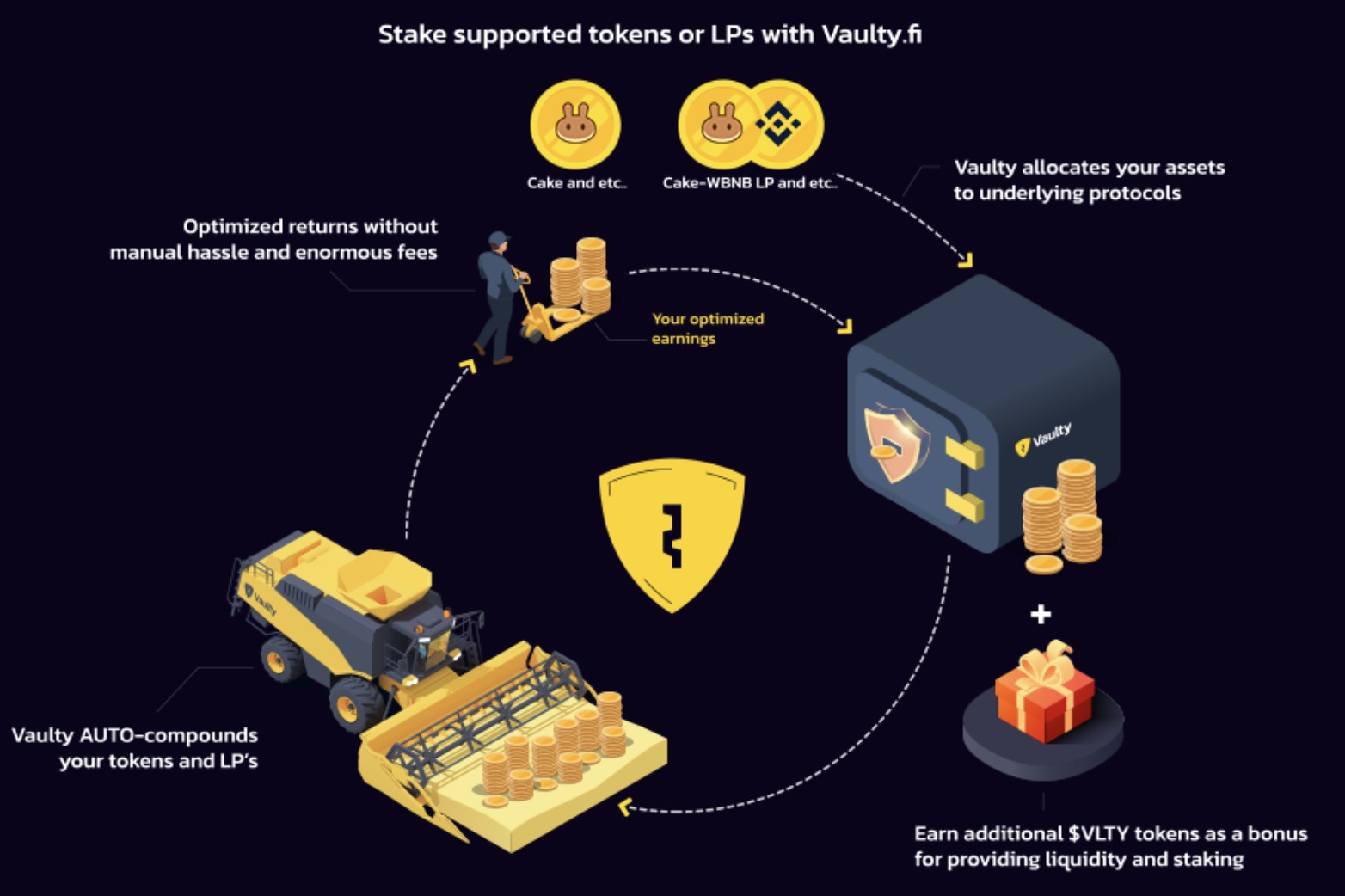 Vaulty is a decentralized platform designed to bring automatic asset allocation across DeFi instruments. Every vault has its own smart contract with predetermined logic. Choose your vault and passively earn yields or NFT's stress-free. Vaults allow users to minimize network fees and time spent researching the best instruments.
This NFT distinctive combined with a Profit Sharing Pool for stakers of $VLTY allows users to take advantage of traditional yield strategies while also providing additional opportunities to enter the exciting world of NFTs. Whatever your preference, Vaulty delivers an elegant, stream-lined platform on Binance Smart Chain (BSC) that's got something for both novice and more experienced DeFi investors alike.
Problem & Solution
DeFi space is growing incredibly fast, and it's becoming harder for casual investors to keep pace. With the Ethereum network becoming extremely congested, gas prices are catastrophic for DeFi yield investors. Other Vault projects have failed to bring a fresh mindset to the arena and include other products like NFT.
Capitalize on DeFi yields without spending time searching for the best investment. With community governed strategies, investors can capitalize on a batch of DeFi yield products. Spreading funds across the sector is automated, minimizing risks and management time. The most important part of resolving high gas prices is building a platform over BSC.
Token Information (VLTY)
Vaulty has a token VLTY that got on coinmarketcap in August 2021 at a price of $1.4 but there was a strong fall by 90% to today's price of $0.14. Is it now a good time to buy? VLTY's market cap is still unknown, but the fully diluted market cap is only around $2 million, so the project is surely undervalued. It has a max supply of 15,000,000 tokens and the trading volume is small since the price fell so hard. This token is only available on BitMart exchange but if this token got listed on other exchanges, it could significantly boost its price back up.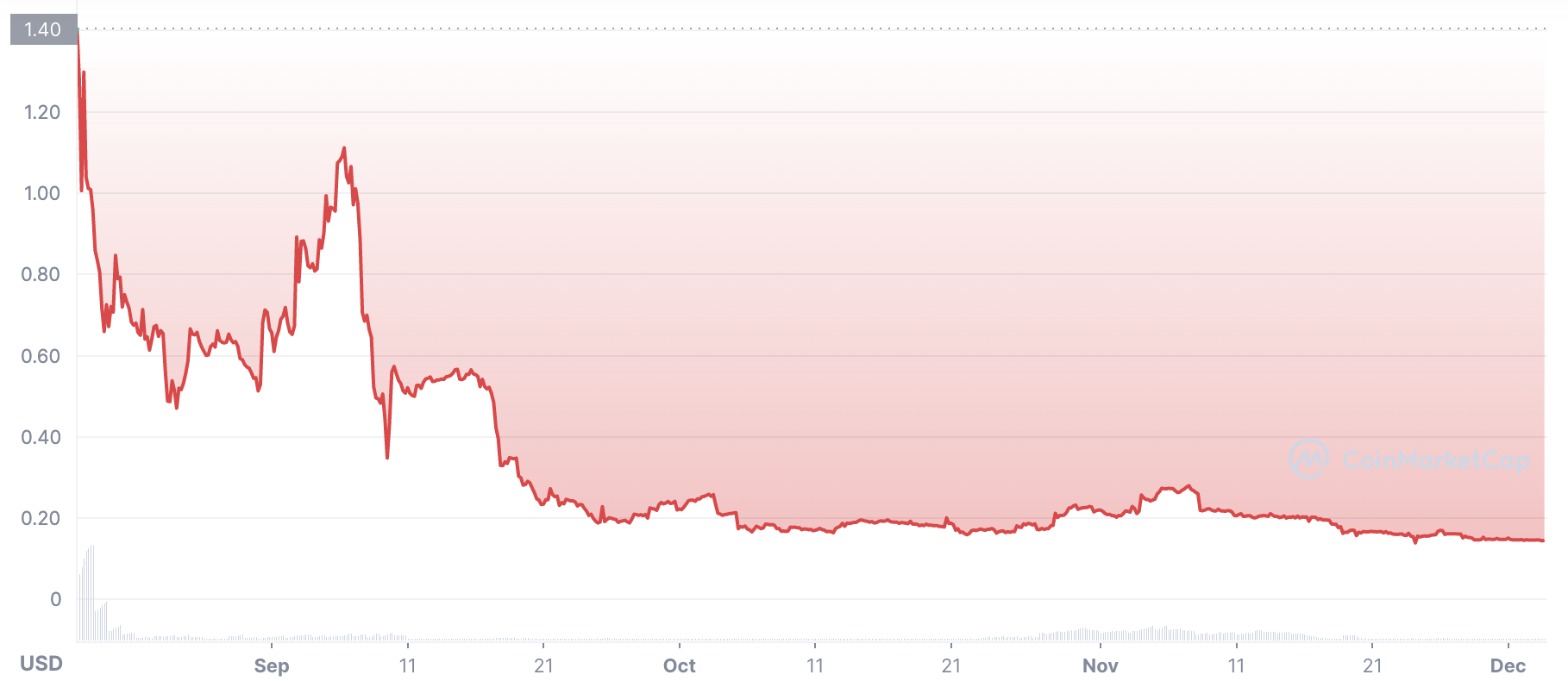 Conclusion
Vaulty as a company is showing some complex and advanced technologies but it wasn't able to apply them correctly yet. However, Vaulty is still in its early stages and with the right market approach, it could become a great project. Only time will show if this project can keep up and deliver its vision.
more to read
Greenheart – Ideal Combination of CBD and DeFi
ZOO Crypto World – Revolutionizing GameFi Project
---
NFT World News Social Media: Twitter, Instagram, Telegram, Tiktok, Youtube
---
sources: vaulty, coinmarketcap
author: Rene Remsik
Disclaimer: This article is provided for informational purposes only. It is not offered or intended to be used as legal, tax, investment, financial, or other advice.