Quick Summary:
Another Life collection consists in 5 original songs captured live using tape machines from the 1950s and blockchain exclusive, each paired with one of the 5200 PFPs.
Violetta Zironi's "Another Life" is a highly anticipated NFT album that was released in 2023. The album features ten original songs that showcase Zironi's distinctive vocal style and her ability to craft memorable melodies and heartfelt lyrics. The songs are a mix of pop, rock, and alternative, and they display a range of emotions, from joy and hope to sadness and heartache.
Innovative artist
The most notable aspect of the album is its use of NFT technology. Each song on the album is sold as a unique, one-of-a-kind collectible, allowing fans to own a piece of Zironi's musical legacy. The NFTs also offer exclusive access to special content and experiences, such as VIP concert tickets and behind-the-scenes content.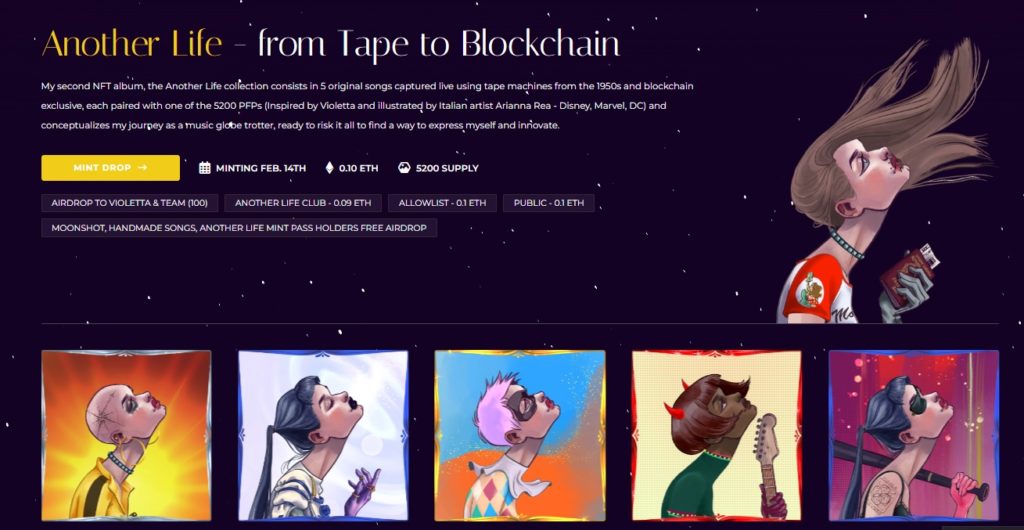 The album has received positive reviews from fans and critics alike. Many have praised Zironi's ability to craft catchy and memorable songs that stick with the listener long after the album is finished. Her vocals are described as powerful and emotive, and her lyrics are often praised for their honesty and vulnerability. The use of NFT technology has also been well-received, with many fans appreciating the added value and exclusivity that the collectible elements bring to the album.
The Utility and the collection information
In conclusion, "Another Life" is a great effort from Violetta Zironi and a strong addition to the growing NFT music market. It showcases Zironi's musical talent and creativity and offers fans a unique and innovative way to experience and collect her music. If you're a fan of pop, rock, and alternative music, and are interested in the growing NFT space, "Another Life" is definitely worth checking out.
The Drop will take place on February 14, 2023 and you can participate here.