NFTs are booming, and they have become an essential part of the crypto sphere. They are unique and can prove ownership of digital content such as artwork and video game items. The NFT showed a lot of popularity and sensation in the latest months. With the launch of many artist collections like Beeple's, people who have never explored NFT art are attempting to enter the space as collectors, but how? You have to join the nonfungible token marketplaces what is the main topic of today's article.
We have already precisely explained the difference between the nonfungible and fungible tokens as you can read here. Today we will go through the places where you can buy them and store them. We will explain the simple differences also available on the Cryptoweathernews Youtube Channel.
Investments in NFTs rose 299% in 2020 and continued to grow in the first quarter of 2021 as indicated below.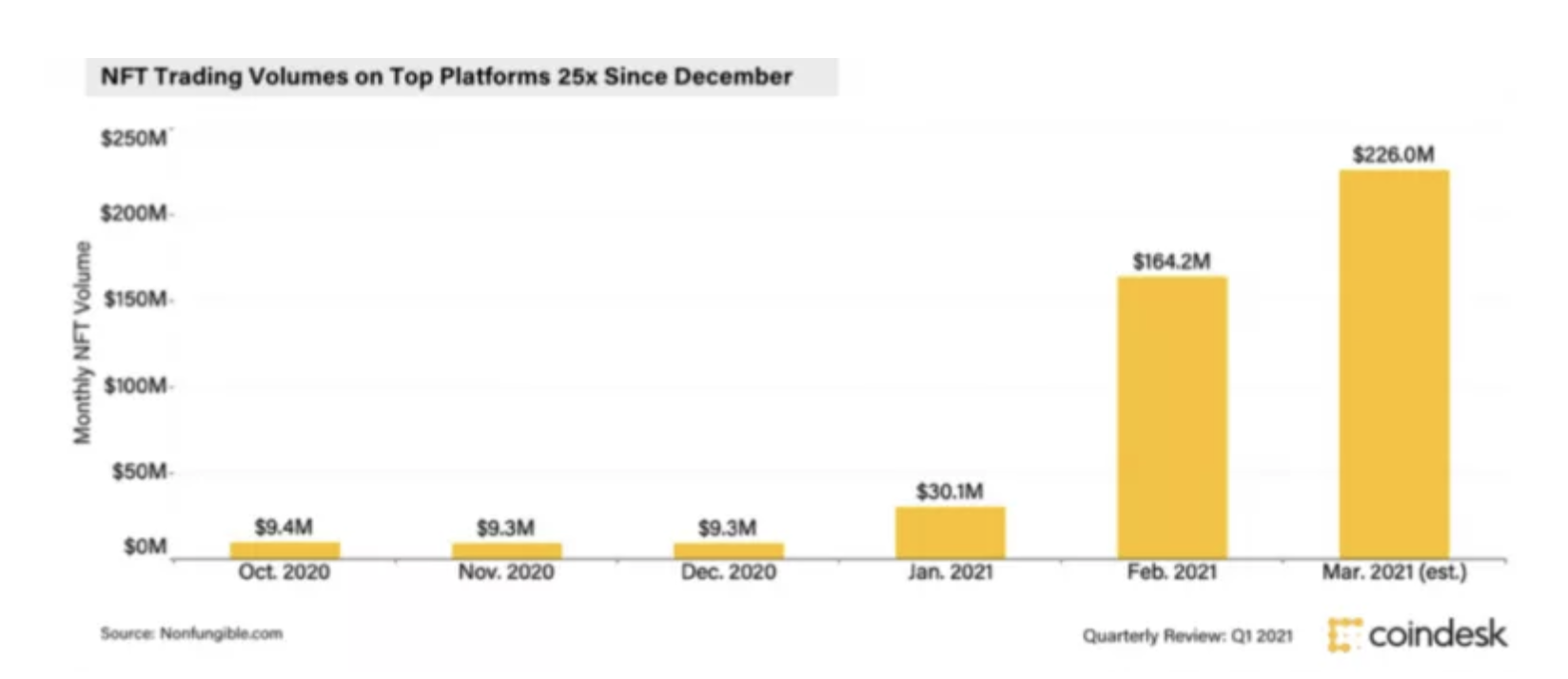 What are the NFT marketplaces?
An NFT Marketplace is basically a cryptocurrency exchange. Concretely, it is a digital marketplace where traders can buy and sell NFT tokens via different cryptocurrencies. There have been many new marketplaces established with the mentioned boom of the whole crypto industry.
If you're taking the first step into the crypto and digital art space, you'll need to know a few basics. First of all, most non-fungible tokens are minted on the Ethereum network. Therefore, transactions are mostly done with ETH. Most NFT platforms require buyers to have a digital wallet. They also have to use cryptocurrency platforms with Ethereum, World Asset eXchange (WAX), Polygon, or Flow. 
However, some marketplaces have gotten around the cumbersome nature of ETH wallets and double/triple gas fees. It is caused by allowing purchases in multiple cryptocurrencies (OpenSea) and even credit cards (for example, MakersPlace). A different solution: a marketplace on the ETH Layer two solution like Polygon Network with much lower fees (Arkane Network).
Below I will take a look at some of the nonfungible token marketplaces.
Nifty Gateway
Nifty Gateway strives to be more accessible to buyers. It is allowing them to use a credit card to purchase items off the site. Other platforms focus on having a lower barrier to entry for creators. Nifty Gateway is the OG of NFT marketplaces. And, fun fact, it's owned by the Winklevoss twins of Facebook fame. There are still plenty of worthwhile drops through Nifty Gateway. But overall it feels a bit dated for people who are focused on strict art collections. While you'll see some bigger sales, there tend to be a lot of mid-and-low tier transactions. If you want to use Nifty Gateway, it might be worth keeping an eye on drops. Also mind the top sellers if you want to retain investment value.
OpenSea – an NFT catch-all platform
OpenSea claims to be the largest NFT marketplace. It is home to anything from art to virtual reality, sports and trading cards. The site has over 200 categories and 4 million items. This is the most democratized digital art market in the world.
Anyone can mint anything for free and then change for the minting/processing/transfer once it's purchased. Because of that, you can find anything and everything. It's also a good place to find newer artists who are talented but not yet discovered.
People looking to buy popular NFT items like CryptoPunks, CryptoKitties, or virtual real estate can use ether to buy items off OpenSea. OpenSea is also called "the eBay on the blockchain."
NBA Top Shot
Sports clips sell for anywhere from $20 to thousands of dollars on NBA Top Shot. NBA Top Shot has sold over $500 million in NFTs from the start. It is a site where people can buy video highlights as NFTs,
In February 2021, a LeBron James dunk set the record for the most expensive Top Shot sales at $208,000 worth of the cryptocurrency Flow. Thousands of NBA Fans from around the world collect over 7.6 million Top Shot Moments. You can start building your roster of Rookies, Vets, and Rising Star Players. Most of the items are sold nowadays and the platform is focused mainly on the NBA.
The SuperRare
SuperRare is super popular. They specialize in a single edition, verified art from vetted creators. Some of the highest worth transactions go through this network and they do so in ETH. To bid on, or purchase, a piece, you'll need to link up a wallet (or sign up to Formatic. This is the easiest startup wallet with the fewest barriers to entry). Because relatively few artists are accepted and prices are high, it's pretty difficult to get a bid accepted for an NFT. 
Rarible
Rarible is excellent for creators. Minting a NFT doesn't require a lengthy approval process or require you to fit the aesthetic of the site's support staff. Because of that, buyers also see a fair amount of variety in quality and content. Art is mixed in with collectibles and most items on this site seem to be listed with multiple editions rather than the single editions of SuperRare. Rarible is community owned and has its own coin (RARI), although transactions are primarily done through ETH.
Makersplace
This platform got a ton of attention by minting Mike Winkelmann's (Beeple) full collection for Christie's. Aside from that, it's also our favorite platform for beginner collectors. Unlike SuperRare, you have a higher chance of getting your bid accepted through MakersPlace. And you can purchase art with credit cards or ETH. For people who are interested in owning NFTs, but find the entire blockchain concept a bit confusing, this is the best place to start. Artists still need to be accepted and verified. But there seems to be more diversity than SuperRare which has a tendency to choose artists with a certain aesthetic. 
According to the latest dappradar list the #1 is the NBA Top Shot measured by volume and number of participants as you can see below.
NFTs offer opportunities for gamers and trading-card collectors as well, which is why you see it in the top list of platforms. Also, the games which implement the marketplace for their items as Axie Infinity or Decentraland.
Axie Infinity, a site that sells cartoon characters that are created to fight, much like Pokémon, is one of the top 10 most popular crypto-collectible platforms. The site had over 10,000 monthly active users in 2020, making it the most popular game on Ethereum.
Arkane Marketplace
NFT gaming is expected to continue to grow. In February, Altitude Games launched a blockchain racing game called Battle Racers and IOI Corporation launched the Trade Race Manager. They are trading NFT games both on the Arkane Market, a site that is home to over 100,000 gamers on the blockchain. 
As already mentioned above Arkane Network Marketplace is the layer two solutions running on Polygon Network. The great advantage is very simple customer onboarding and more payment options including Paypal and Bitpay for cryptocurrencies. It is the very first NFT market where you don't need crypto.
Decentraland – Virtual real estate is booming
Digital real estate might be the next big area for investment, according to the co-head of Republic Real Estate Janine Yorio. One of the first NFT digital houses in the world sold for over $500,000 on SuperRare's marketplace.
In March, Atari, the gaming company known for "PAC-MAN," announced plans to develop a cryptocurrency casino in Decentraland. Decentraland's internal currency, "MANA," has a $1,400 billion market value.
Alternative NFT marketplaces
If you do not want to pay high ETH network fees there are quite a few possibilities including the Arkane Network one. My personal opinion is that none of the sites below are as consistently good as a few of the ETH marketplaces in terms of quality art even though you can find extremely high quality art on all of these. This makes sense since there are fewer artists using alt currencies, so there's a smaller pool to draw from.
VIV3
Collection based site with generally high quality work that consistently sells out running on the crypto currency FLOW network. VIV3 goes all in with the drop model. They release collections rather than individual works by artists. These collections always sell out. The only problem is that there's no art to buy if everything has already been sold.
SIGN ART
Sign-Art uses primarily WAVES for purchases, although SIGN can also be used. In practice, almost every piece is priced in WAVES. You can buy some of the higher-end work on this site for less than $300 USD. But some prices edge closer to $1,000 USD at the very top. The platform itself is artist-centric rather than art-centric.
There are a few more built on the cryptocurrencies like HIVE (NFT Showroom) or Tezos (Kalamint), NEAR (Paras). But still, the major volume is on the Ethereum platforms.   
Please be aware that this is the current status. I am are sure there will be many more NFT marketplace platforms in one month. I will keep you updated.
Eastboy