Quick Summary
Rug Pull is an event where developers or investors run away with all the money in the project, which leads a to a rapid price decline of a certain cryptocurrency.
Cryptocurrencies are very lucrative and have nefarious volatilities. Suppose one day your friend suggests you a coin with a low market cap which is rising by 2x, 5x, and even 10x every day. Numbers convince easily, right? So you decide to jump in the trade and the coin or token shows you some green candles until the bad happens. 
One morning you wake up and find out that the price has plunged to almost zero. This is not only super annoying but wants you to quit a cryptocurrency trade forever. Since the team is not doxxed or anonymous, there is no way to even get your investments back. What actually happened to you was a crypto scam or the infamous Rug Pull.
related: $1 Million NFT Rock Accidentally Sold For $0.001!
What Is A Rug Pull
Rug Pull is used in cryptocurrencies when investors or developers run away with all the investments in their projects. People create the projects with malicious intent and convince investors and buyers to put their money in.
When there is enough money in the project, they just bag it and disappear. This recently happened with the Squid Game Token. That token peaked at more than $28,000 before plummeting to zero on November 1, 2021. Squid Token gained more than 83,000% in a few days turning pennies into millions but unfortunately, no one was able to withdraw their funds.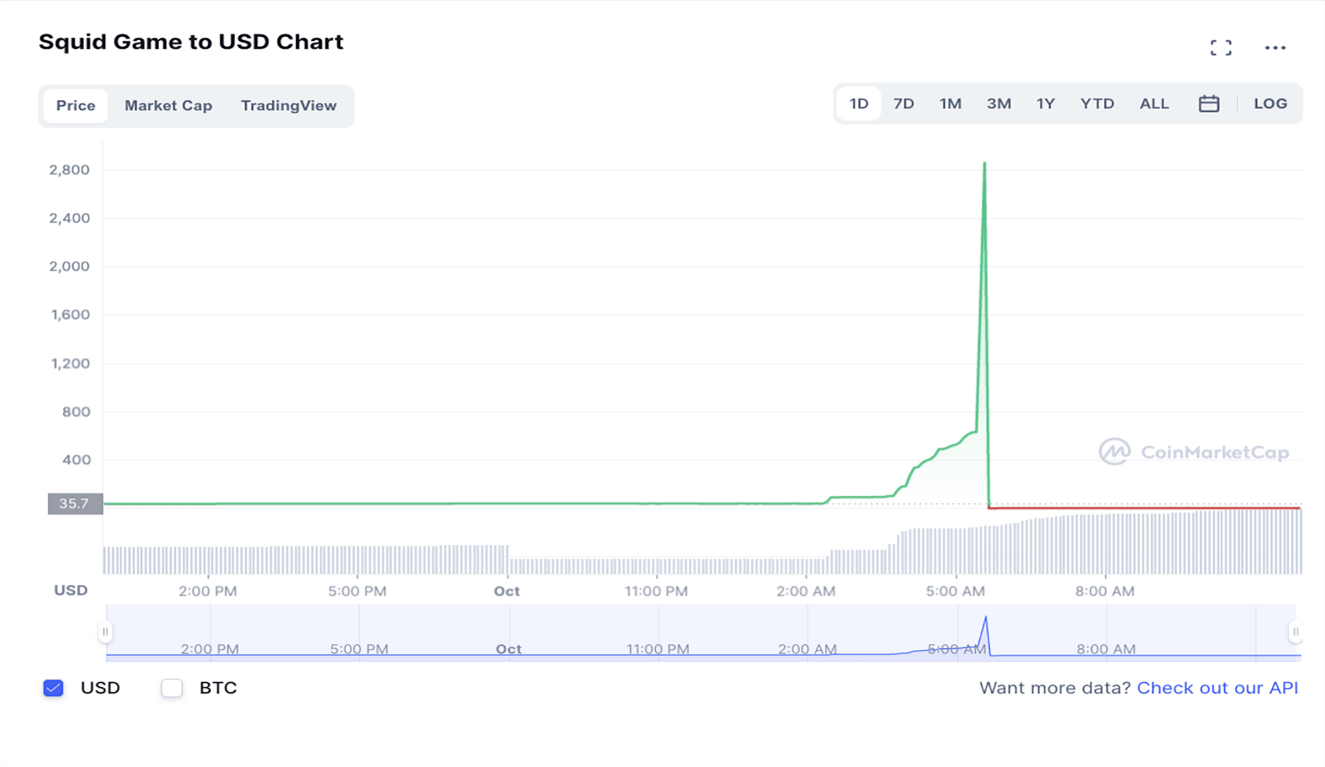 Rug Pull Through Yanking Liquidity
These Liquidity Pools have assets locked in with a 1:1 ratio. This Liquidity Pool leverages an algorithm to find efficient trades no matter how high or low the price of an asset is. If there is more quantity of assets in the Pool, it will be difficult to impact or alter the price. What scammers do is create a liquidity pool of a valuable token with their developer token, which is needless to say worthless. 
When people put their money into the liquidity pool, the price of their token keeps rising due to the increased liquidity due to the market makers. At some point, when the price of the token is high – boom!!! Rug Pull happens and they withdraw their token value leaving nothing to trade from the pool.
The Inability To Sell
Developers can write anything in their code including not authorizing the buyers to sell their tokens at any point. With this approach, anyone can buy the tokens but only developers are able to sell them. That's why the price of the token only goes up.
Conclusion
Having said that, don't fall in for the numbers and DYOR (Do Your Own Research) before investing. Since you are now fully aware of what approaches these scammers use, pay close attention to spot these signals. Check who governs the liquidity pool, use BSCScan or EthScan to check who owns most of the coin and tokensniffer to check the smart contracts.
more to read
Wanchain – The King Of Interoperability
Metaclub Society Will Throw The Biggest Parties In The Metaverse
Derify Protocol: A Valuable Innovation To DeFi And BSC ecosystem
---
NFT World News Social Media: Twitter, Instagram, Telegram, Tiktok, Youtube
---
sources: coinmarketcap, bscscan, etherscan, tokensniffer, youtube
author: Rene Remsik, mnmansha
Disclaimer: This article is provided for informational purposes only. It is not offered or intended to be used as legal, tax, investment, financial, or other advice.