Bitcoin is the flag barrier of the entire cryptocurrency market and it decides in which direction the market will move. If Bitcoin price increases, the whole crypto market of around 18,000 cryptocurrencies goes up and if Bitcoin turns red, the whole market starts bleeding – mostly more than Bitcoin itself.
related blog: Is This The Next 100x Meme Coin?
Wen Moon?
There are three situations:
Bitcoin Price Goes Up: If Bitcoin price goes up, people get bullish about the other tokens as well and start pouring their money in, and eventually, the price of almost all coins goes up due to the greed factor.
Bitcoin Price Goes Down: If the Bitcoin price drops, there is fear among people, and they start selling their holdings. It starts a bearish trend and price plunge.
Bitcoin Price Ranges: This means that the Bitcoin price does not move much and there are not enough trading opportunities. This is when alt season begins and people take their money out of Bitcoin and put that into Alt Coins instead. 
Now that you have understood what triggers an alt season, let's try to address the most frequently asked question: when will the alt season begin? The answer is not that simple and obvious however, the chart can make everything simple to explain – and logical.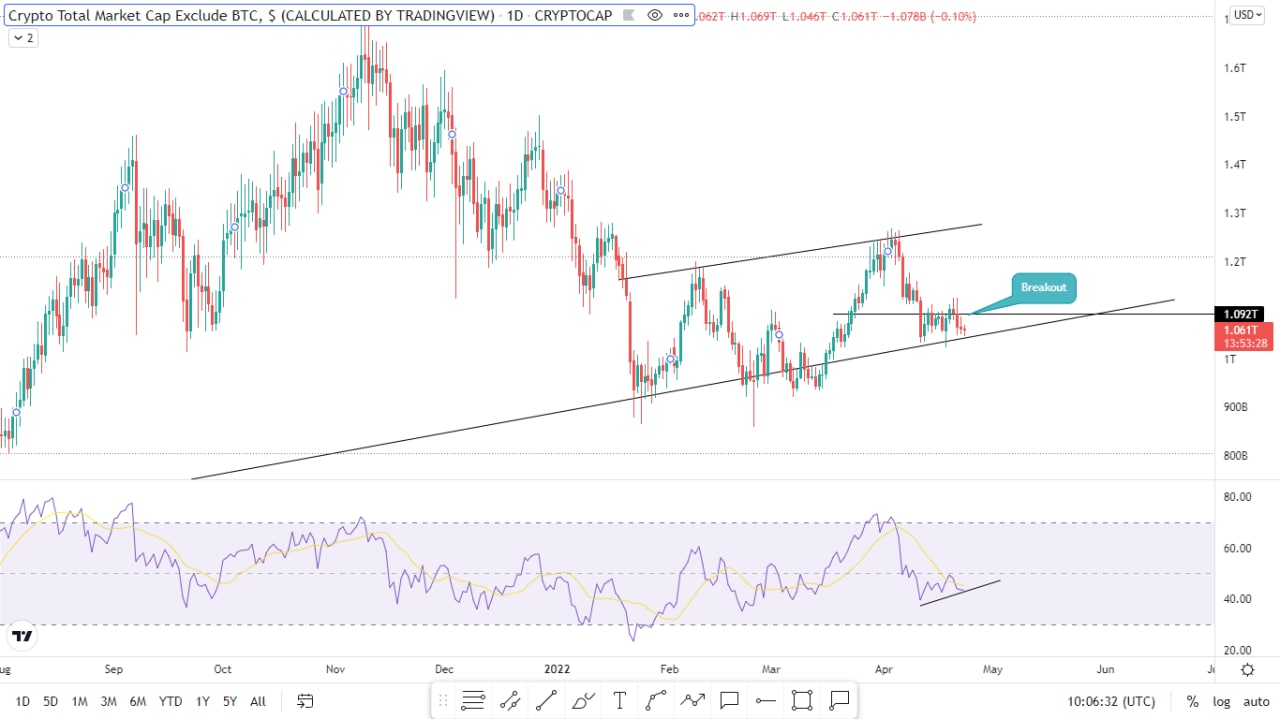 The chart above shows the market cap of all cryptocurrencies combined except Bitcoin which right now shares around 41% of the market. On average Bitcoin, dominance is around 45% which now is at 41% which tells us that "We are in Alt season Now!" it's not just the peak though. The market cap of crypto right now is about $1.09 trillion and we'll enter a good alt season when it's above the local high of $1.25 trillion.
As shown in the chart above, there is a breakout above the local resistance and it can soon start moving towards the previous high. RSI (Relative Strength Index) shows a divergence which also signals the volatility in altcoins. The alt season lasts around a week as Bitcoin is not patient when it comes to big movements. We can expect the alt season to start in the first week of May 2022 if everything goes according to the plan.
Conclusion
Several coins don't wait for the alt season to arrive and they come back to their average price more quickly than others. We made a list of such altcoins you can check here. DYOR before investing. Good luck!
more to read
TOP 3 Upcoming Solana Utility Projects
These Human Hand-Crafted NFTs Will Blow Your Mind!
SAMO: More Than Just A Memecoin
---
NFT World News Social Media: Twitter, Instagram, Telegram, Tiktok, Youtube, Twitch
---
sources: tradingview
author: Rene Remsik, mnmansha
Disclaimer: This article is provided for informational purposes only. It is not offered or intended to be used as legal, tax, investment, financial, or other advice.