It was 2018 when Sushiswap became the first DEX to successfully utilize Automated Market Maker (AMM) system. This decentralized platform opened a new way to make buying and selling crypto assets more frequent and accessible. But what are these market makers, and why are they essential for a DEX to function? Let's find out.
Related: Where is the Bitcoin Bottom?
Market makers & DEX
Cryptocurrencies work on demand and supply mechanisms. You always need a buyer when selling your tokens unless it's not from a liquidity pool. Crypto exchanges play an intermediary role between buyer and seller. It's a place where the buyer wants to buy an asset at a specific 'bid' price; likewise, a seller wants to sell the assets at an 'ask' price.
When the prices of buyer and sellers meet, the trade take place. But that is not always the case. For example, in the image below (in the dark highlighted area), a seller wants to sell 2.49 Bitcoins at the price of $20,770, and below (in the orange highlighted area), a buyer wants to buy 6.30 Bitcoins at the price of $20,758.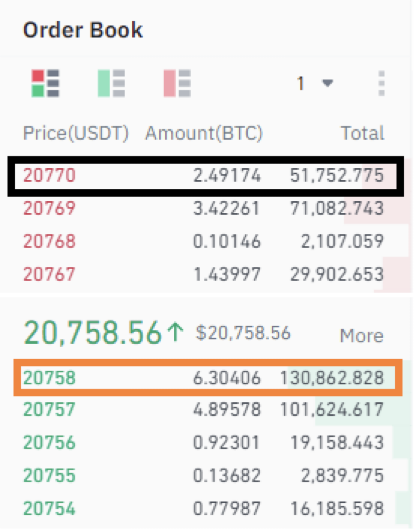 What if these prices never match and spread (the difference between the bid and ask price) is permanent? That is where the market makers come into play. These market makers create multiple buys and sell orders to make the market seamless and hence called 'Market Makers.' Market makers often have to buy and sell at a loss, but they hedge their position by making a profit from another trade or an asset. They provide liquidity to keep the market flow.
You may also read: Avoid Honeypot Tokens and Save your Money
DEX or Decentralized Exchanges are not owned by any company, and their role is to give users ownership of their assets and remove the intermediaries. These exchanges directly connect buyers and sellers. So, to avoid any slippage or spread on these platforms, market makers play their role by automating the process.
Instead of manually creating the orders, these market makers use smart contracts to automate buying and selling. Therefore, they are called "Automated Market Makers," aka AMMs. CEXs or Centralized Exchanges only allow high-net individuals or companies to become market makers; however, anyone who fulfills the smart contract conditions on DEX can become a liquidity provider.
Conclusion
It will be really hard to trade on the DEXs without these AMM as you might spend hours looking for someone to buy your asset at your asked price. Automated Money Makers are given LP (Liquidity Provider) tokens which they can stake and earn profits. They're also given a definite share of the fees on these exchanges. Uniswap, Balancer, and Curve are the famous DEXs working on AMM protocols.
more to read
Story of the Man Who Listed His Office as an NFT
Elon Musk's SpaceX Will Fly NFTs to the Lunar Surface
---
Follow NFT World News: Twitter, Instagram, Telegram, Tiktok, Youtube, Twitch
---
sources: coindesk
author: mnmansha
Disclaimer: This article is provided for informational purposes only. It is not offered or intended to be used as legal, tax, investment, financial, or other advice.