Bitcoin is the first cryptocurrency born with his whitepaper dated October 2008. Many things happened from that time, and nowadays is the whole crypto market capitalization valued at $ 2,3 Trillion, with the trend going even higher. Bitcoin is not suitable for everything, and its place is more like a store of value. The second one is Ethereum which is a leading smart contract platform and hit an all-time high in price valued at $3000 today. There are predictions that the Ethereum price can reach even $10K, and we will go through why?
The inventor of Ethereum Vitalik Buterin becomes billionaire as Ether hits $3K.
Ethereum is a technology that's home to digital money, global payments, and applications. The community has built a booming digital economy, bold new ways for creators to earn online, and so much more. It's open to everyone, wherever you are in the world – all you need is the internet.
The value of the Ethereum network soared above major companies like Nestle and P&G after its market cap hit a new high at $357 billion. I have published a comparison article Ethereum versus Tron, where you can find the major differences despite the many data that have changed from that time.
The major reasons why can Ethereum price go to $10 000?
The top indicator which indicates how much the network is used are the fees paid. Ethereum dwarfs every blockchain in terms of fees paid, with a current run rate of nearly $7 billion, confirming massive demand for $ETH block space.
Volume settled
The fees spent volume directly consequences with the amount settled, which is also reaching the highest levels. Ethereum settles $30.5 billion worth of value per day, far more than Bitcoin and every other blockchain. To put this into context, PayPal settles ~$2.5 billion daily.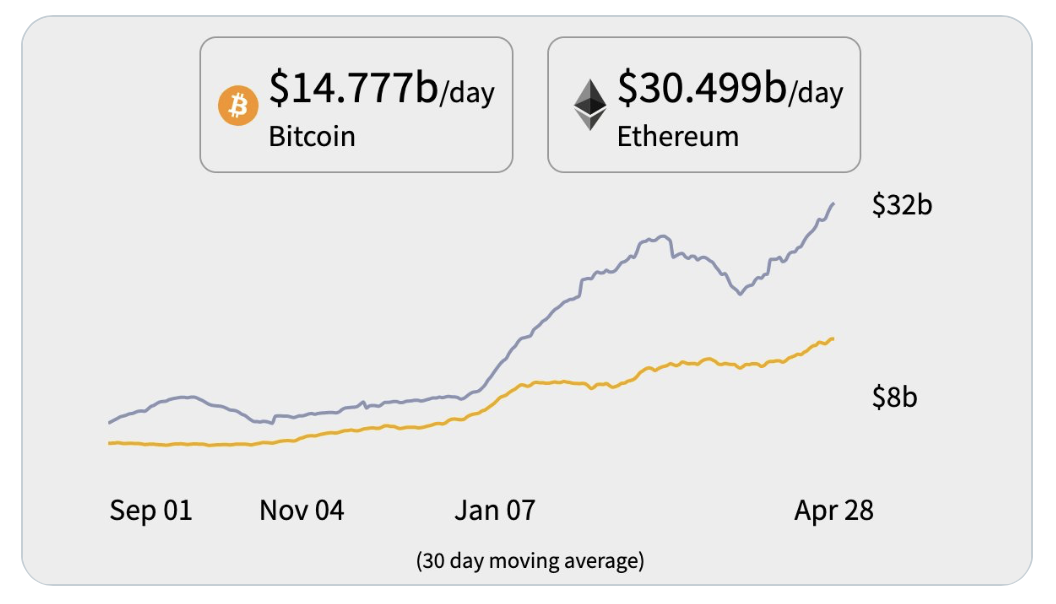 Active Ethereum addresses
The blockchain is a public ledger that transparently shows us all data. The first indicator we can easily evaluate the growth of the particular network is the number of active addresses. Ethereum has 625k daily active addresses (90-day MA). This figure continues to climb and now sits comfortably at ATHs.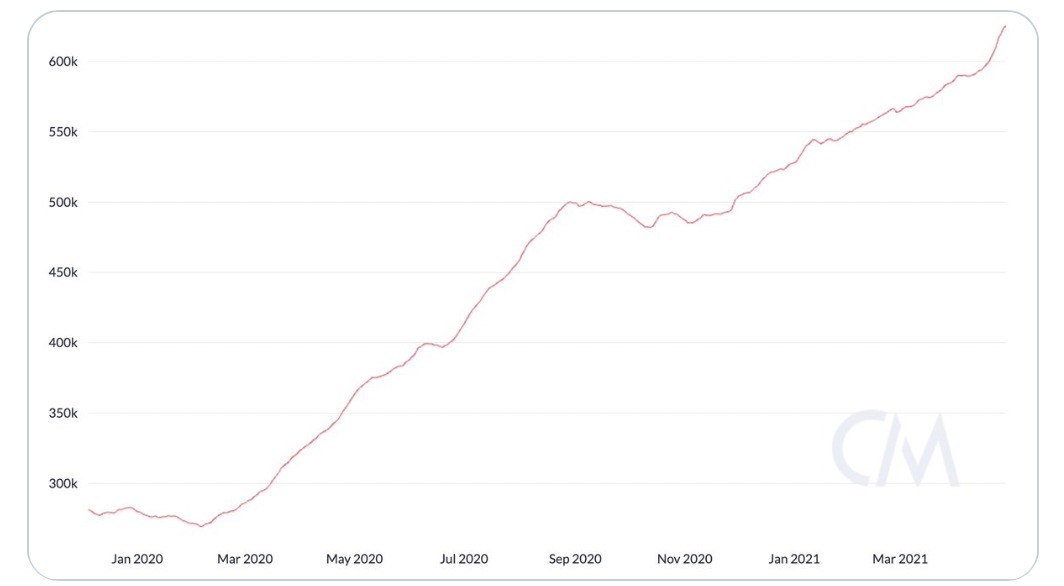 Defi Value Locked
If you are a crypto enthusiast, you surely aware of what does DeFi means. It is going to disrupt the banking industry, and I published a short article one week ago.
The value locked in DeFi is breaking records, and there is now $65 billion locked in #DeFi, with 16 different projects having more than $1B value locked. This a sign that Ethereum is institutional-grade financial technology.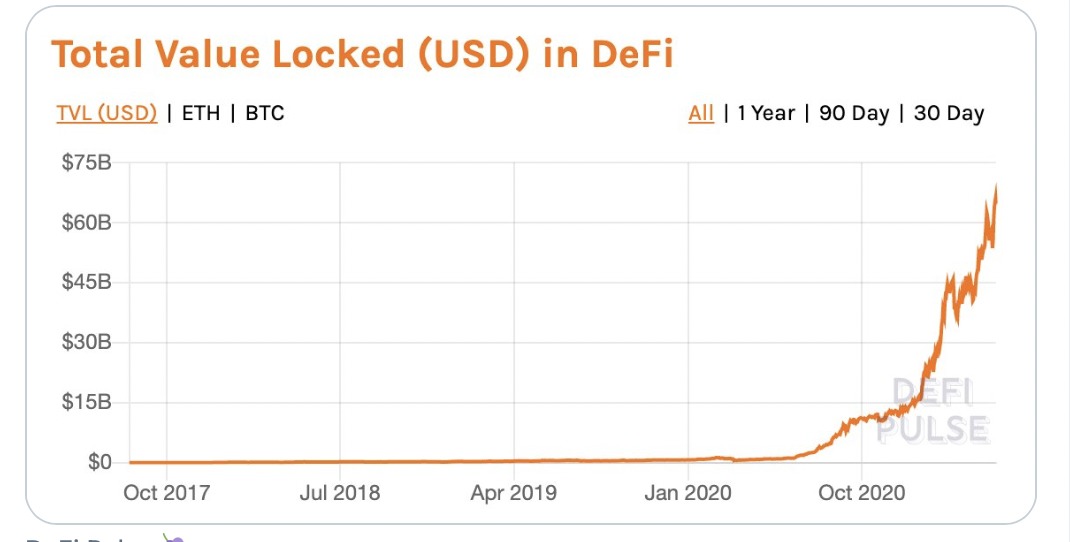 Stablecoins foundation
Cryptocurrencies as a new investment and technological assets are very volatile. Therefore there were the stable coins invented as Tether, USDC etc. There are backed by real assets and hold value using the blockchain advantages.
Stable coins use the blockchain network as a vehicle. Ethereum has $50B in outstanding stable coin supply, with 500k daily unique senders and $20B in value being exchanged per day. It is a sign of explosive product-market fit.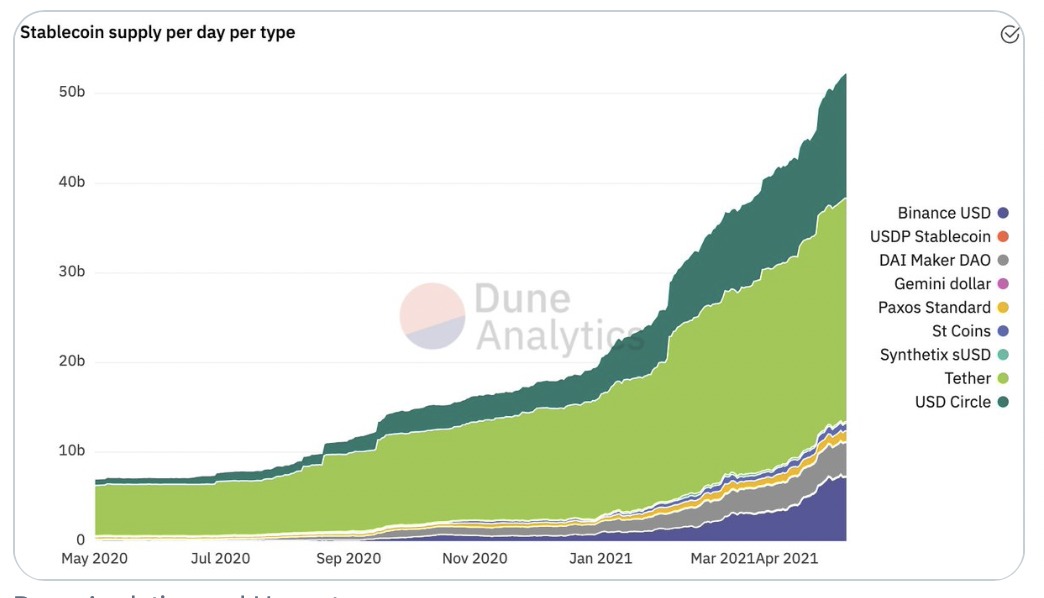 Dex Volume
Another key indicator as part of the DeFi ecosystem is the Decentralized exchange volume which is currently also booming. We have hit more than $ 60 Billion in the month of February with further growth as indicated below. The TOP exchange is Uniswap running on the ETH network.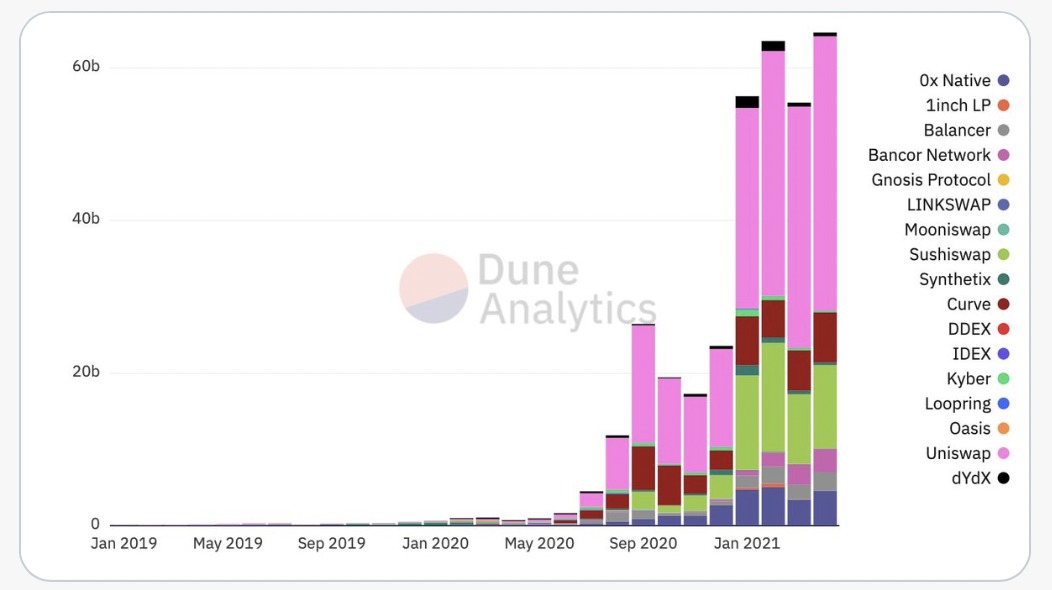 Bitcoin on Ethereum protocol
The ERC 20 standard can become a vehicle or foundation even of nonsmart contract protocols. That's why we have also Bitcoin on the Ethereum network called a wrapped Bitcoin.
More than 200k $BTC ($11.2B) are now represented on Etherem in various forms. That is a sign that $ETH is becoming an economic vacuum for all assets, including Bitcoin.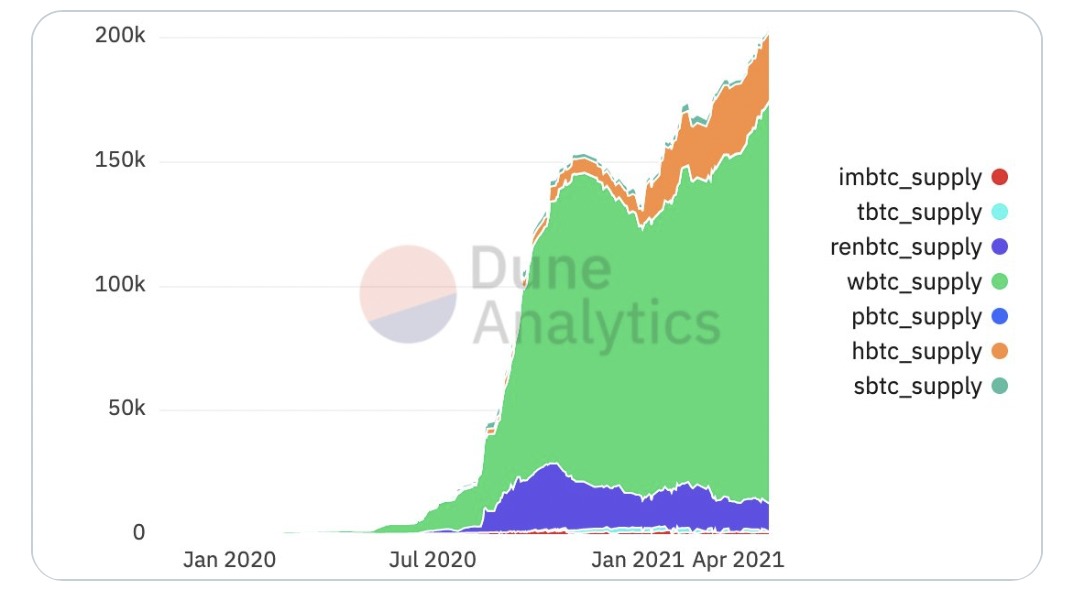 Non-Fungible Token Season
Nonfungible tokens are a very hot topic we dedicate a lot of space. Read our last article about NFT use cases. Most of the tokens are built on the Ethereum blockchain.
Sales of #NFTs on Ethereum have now surpassed ~$600M, with 13 pieces selling for $1M+ each, signing that new categories of applications are also emerging on $ETH.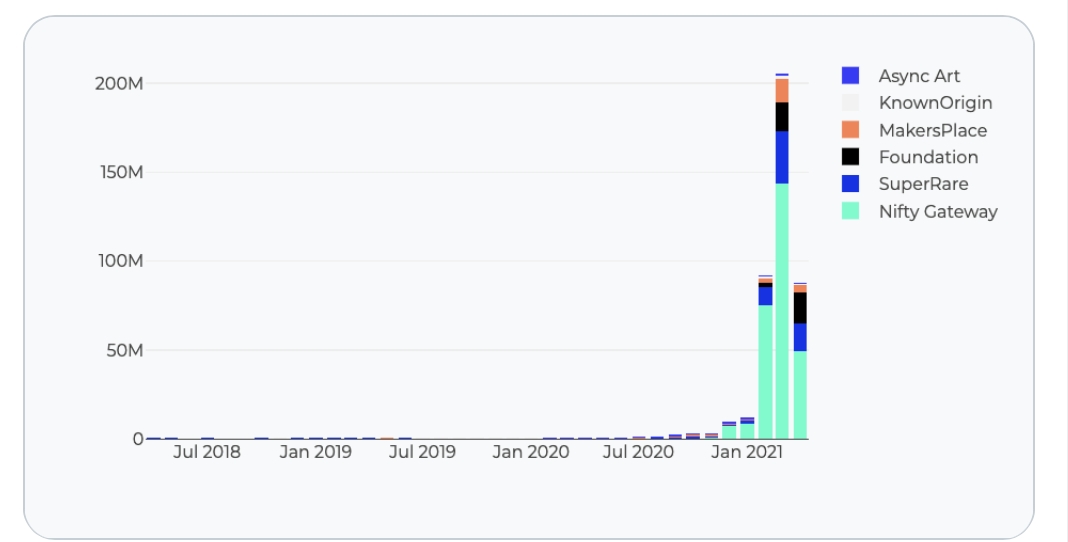 Layer 2 solution Polygon
Since Ethereum had issues with scalability and the blockchain trilemma is not easy to solve there are new layers arising on the market. The number one is Polygon.
Polygon is currently doing ~1M daily txs and has onboarded numerous #DeFi blue-chip projects, including @AaveAave which has >$2B in liquidity there — disproving the "Ethereum can't scale" narrative.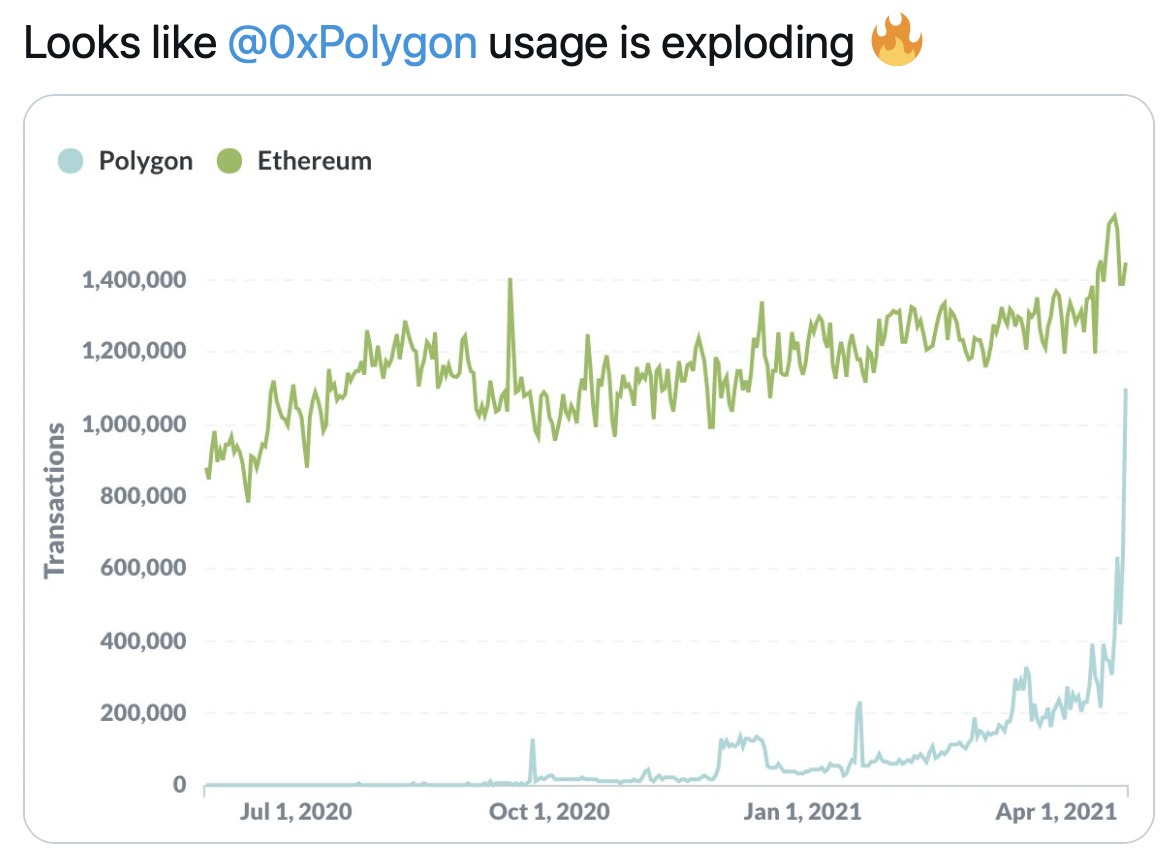 Technological updates
Ethereum is one of the cryptocurrencies that is pushing the technological progress ahead in order to be scalable.
The last milestone is that, in less than 3 months, the EIP-1559 upgrade will be activated, likely resulting in hundreds of millions worth of $ETH being burned each year. This is a massive catalyst for $ETH value capture and its overall fundamental investment case. There should be a significantly lower selling pressure after EIP 1559, as shown in the picture below, going down from 22 K ETH a day to 2,6 K ETH.
Furthermore, we know that Ethereum is going to switch from POW to POS algorithm. That should solve the scalability problem and higher fees as well. This is related to EIP 3238 difficult bomb change. Generally, it will be challenging to mine Ethereum, and the miners will be forced to switch to staking.
In the first quarter, the total value locked in Ethereum 2.0 more than doubled, rising from 1.5 million ETH staked to 3.6 million by the end of the period. This is making Ethereum more scarce.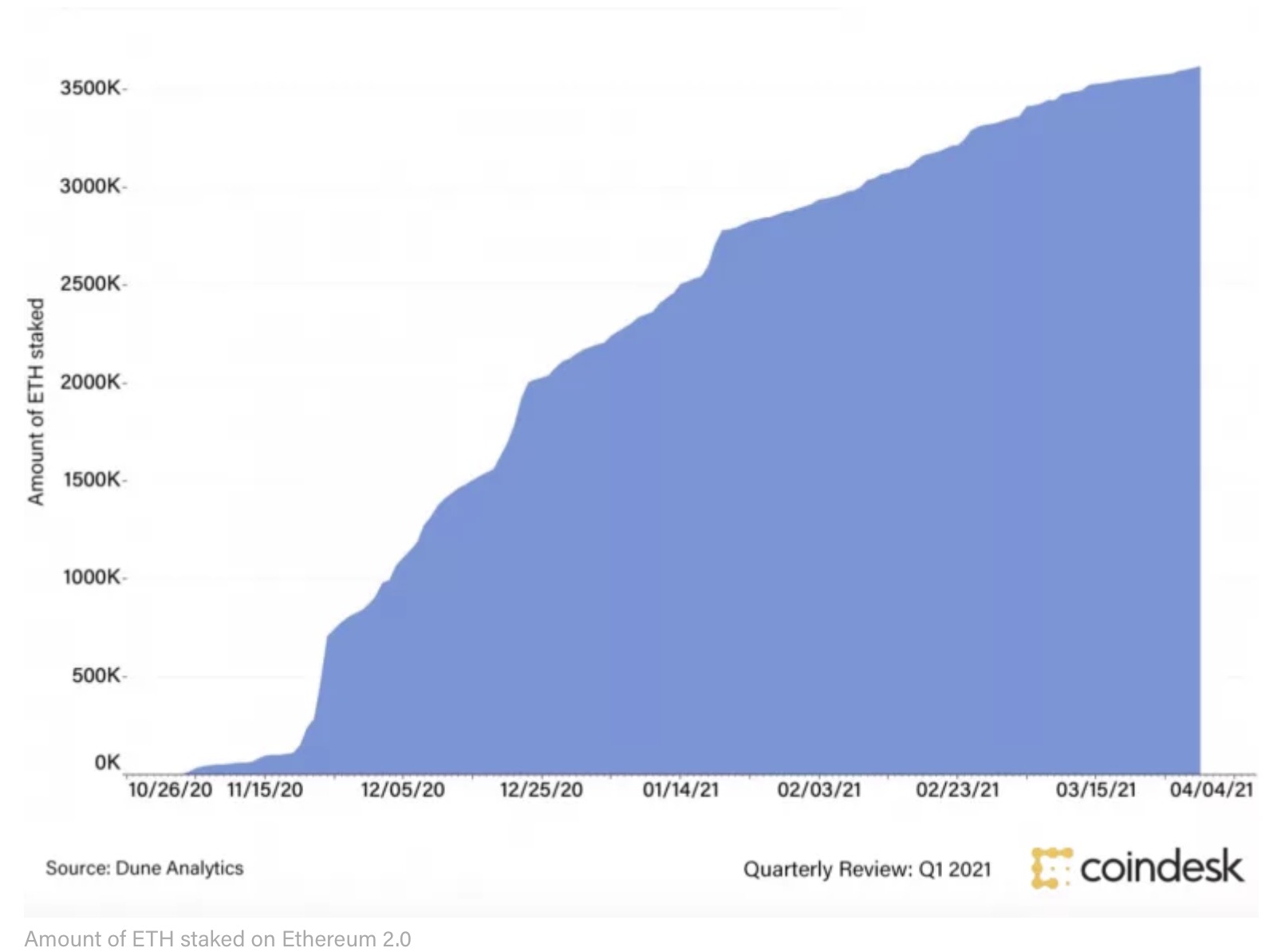 As you can see, there are many reasons why can Ethereum price go even higher from the fundamental point of view. Some are thinking that Ethereum can flip even Bitcoin. Let see and hope for a better future. Watch the video related to this topic here.
Eastboy