Quick Summary:
Intriguing profits could be the quick answer to your question "Why Should Anyone Invest in Crypto?'
Besides profits, one should be aware of the pros and cons of crypto before investing.
The gains in crypto are too tempting to ignore so more people are getting into cryptocurrency. The question is should you invest in cryptocurrency?
Related: How IoT and Blockchain Will Affect Digital Humans in Metaverse
Should you Invest in Crypto?
Bitcoin is not the only cryptocurrency, there are over 20,000 cryptocurrencies including Ethereum, Cardano, Ripple, and the famous Dogecoin. Some cryptocurrencies serve a purpose like Ethereum helps developers make DApps (Decentralized Applications) whilst others are for fun and speculation. Cryptocurrencies are defined by critics as playing poker while crypto enthusiasts believe these are the future currencies and offer freedom.
If you are planning to invest in cryptocurrencies the first thing you must learn is about this insanely volatile market where some have earned big overnight whilst others have lost their shirts. The recent example of Terra Luna: had you invested $1,000,000 in at peak, it would be worth $1 now. Therefore, the first golden rule is to only invest what you can afford to lose. Also, there are only a few coins that perform extraordinary offering 100x. You'll have to be very lucky to choose the right one amongst the 20,000 existing. The point is, to enter the market with the right expectations.
Portfolio Diversification:
Portfolio diversification is the key, invest the calculated amount of your investment in each type of asset.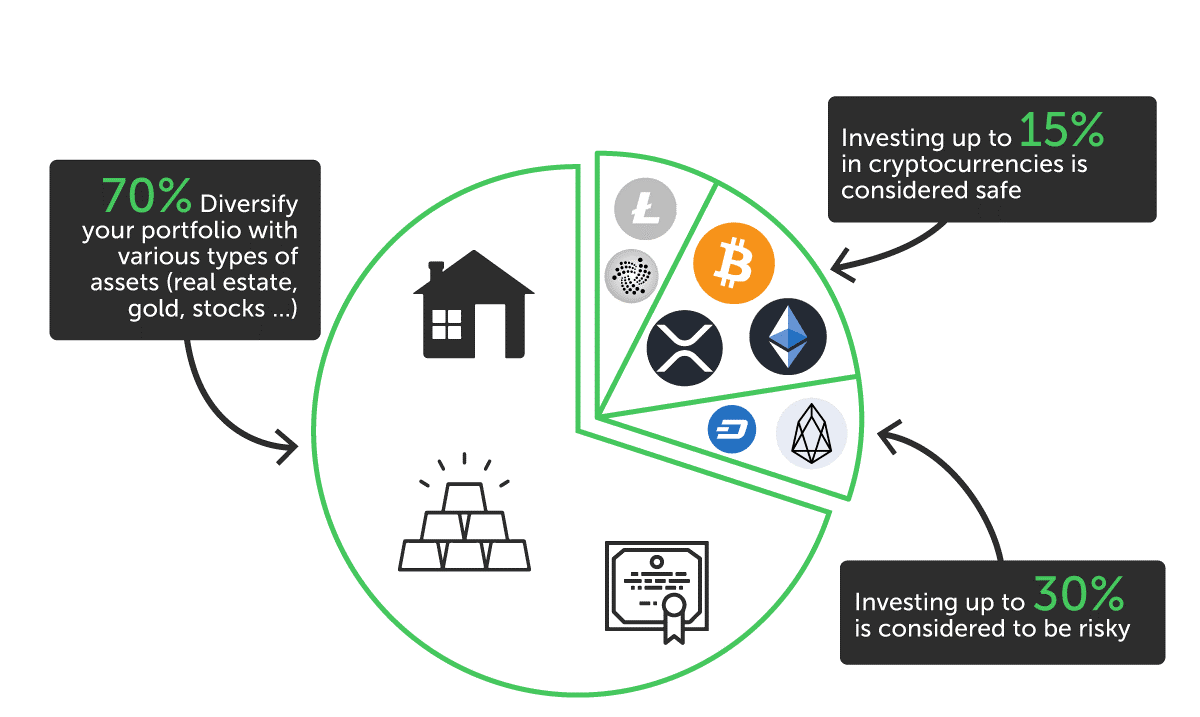 'Be curious and be cautious' and keep learning the cryptocurrencies to always stay in a better position. Cryptocurrencies are the future and if you plan you invest, invest with a long-term perspective. Also, only invest in the coins that serve a purpose as Ethereum does. Major companies like Tesla and MicroStrategy have invested billions of dollars in Bitcoin.
The market is bleeding red right now and the fear of another bearish wave is taking over the traders' instincts. However, the right time to buy is when everyone is selling and vice versa.  
Conclusion:
Cryptocurrency is held by less than 5% of the entire population, you are still not too late for it. If you teach yourself to hold good coins for a longer period, cryptocurrencies are potentially extremely profitable.
The above blog is for educational purposes only and not financial advice. DYOR (Do Your Own Research) before investing.
Trade SAFU!