Quick Summary
More companies are starting to explore the world of NFTs as this industry continues to grow exponentially in 2021
TikTok is launching an NFT collection for artists and creators known as TikTok Top Moments. It will include creators such Lil Nas X, Bella Poarch, Gary Vaynerchuk and more.
NFT world and TikTok
The NFT world exploded in 2021 and plenty of mainstream tech companies are starting to dig into this space and signaling future interest. Lately, even TikTok announced to drop NFTs (platform with more than 1 billion users!). It will launch an NFT Collection of its most prominent creators.
TikTok is launching an NFT collection for artists and creators in its community, known as TikTok Top Moments. It is a place where creators can launch and host their culturally significant NFTs, get rewarded and recognized for their work by their fans.
TikTok Creators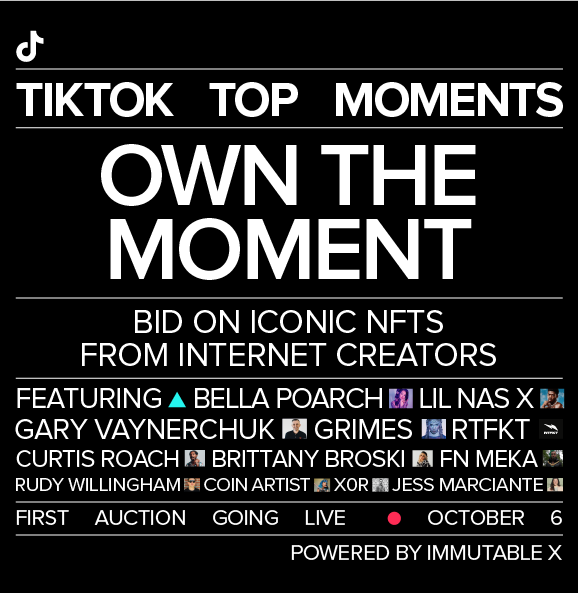 TikTok Top Moments features a selection of six culturally significant TikTok videos from some of their most beloved creators. Each one NFT celebrates the impact of these creators: Lil Nas X, Rudy Willingham, Bella Poarch, Curtis Roach, Brittany Broski, FNMeka, Jess Marciante and Gary Vaynerchuk.
Proceeds will go directly to the creators and NFT artists involved, providing TikTok, NFT fans, and enthusiasts with a way to show support to the creators they love. When it's about TikTok and famous people, make sure to prepare a lot of Ethereum tokens to show support (it will probably be expensive)!
The solution is running on Ethereum blockchain and uses the blockchain's layer-2 scaling solution for NFTs – Immutable X. It's clearly an early experiment for TikTok, which hasn't previously indicated the same level of NFT interest that platforms like Twitter and Facebook have shown, but it also proves the point that they think NFTs are a space worth paying some attention to.
Conclusion
Another huge company is dipping its toes in NFTs, which can extremely boost its popularity and its prices even more. This year has been more than crazy for NFTs. Thanks to big companies such as TikTok or Facebook promoting them, that boom can explode even more in 2022. What do you think?
Sentiment: positive
sources: zycrypto, techcrunch, tiktok
Rene Remsik