Bitcoin is the buzzword that people even with zero interest in crypto have heard a lot. Those who are interested know that this supreme coin has the power to alter the course of the entire crypto market which makes it more important to keep an eye on. Bitcoin has been plummeting since 2021 when it recorded its all time high, and Bitcoin analysts believe it is not going to make a new all time high until 2030. They use the following scenarios to support their idea.
Top 3 BTC Scenarios:
1. BTC Dotcom Bubble:
Dotcom Bubble, in general, refers to the insane growth in the valuation of internet-based companies. Even with little revenue, these companies had high valuations, and when the bubble burst, a lot of people lost their money.
In the case of Bitcoin, the Dotcom bubble refers to the time of hype and growth when a lot of people pour their money into it. The overly optimistic investors start buying BTC in large quantities, driving up the price to unsustainable levels. Eventually, when the bubble bursts, it causes the price of Bitcoin to plummet and many investors to suffer huge losses.
Nasdaq dotcom bubble VS Bitcoin today

Both got denied by 50w MA aswell before their last leg down, bitcoin just got denied

This is disgusting imo pic.twitter.com/qvM5qcnFoB

— Sir Baldie (@OfficialBaldie) February 22, 2023
Many BTC analysts have been comparing the price action of NASDAQ companies in the early 2000s with the price action of BTC. They believe that since BTC is a tech 2.0, it should behave the same as those internet-based companies. This comparison also concludes that since BTC recently recorded an all-time high, it will take more time to build the hype again to record another high.
The theory suggests that Bitcoin might record new bottoms and then slowly rise to a new all time high until 2027-2030.
2. Bitcoin Traditional Cycle:
Bitcoin keeps swinging Bitcoin highs and lows, making different price cycles. Each Cycle is around 2 years long and there are some patterns that it follows every time. If we look closely, it is a lot easier to understand the behavior of Bitcoin and predict its next moves.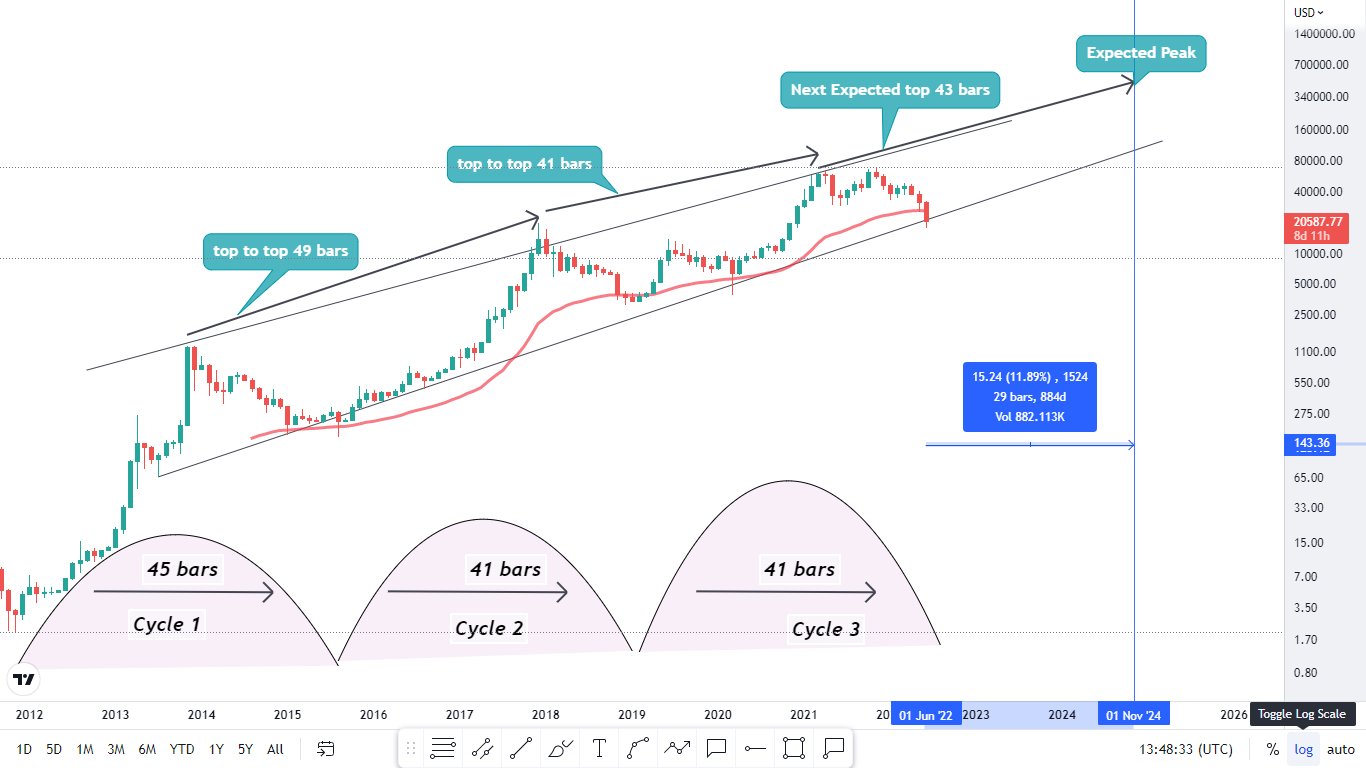 Comparing the current Cycle (Green) in the image below, Bitcoin has reached the mid of the cycle where it can record new lows but to make a new high, it will take until November-December 2024. However, the actual bull run doesn't start until 2030. You read our detailed blog on previous cycles and their patterns here.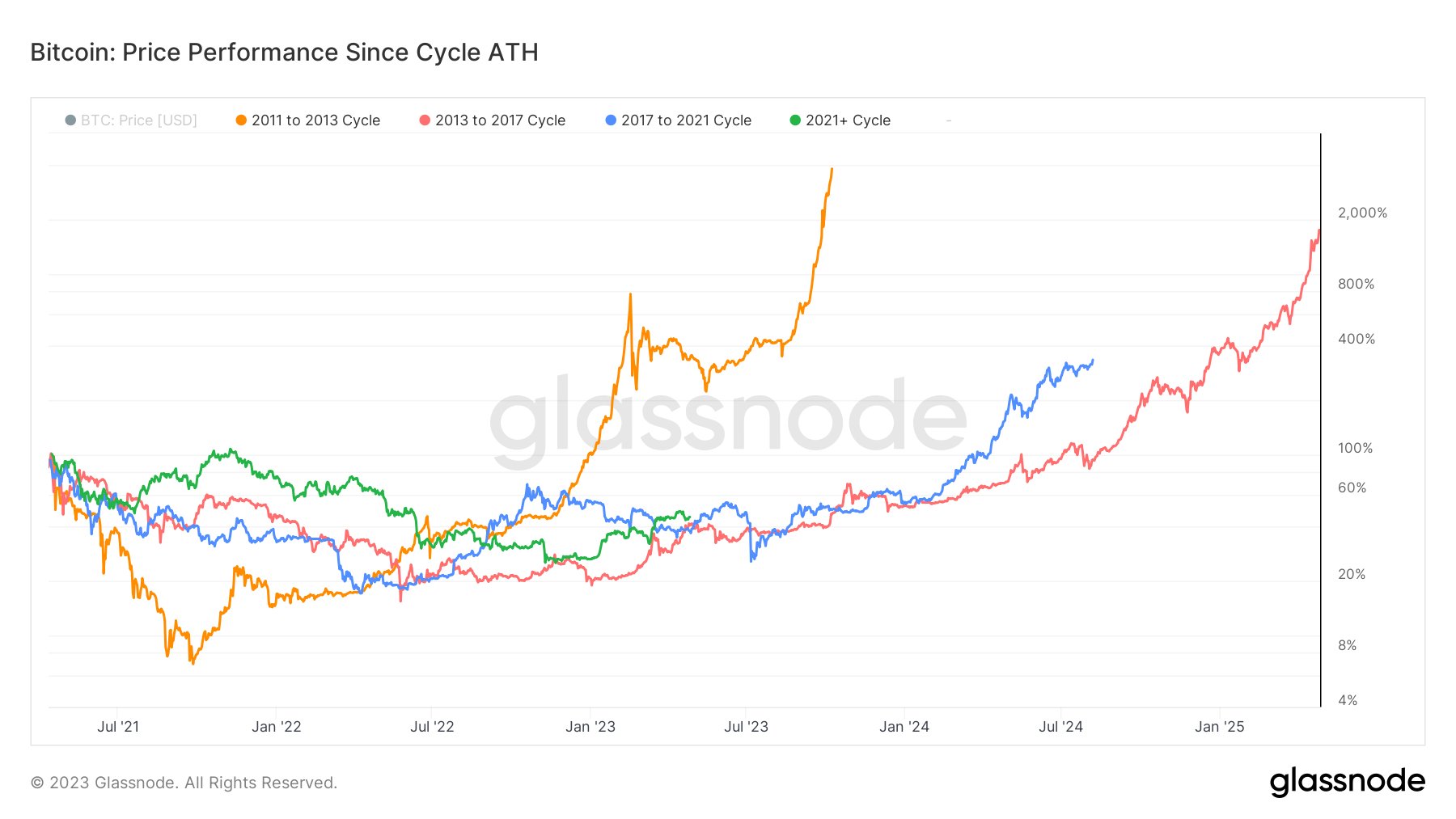 3. BTC Cycle Outlier
Due to uncertain market conditions and overall global dwindling economics and dollar meltdown, Bitcoin might face a Cycle Outlier, a condition where the normal indicators do not hold true. This could mean a sudden and unexpected decrease in the price of Bitcoin that is not consistent with the overall trend of the market.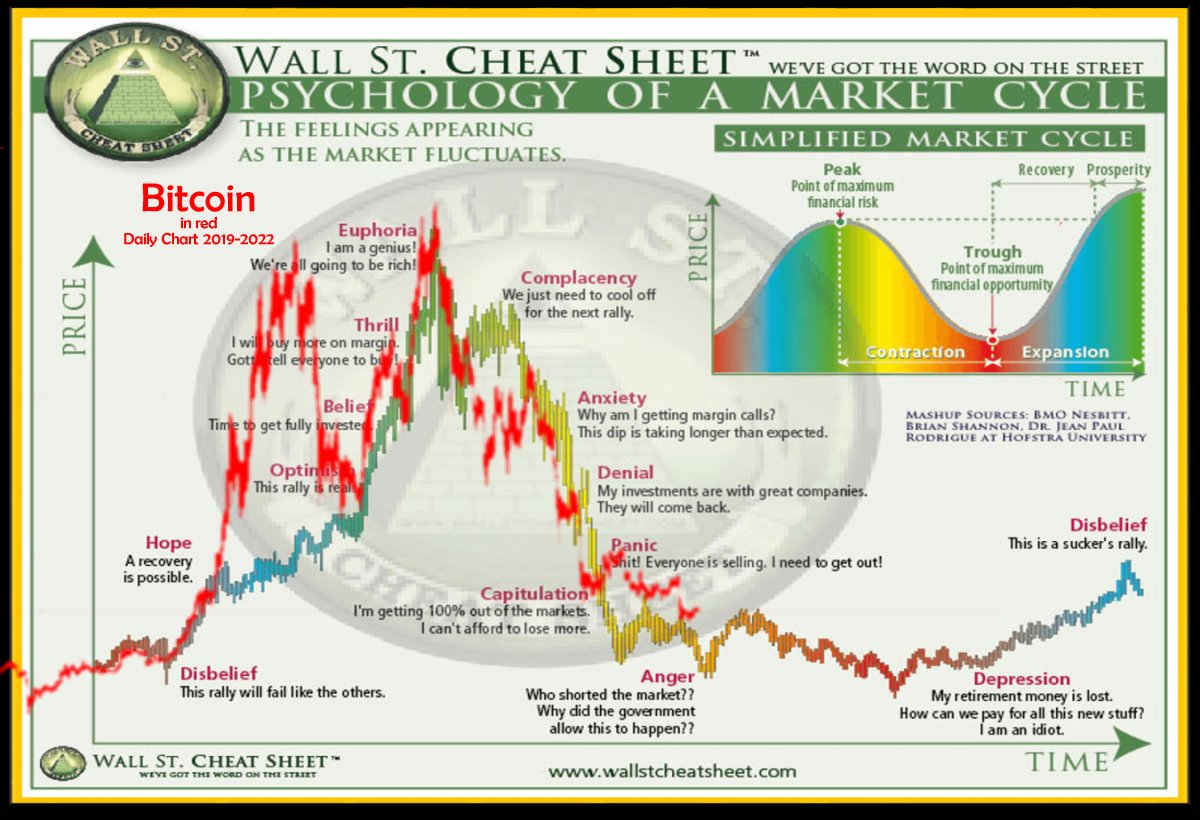 We are already in the "Disbelief" phase of the cycle and Bitcoin is nearing the $30,000 mark, the Cycle Outlier can push the prices down once again.
Conclusion:
The above analysis is based on several patterns and there's a high probability of Bitcoin price action following it. Having said that, still, one of the indicators is bullish and indicates a Bitcoin bull run in late 2024. Nonetheless, Bitcoin recovers back strong every time, doesn't it? Which one of the above scenarios do you think Bitcoin will follow?