Quick Summary
Boson Protocol is a decentralized commerce protocol that wants to enable the sale of physical good, services and experiences in the metaverse as NFTs. This protocol aims to demonopolize commerce and allow interaction without intermediaries.
Protocols are surely one of the latest crypto trends as they offer important benefits and solutions to problems. One of the latest cryptocurrencies that got attention is Boson Protocol, a cryptocurrency looking to decentralize commerce. To be more specific, metaverse commerce. How? Let's see…
this might interest you: Global Brands Test NFTs in the Metaverse
What's Boson Protocol
Boson Protocol (BOSON) is a decentralized commerce protocol that seeks to enable the sale of physical goods, services, and experiences in the metaverse as nonfungible tokens (NFTs), and hopes to provide an infrastructure layer for exchanging assets of non-monetary value. For example, an NFT of a pair of sneakers bought using the Boson Protocol in the Metaverse would then be redeemable for that physical pair of sneakers in the real world, and vice versa. 
To be more specific, Boson Protocol enables anyone to sell physical products in the metaverse as NFTs within their Decentraland space – Boson Portal. Together with its native utility token BOSON, the protocol aims to demonopolize commerce and allow buyers and merchants to interact with minimal intervention from intermediaries.
"Now it's normal for humans to have a digital shadow, such as a Linkedin or Twitter profile. And within the next couple of years, it will also be normal for physical and fashion items to have a digital twin."
The Utility & Solutions of Boson Protocol
BOSON tokens serve both to govern the ecosystem and to incentivize actions that can maximize the supply of quality NFT redemptions. A user can acquire the currency by participating in development bounties, joining meetups, entering competitions, and being an active member of the community. BOSON will serve as a ubiquitous bridge between the physical and the digital world.
The BOSON token is the protocol's would-be utility token. The network also established the dCommerce DAO with plans to be a self-sustaining, community-governed decentralized autonomous organization that reinvests its revenue into the growth of the ecosystem or uses the revenue to buy back or burn BOSON tokens. In Boson Portal, a 1%–2% fee will be applied per transaction. Those fees would then get recycled back into the protocol and distributed to the token holders.
Token Information (BOSON)
Boson Protocol is an ERC-20 token deployed on the Ethereum mainnet. BOSON ICO happened at the beginning of April at a price of $0.75, and the immediately jumped to approximately $5! After that, the token crashed to $0.5 and slowly started to rise. Now, the BOSON token is at around $3 and has a market cap of $174 million with a max supply of 200,000,000. This protocol has a unique and mainly, real utility in the metaverse world, which is only starting to develop. As a result, this token has a great chance to succeed in the future.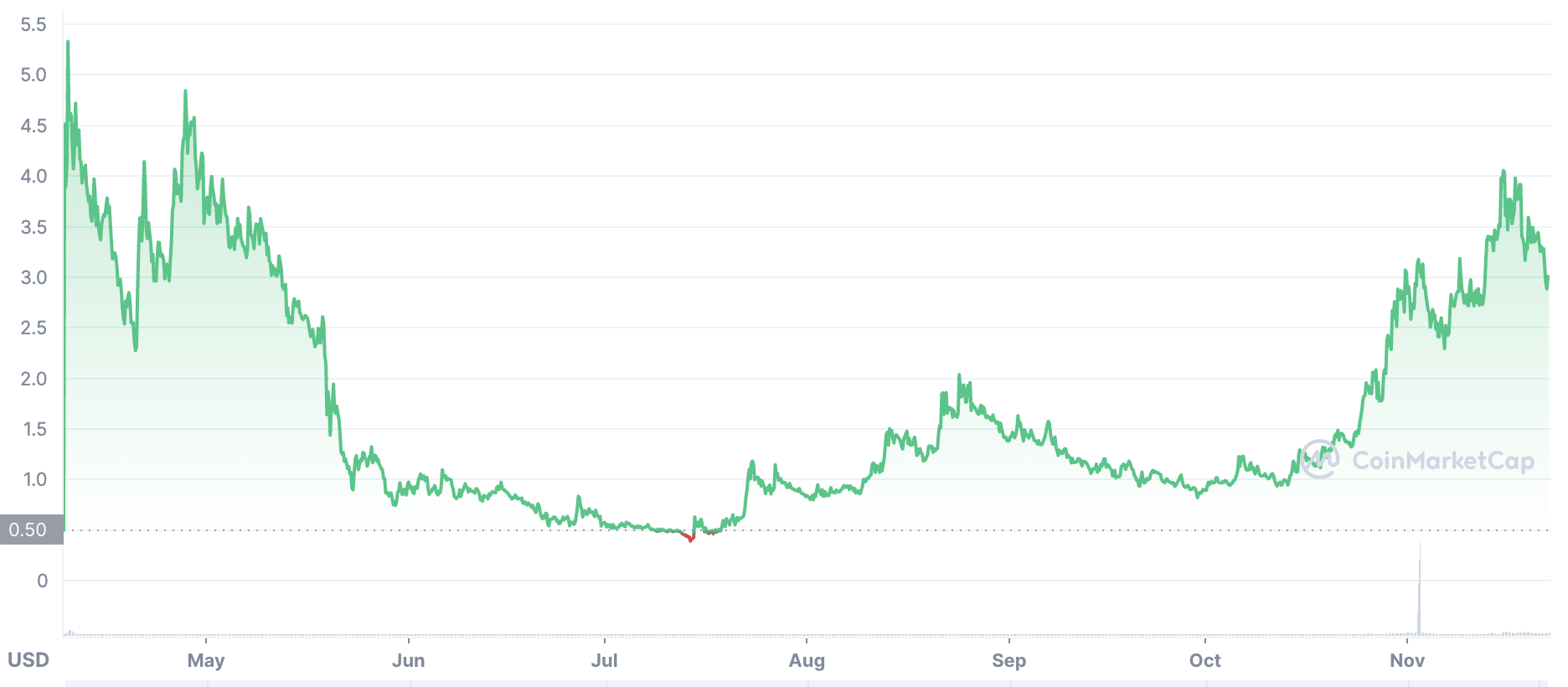 Conclusion
Starting with Decentraland, Boson Portal aims to not only host retail spaces for brands but to also have an events space for conferences, art installations and cultural activations. Innovations are super important in the technological world, and Boson showed its unique ideas. The only question now is, whether people will understand the goal of Boson because the utility meaning is real. If crypto communities really understand what this token is about, it may explode in price again!
more to read
Join Mafia Family With Flamingo NFTs
People Buy Real Estate In Metaverse Using Crypto
Sentiment: positive
---
NFT World News Social Media: Twitter, Instagram, Telegram, Tiktok, Youtube, Facebook
---
sources: coinmarketcap, cointelegraph, bosonprotocol
author: Rene Remsik
Disclaimer: This article is provided for informational purposes only. It is not offered or intended to be used as legal, tax, investment, financial, or other advice.