Introduction: Delysium
Delysium is a first person open world free-to-own universe game that relies on a decentralized economy to incentivize players. The game offers Massively Multiplayer Online (MMO) experience with customizable on-chain items. The pre-alpha test of the game was launched on May 2022. Delysium is set to launch season 1 of the game with improved graphics, gameplay, and more features on October 29.
Pre-Alpha Test Highlights:
Overview:
The game focuses on 3 genres mainly:
Open World
Massive Multiplayer Online MMO
User Generated Content
The game is an Al-powered open world with diverse Free-to-Own universes. All Delysium Universes gather together to become a Delysium multiverse, and each Universe is run by a different Delysium Multiverse Operator (DMO). This creates a highly diverse game experience and a unique On-chain Incentive Layer (OIL) for players.
From a new player's perspective, the working of DMO is fairly complex to understand. However, since the game is not fully launched, all this will become pretty evident after some time. Moreover, players can take guidance from the Delysium guide.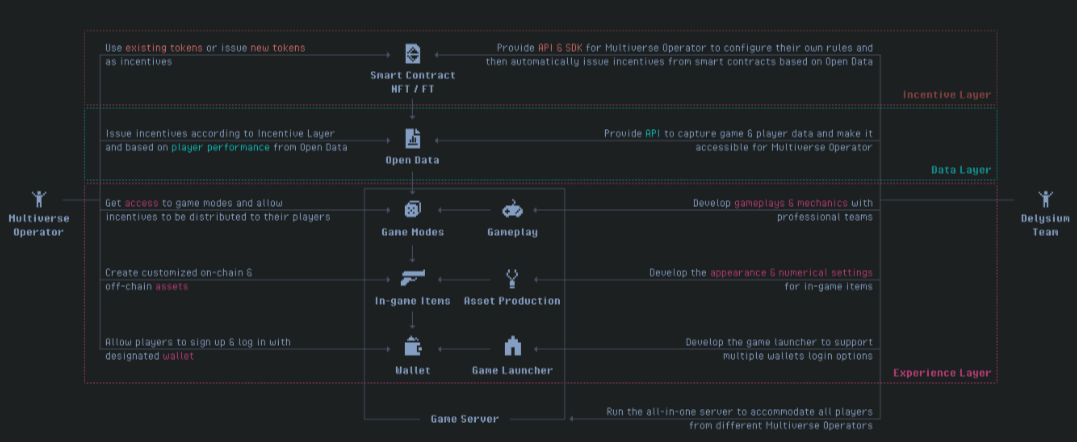 Delysium is an inclusive game that welcomes not just human players, but also AI MetaBeings, which are non-player characters that possess the same rights and abilities as human players. These AI entities have the ability to trade, own assets, participate in a variety of game styles, and even make money on their own.
Delysium is an inclusive and inviting game for all, even entities from the Metaverse, thanks to this particular feature. In order to give players a peek at what the future may hold, the game encourages them to interact and engage with these non-human characters.
Tokenomics:
DES is the in-house token of the Delysium game ecosystem that can be earned through different gameplay styles and events. Holders of DES tokens are able to engage in governance voting and acquire assets within the game's metaverse. They can also become Delysium Multiverse Accelerators (DMAs), a special group of community members who support the game's economy. As a DMA, they can earn profits through staking and gain access to special events without paying entry fees. The game's economy is powered by these tokens.

Delysium has quite a mature tokenomics; a major part of the token goes to the treasury which will assure the liquidity of the game in the future.
NFT Rarity:
A variety of non-fungible tokens (NFTs) are available for players to collect and use in the blockchain-based game Delysium. Players can use these NFTs to personalize their in-game avatars, and AI players like MetaBeings can also use them to up the realism and level of competition in the game. From common to ultimate, there are five rarity levels of NFT assets in Delysium, with prices rising with each level of rarity. Outfits and collectibles are among the cosmetic items available in the game as NFTs.
Summary:
Delysium is a blockchain-based game where players can acquire assets and participate in governance voting using in-game currency called DES tokens. It offers a variety of NFTs for players to collect and use, adding a layer of competition and realism to the game experience. The NFTs are available in five rarity levels and can be used by both human and AI players.