Quick Introduction:
The Play-and-Earn NFT blockchain mobile game DEFY is built using the Polygon Layer-2 Ethereum blockchain standard. DEFY combines hyper casual code-breaking gameplay with real-world exploration and augmented reality (AR) adventures to create a metaverse that bridges the virtual and physical worlds.
Basic Overview
With experience developing highly successful location-based mobile applications, DEFY launched the District Race app, as well as highly sought-after white label fitness apps for large companies around the world. In addition to reaching over 700,000 users globally, these apps have partnered with brands like Apple, Adidas, Redbull, and MasterCard. Mobile gaming is a growing market, as evidenced by the success of AR mobile games like Pokémon Go, which has generated more than $5B in lifetime revenue since its launch six years ago.
CEO – BRENT MAXWELL
Leader and founder with primary expertise in technology and SaaS product development.
Co-Founder – BEN PEMBER
In 2013, Ben founded Exceed Sports & Entertainment, an award-winning regional company focused on developing health & lifestyle event IP. With multi-million dollar partnerships secured with global brands such as Adidas, Red Bull, and MasterCard, Ben brings a strong commercial focus to the business.
Lead Mobile Engineer – DAN RICKETTS
During his time at SAP, Dan worked as a senior software developer in their research department, where he experimented with cutting edge technologies and built leading-edge products.
Full list of Team Members: https://docs.defydisrupt.io/whitepaper/team/team-members
NFT Game Assets
Masks are used by players – "operatives" – to conceal their identities. Masks can be categorized into two categories: generic and premium. When a free-to-play account is created, generic masks are automatically granted to the account holder. In contrast, premium masks offer several benefits over their counterparts. Some play-to-earn elements are only accessible for premium mask holders, and the masks themselves are upgradeable. Eventually, you will be able to burn the premium mask to make a new, better mask. Leveling up and acquiring in-game NFTs allows operatives to customize their masks, full-body suits, aesthetic items, and music.
Generic Masks

Premium Masks

Tokenomics
DEFY is based on a dual currency + NFT asset model. It enables us to integrate crypto tokens into Apple and Android apps, which currently prohibit the use of crypto tokens.
Currency in-game: FCOIN is a coin system used in mobile applications for actions, rewards, and purchases.
According to DEFY lore, FCOIN stands for Future Systems Coin, the centralised currency of the metaverse of Future Systems. Performing in-game tasks such as decrypting wallets for others may also earn you FCOIN. In order to take on Future Systems, you can purchase and upgrade consumable items and consumables using FCOIN.
In the DEFY ecosystem, $DEFY (Cryptographic token) is used for high-level actions, rewards and purchases. $DEFY is an ERC-20 cryptographic token launched on the Ethereum ecosystem, including the Polygon PoS platform.
You can earn $DEFY by exchanging FCOIN collected in-game or buying it on a DEX/CEX. Tokens are used to purchase in-game NFT assets using the native platform currency, $DEFY. A total of 2,500,000,000 $DEFY tokens are available, minted one time, and allocated to nine pools.
Throughout the development of the DEFY game, there will be multiple phases of distribution and no extra issuances or burning of $DEFY.
Roadmap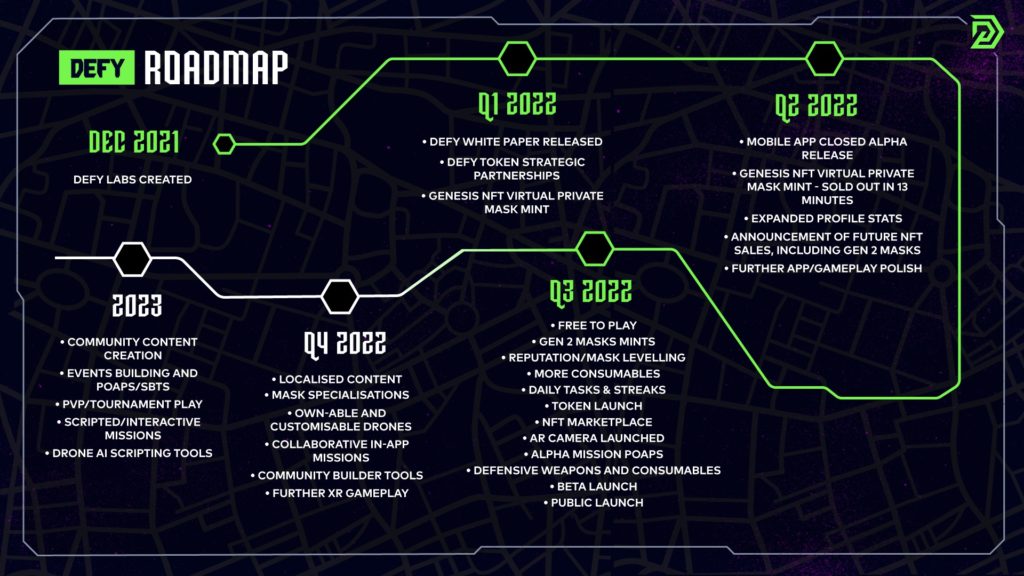 Social Media Statistics
| | |
| --- | --- |
| Platform | Followers |
| Twitter | 45.0k |
| Discord | 26.9k |
| Youtube | 725 |
Website
Gameplay
Conclusion
As more projects focus on "getting out there" and integrate several "future technologies" into one project, such as the blockchain and augmented reality, it is encouraging to see more projects taking this approach.