Quick Summary
Reef is a layer-1 blockchain for DeFi, NFT and Gaming that uses Substrate Framework to provide high scalability. Reef is the most advanced EVM-compatible blockchain.
The crypto space is full of projects with huge innovation and earning potential, however, not many are real. Reef, on the other hand, is helping demanding crypto users in many ways, which we'll explain in this blog. Let's dive in!
related blog: Spherium Finance: The Future of Cross-Chain Interoperability
What's Reef?
Reef is a Reliable Extensible Efficient Fast Layer-1 Blockchain for DeFi, NFT & Gaming. It has been built using Substrate Framework which provides high scalability that enables almost instant low-cost transactions. It also supports Solidity and EVM, allowing developers to seamlessly migrate their dApps from Ethereum (ETH) without any change in the codebase.
Reef Chain is the most advanced Ethereum Virtual Machine (EVM)-compatible blockchain. It has on-chain governance and is self-upgradable. Its infrastructure also supports EVM extensions, such as native token bridges, scheduled calls (i.e. recurring payments), and smart contract code upgrades.
It will support more virtual machines (VMs) in the near future, allowing developers to create code in a variety of computer languages. The network uses a consensus process known as Nominated Proof-of-Stake (NPoS), which is scalable and has very low fees.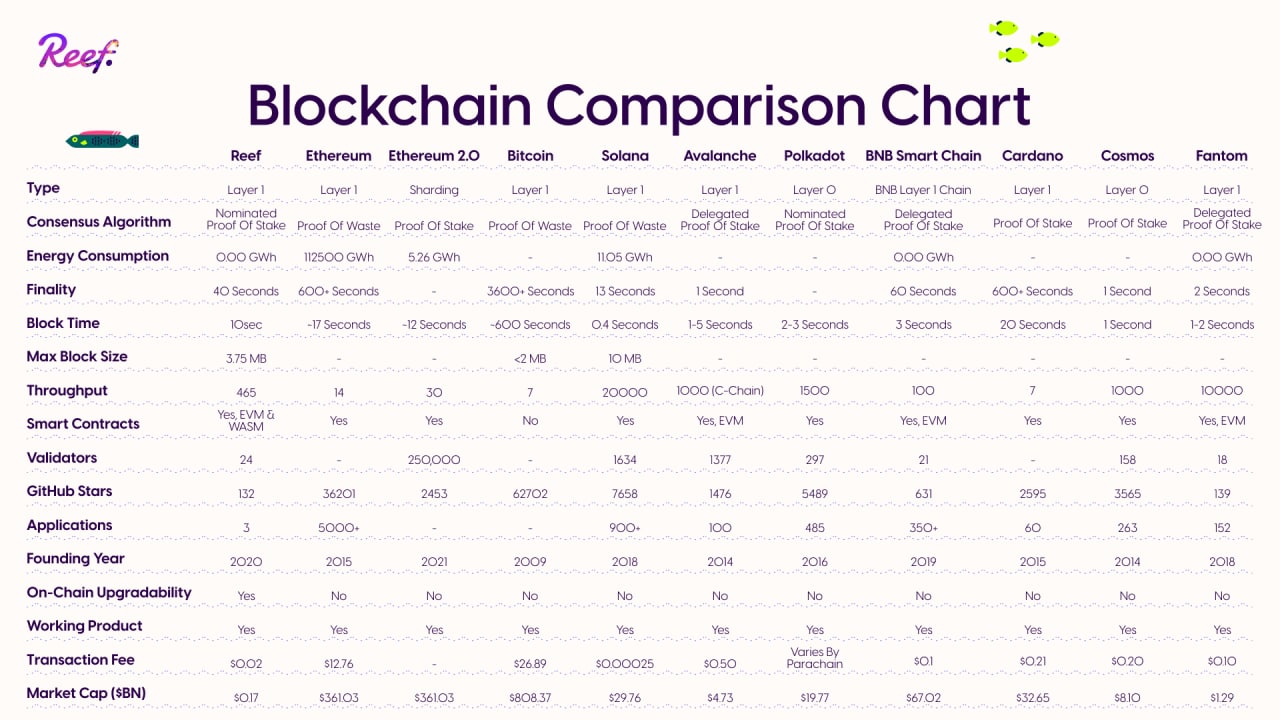 Reef development tools include:
Remix and EVM integrated development environments for uploading and deploying smart contracts.
Reefscan blockchain explorer to assist with deploying validators, bonding and nominating validators, debugging contracts, and understanding network performance.
Reef command-line tools that allow developers to deploy applications from local environments.
Reef wallet for accessing and interacting with the blockchain.
Reef Card
In the real world, cryptocurrency debit cards are becoming increasingly popular. We're all excited about the prospect of being able to use crypto to go to the movies, purchase a new pair of sneakers, or even buy a house! It's difficult to spend crypto as only a few stores actually accept crypto payments. However, that's about the change — Hello, Reef Card!
At the start, Reef Card will only be available for Reefians in the United Kingdom and Europe. Reef Card will include a lot of cool features that will allow you to spend your cryptocurrency in real life. There will be two types of Reef Card: a physical card and a virtual card. The virtual card will be supported by Google Pay and Apple Pay. Google Pay will be available right away with Apple Pay coming next. Currently, Apple Pay support is still pending.
Here's how it works: transfer $REEF to your card wallet, pay with your $REEF, and your Reef Card automatically converts your crypto to fiat. Getting the Reef Card will be quick once you complete KYC, and Reef will not charge any administrative or processing fees. Reef Card only converts your $REEF to fiat when you spend. There's no need to convert beforehand.
Token Information (REEF)
REEF is the native token that is used for transaction fees, data storage fees, and running validator nodes by staking REEF tokens and nominating which validator nodes should be part of the network. And of course, it is also used for investing and trading purposes. The total and circulating supply of REEF tokens is ​​18,280,715,935. The current market of this crypto project is around $170 million (at the time of writing) and it has a huge trading volume ($10+ million) on a regular basis.
REEF is listed on some of the most prominent crypto exchanges in the world, such as Binance, Gate, Huobi, Kucoin, etc. The token sits at the #282 place according to its market cap and more than 210,000 people have it on their watchlist! At the moment, REEF is still in an early stage and lies on strong support, from which it could skyrocket by 10x with no problem within the next few years.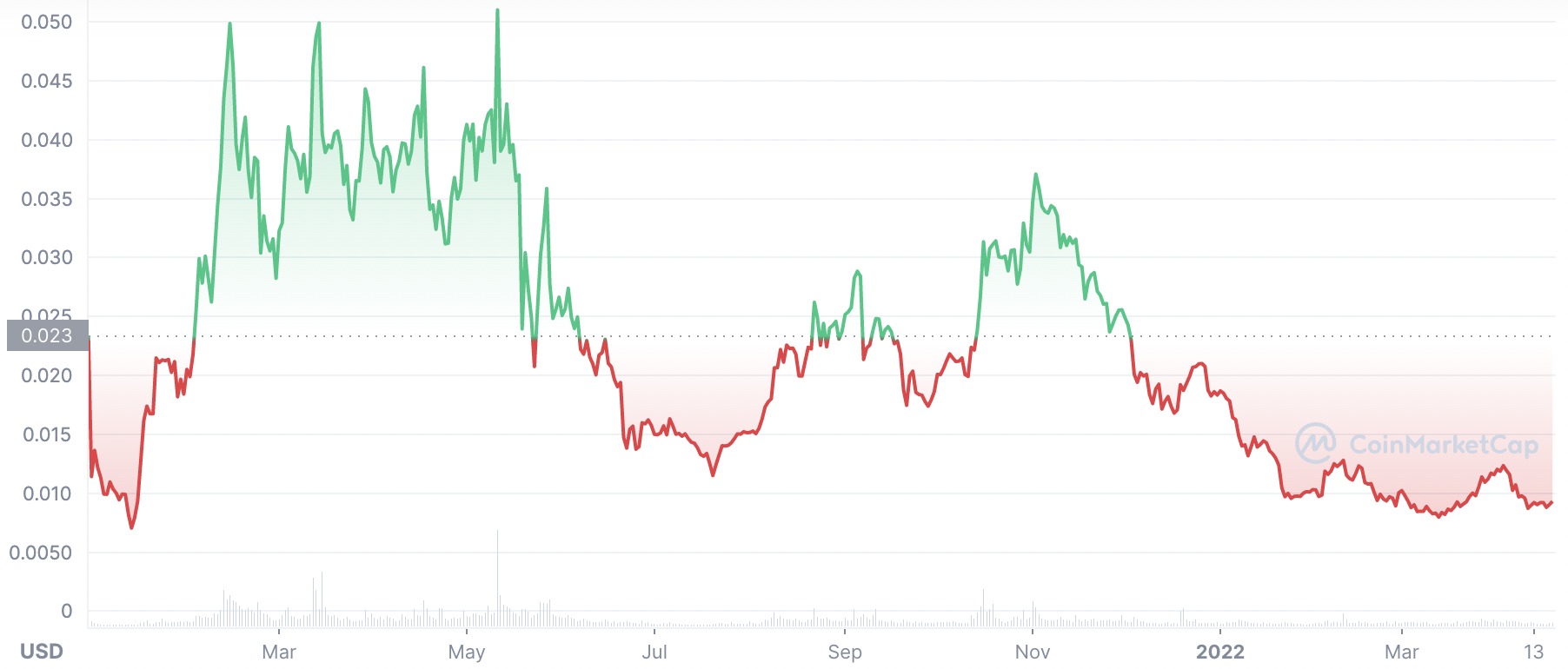 Conclusion
Reef is one of the leading crypto projects in the world right now, innovating everything they tap their fingers into. Their latest updates, such as Reef card are a total game-changer for the crypto world, and we believe there is still more to come! To stay updated about Reef, follow their social sites.
Follow Reef: Website | Twitter | Youtube | Medium | Instagram | Discord | Telegram
more to read
Gen-Z's Place in Web3 and Cryptocurrency World
How To Buy Crypto In 3 Minutes Or Less
Is This The Next 100x Meme Coin?
---
NFT World News Social Media: Twitter, Instagram, Telegram, Tiktok, Youtube, Twitch
---
sources: reef, coinmarketcap, medium, twitter
author: Rene Remsik
Disclaimer: This article is provided for informational purposes only. It is not offered or intended to be used as legal, tax, investment, financial, or other advice.